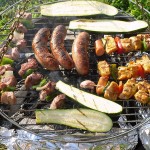 Robert Gianotti, MD
Labor Day is upon us and the summer is now officially over…and what a summer it has been! The entire world was gripped with fears of H1N1, we lost two iconic figures from the political and pop worlds, and we saw the Yankees surge into first place behind Derek Jeter and his 2,713 career hits. As our tans fade, and the days shorten I thought it was time to get back to the "heart" of the matter and take a look at the huge amount of cardiology research that was published this week. From atrial fibrillation to P2Y12 inhibitors, this week's cardiac literature is sure to sustain journal clubs well into 2010.
The New York Times reported earlier this week (1) on a study from the New England Journal reporting a lower incidence of heart failure events in patients receiving cardiac resynchronization therapy (CRT) with biventricular pacing + ICD vs. ICD alone (2). Based on previous data showing improved symptoms and LV structure with CRT (3), this study sought to demonstrate a mortality benefit or reduction in heart failure events as the primary endpoint.  1820 patients with ischemic or non-ischemic cardiomyopathy, an ejection fraction <30%, QRS duration > 130 msec, and New York Heart Assocation  Class I or II symptoms were followed for a mean of 2.4 years. In a 3:2 ratio, patients were randomly assigned to biventricular pacing + ICD vs. ICD alone.. The authors found a 34% relative risk reduction (HR 0.66, CI 0.52-0.84, p=0.001) in the primary outcome of all cause mortality and heart failure events with an absolute risk reduction of 8.1%. It should be noted that this data is driven in large part by a 41% relative reduction in heart failure events and not by all cause mortality which did not reach significance on its own. These findings show us that roughly 12 patients would need to be treated with CRT+ICD to prevent one primary event, namely heart failure exacerbation.  It's clear from this study that CRT is effective in reducing heart failure exacerbation in patients with mild baseline symptoms, but the question remains as to how this will affect practice. Without a clear mortality benefit and a price tag of $40,000 per device it may be hard to justify rushing to implant the devices in all asymptomatic heart failure patients.
Let's move on now from heart failure to atrial fibrillation. Two studies this week re-examine the role of warfarin in stroke prevention in patients with atrial fibrillation. The first, from this week's Annals of Internal Medicine (4), is a non-randomized, mixed retrospective/prospective cohort study seeking to quantify by formula the net benefit of warfarin therapy in comparing stroke prevention (ischemic and embolic) with the risk of serious intracranial hemorrhage. As one may expect, they found that warfarin was most beneficial in patients with advanced age > 85 years (2.34% events prevented, CI 1.29%-3.30%) and those with a history of ischemic stroke (2.48% events prevented, CI 0.75%-4.22%). As predicted by the CHADS2 score, those with a score of 0-1 had essentially no benefit in stroke prevention from warfarin, while those with a score of 4-6 had a 2.2% reduction in events per 100 person-years. The authors arrived at this benefit from using a formula that weighed the prevention of stroke against a weighted risk for hemorrhage. Risk of intracranial hemorrhage was found to be constant among risk groups, with a rate of 0.58% in those receiving warfarin and 0.32% in those not receiving warfarin. The study results may seem obvious or confirm what we thought we already knew, but it is the first to calculate a net clinical benefit of warfarin with weighting for risk of intracranial hemorrhage in a large population, followed for a long period (66,000 person years). This study demonstrates little to no clinical benefit of warfarin therapy in patients with CHADS2 score =1 which may make us rethink prescribing this cumbersome and complication fraught medication for these patients in the future. Additionally, it is important to realize that the actual net benefit of warfarin may have been overestimated in this study because it takes into account only intracranial hemorrhage and not all hemorrhage events. In the end, I can't help but imagine a clinical utopia where all my patients with a high CHADS2 score could have the benefit of warfarin without all the annoying INR checks, dietary restrictions and bleeding risk. A study published in this week's NEJM seeks to address this very issue.
This study by Connolly et al. (5) uses a non-inferiority design to compare dabigatran, an oral, direct thrombin inhibitor to warfarin with the primary outcome being stroke or systemic embolism in atrial fibrillation among 18,113 patients. The authors also compared the two drugs for the primary safety outcome of major hemorrhage. In contrast to warfarin, dabigatran does not require regular laboratory monitoring. Dabigatran, at doses of 110 mg twice daily and 150 mg twice daily was shown to be non-inferior to warfarin (p<0.001) with the 150 mg dose actually showing superiority to warfarin in reducing the primary outcome (RR 0.66, 95% CI, 0.53 – 0.82, p<0.001). Both dabigatran doses were also shown to have a decreased incidence of hemorrhagic stroke compared to warfarin (0.10% and 0.12% vs. 0.38% per year, p<0.001). The rates of major bleeding per year were shown to be lower in the 110 mg dabigatran group than warfarin (2.71% vs. 3.36%, p=0.003), but similar to warfarin in the 150 mg group (3.64% vs. 4.13%, p=0.051). Dabigatran may soon become a reasonable alternative to warfarin in clinical practice with the potential for increased compliance, better efficacy, and reduced risk of bleeding with lower doses being a large driving force behind its use. Unfortunately, for those of us practicing in underserved areas with a large percentage of uninsured patients, cost will continue to be a factor in prescribing novel medications and with dabigatran likely to carry a high price-tag, it will be hard to let go of warfarin at a cost of less than $0.25 per pill unless the cost per visit is accounted for as well.
Finally, this week we saw two trials investigating treatment alternatives in acute coronary syndrome (ACS). In this week's JAMA (6), a group from France investigated how the timing of an early-invasive strategy in non-ST elevation myocardial infarction (NSTEMI) affected size of mycocardial infarction (MI) by looking at the primary outcome of peak troponin, as well as the secondary outcome of death, MI and urgent revascularization at one month. They found that size of MI in NSTEMI based on peak troponin levels did not differ significantly between immediate intervention with catheterization occurring an average of 70 minutes after presentation and delayed intervention with catheterization occurring on the next business day or an average of 21 hours after presentation (troponin I 2.1 vs. 1.7, p=.70). Also, the secondary endpoint was not significantly different between the two groups (13.7% vs. 10.2%, p=.31). What they did find was that patients in the immediate intervention group had significantly shorter hospital stays (55 vs. 77 hours, p<0.001). We know that an invasive strategy may confer a long term benefit in NSTEMI as shown by previous studies, but the timing of that intervention remains unclear. Until we have more data, aggressive medical management with risk stratification for early catheterization will remain the gold standard. After all, in a large inner city tertiary care center it may never be possible or necessary to bring all NSTEMI patients to the cath lab within 24 hours.
The last article for this week is a randomized, double-blind, head-to head comparison of clopidogrel vs. ticagrelor (a reversible inhibitor of the ADP receptor P2Y12) in the prevention of death from vascular causes, MI, or stroke at one year following hospital admission for ACS (7). The primary outcome was shown to occur less frequently in the ticagrelor group vs. clopidogrel (9.8% vs. 11.7%, p<0.001), although the incidence of major bleeding outside of coronary artery bypass grafting was more frequent in the ticagrelor group (4.5% vs. 3.8%, p=0.03). Based on an absolute risk reduction of 1.9%, 53 patients would need to be treated with ticagrelor to prevent one death as compared to clopidogrel. Clinicians are now faced with increasing choice within drug classes and in the future we will have to make decisions on what anti-platelet agent to use based on more detailed analysis of side-effects, efficacy in real world populations, and benefit balanced with bleeding risk.
That's it for this week. Now get out there and eat some bbq and throw some bocce balls, but before you over indulge in all that tasty beef and carbohydrate…remember that the Mediterranean style diet is heart healthy and may keep that metformin prescription at bay for years to come (8). Happy Labor Day!
Robert Gianotti is a 2nd year resident in internal medicine at New York University Medical Center
Peer reviewed by Neil Shapiro, MD Editor-in-Chief, Clinical Correlations
References
Moss AJ et al. Cardiac-resynchronization therapy for the prevention of heart-failure events. NEJM 2009;361. http://content.nejm.org/cgi/content/full/NEJMoa0906431
Linde C et al. Randomzied trial of cardiac resynchronization in mildly symptomatic heart failure patients and in asymptomatic patients with left ventricular dysfunction and previous heart failure symptoms. J Am Coll Cardiol 2008; 52: 1834-43.
Singer et al. The net clinical benefit of warfarin anticoagulation in atrial fibrillation. Ann Int Med 2009; 151: 297-306. http://www.annals.org/cgi/content/abstract/151/5/297
Connolly et al. Dabigatran versus warfarin in patients with atrial fibrillation. NEJM 2009; 361. http://content.nejm.org/cgi/content/full/NEJMoa0905561
Montalescot et al. Immediate vs. delayed intervention for acute coronary syndromes: a randomized clinical trial. JAMA 2009; 302: 947-954. http://jama.ama-assn.org/cgi/content/full/302/9/947?home
Wallentin L et al. Ticagrelor vs. clopidogrel in patients with acute coronary syndromes. NEJM 2009; 361. http://content.nejm.org/cgi/content/full/NEJMoa0904327
Esposito K et al. Effects of a mediterranean-style diet on the need for antihyperglycemic drug therapy in patients with newly diagnosed tyoe 2 diabetes. Ann Int Med 2009; 151: 306-314. http://www.annals.org/cgi/content/abstract/151/5/306