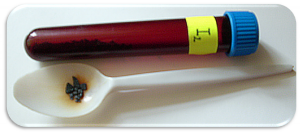 By Vicky Jones, MD
Faculty Peer Reviewed
This past week in research had some interesting findings that may change the way we prevent, diagnose, and treat disease across disciplines.
At the 31st annual International Symposium on Intensive Care and Emergency Medicine last week, the PROTECT investigators showed that dalteparin and unfractionated heparin are equivalent in deep venous thrombosis (DVT) prophylaxis. [1] The investigators, from Canada, Australia, and New Zealand, conducted a multicenter randomized controlled trial in ICU patients.  They found no difference in the primary end point, proximal leg DVT, between the groups (hazard ratio in the dalteparin group, 0.92; P=0.57).  However, they did find a lower instance of pulmonary embolism in the dalteparin group (hazard ratio, 0.51; P=0.01).  There was no major difference in bleeding complications.  Both drugs were found to be equal in their prevention of DVT. However, the better ability of dalteparin in preventing pulmonary embolism may be something worth noting and further investigating.
Lifestyle modification, metformin, thiazolidinediones, acarbose, and bariatric surgery have previously been shown to prevent the conversion from pre-diabetes to diabetes.  Now, the results of a new study by the ACT NOW group show that pioglitazone may be added to those options. [2] During a 2 year follow up, diabetes developed in 50 of the 299 patients in the placebo group (16.7%) and in 15 of the 303 patients in the pioglitazone group (5.0%).   These results are better than those seen in studies investigating the aforementioned prevention strategies. However, the positive is mitigated by the significant side effects of weight gain and edema, which aren't seen in other strategies.  So, while this study has received a lot of press, it is not clear that it will be a viable prevention plan for pre-diabetics.
A European study published this week in the New England Journal of Medicine demonstrates the superiority of tiotropium in preventing COPD exacerbations.  This large-scale multicenter randomized controlled trial showed that over 1 year, tiotropium increased the time to the first exacerbation as compared with salmeterol (187 days vs. 145 days) and reduced the annual number of severe exacerbations (0.09 vs. 0.13; P<0.001). [3] Demonstrating that tiotropium is more efficacious than salmeterol for maintenance therapy for patients with moderate to severe COPD will likely change the practice of many primary care and pulmonary physicians.
The past week also validated new diagnostic techniques.  Wouldn't it be great to rule out an MI in 2 hours?  The ASPECT group thinks they have found a way. [4] They conducted an observational study in 14 emergency departments in nine countries in the Asia-Pacific region.  To be considered low risk for a major adverse cardiac event at 30 days following initial presentation, the primary outcome of the study, adults presenting with chest pain had to have a combination of a TIMI risk score of 0, no new ischemic changes on the initial ECG, and a normal point-of-care biomarker panel.  Out of the 3000 patients recruited, about 300 patients were classified as low risk and ready for discharge; only 3 of those had an adverse cardiac event in 30 days.  The 2-hour protocol had a 99% sensitivity.  The protocol may represent a more efficient approach to low risk patients and could significantly decrease unnecessary testing and admissions to the hospital.
Last week also revealed more about current treatment strategies.  Belgian surgeons took one of the first looks at the long-term consequences of laparoscopic adjustable gastric banding. [5] This was an assessment of 151 patients who had their procedure done at the same surgeon's office, 54% of which had followed up.  Of the patients who had follow up, they found that the majority (60%) of patients were satisfied 13-17 years out of their procedure.  However, they found that 1 out of 3 of these patients experienced band erosion, and nearly 50% of the patients required removal of their bands (contributing to a reoperation rate of 60%).  These results may demonstrate that the long-term risks outweigh the benefits.  But the answer to this question more definitively lies in the results of a large-scale multicenter trial yet to be conducted.
Finally, as fear over the nuclear threat in Japan continues across the world, the FDA made an official statement stating that potassium iodide is the only medication approved for treatment after exposure to radioactive iodide. [6] However, they do not recommend stocking up on the item (further stating that there really isn't any available anyway).  At the same time they are working with the 3 manufacturers of the medication to produce more.  They discourage the use of non-FDA approved medications for radiation exposure but offer up other medications that are given for radioactive elements other than iodine such as calcium/zinc DTPA for decontamination of plutonium, and americium or prussian blue for radioactive cesium or thallium.
Dr. Jones is a 2nd year resident at NYU Langone Medical Center
Peer reviewed by Danise Schiliro-Chuang, MD., Associate Program Director, Internal Medicine Bellevue Hospital Medical Center
References:
1.  The PROTECT Investigators for the Canadian Critical Care Trials Group and the Australian and New Zealand Intensive Care Society Clinical Trials Group. Dalteparin versus Unfractionated Heparin in Critically Ill Patients.  N Engl J Med[Internet]. March 22, 2011.  Available from: http://www.nejm.org/doi/full/10.1056/NEJMoa1014475?query=OF
2.  DeFronzo RA et al. (ACT Now).  Pioglitazone for Diabetes Prevention in Impaired Glucose Tolerance.  N Engl J Med. 2011 March 24; 364(12): 1104-1115.  Available from: http://www.nejm.org/doi/full/10.1056/NEJMoa1010949?query=TOC
3.  Vogelmeier C et al. (POET-COPD Investigators). Tiotropium versus Salmeterol for the Prevention of Exacerbations of COPD.  N Engl J Med. 2011 March 24; 364(12):1093-1103.  Available from: http://www.nejm.org/doi/full/10.1056/NEJMoa1008378
4.  Than, et al. A 2-h diagnostic protocol to assess patients with chest pain symptoms in the Asia-Pacific region (ASPECT): a prospective observational validation study.  The Lancet [Early Online Publication] 23 March 2011.  Available from: http://www.thelancet.com/journals/lancet/article/PIIS0140-6736%2811%2960310-3/fulltext
5.  Himpens J, Cadière G B, Bazi M, Vouche M, Cadière B, Dapri G. Long-term Outcomes of Laparoscopic Adjustable Gastric Banding. Arch Surg. [Internet]. Published online March 21, 2011.  Available from: http://archsurg.ama-assn.org/cgi/content/short/archsurg.2011.45
6.  Radiation Safety [Internet].  Washington DC, Centers for Disease Control; 2011 March 20.  Available from: http://www.fda.gov/NewsEvents/PublicHealthFocus/ucm247403.htm.