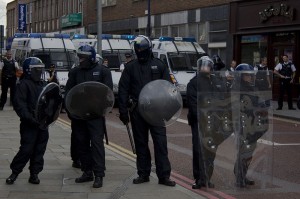 By Megha Shah, MD
Faculty Peer Reviewed
Political unrest in northern Africa. Economic woes in the United States. Shootings in Morningside Heights. A review of the daily news is almost always a somber experience. A closer look, though, can reveal stories that are hopeful and inspirational. The same applies to medical news. With this thought we bring you this week's Primecuts, a look at the promising, and at times not so promising, current medical literature.
The Annals of Internal Medicine this week published a much-discussed study on the association between hospitalist care, hospital stay, and Medicare costs. This population-based cohort study included a 5% national sample of Medicare patients with primary care physicians, who were cared for either by their primary care physician or a hospitalist during hospitalizations in a 5-year period. Results showed that patients cared for by hospitalists had a shorter, less expensive hospital stay, with reduction in hospital stay by 0.64 days and decrease in cost by $282 (P<0.001). Conversely, those same patients also had more post-discharge emergency visits (odds ratio 1.18), readmissions (odds ratio 1.08), and Medicare costs ($332 higher, P<0.001). This study, although limited by its observational nature, raises questions about the cost effectiveness and clinical appropriateness of the hospitalist model in the long term.[1]
The development of alternatives to warfarin for anticoagulation therapy has been a topic of interest for several years. Last year, Primecuts reported preliminary results, presented at the American Heart Association meeting, on the use of rivaroxaban, an oral factor 10a inhibitor, on the prevention of stroke in patients with atrial fibrillation.[2,3] The final results are now published in the New England Journal of Medicine. This double-blind study included more than 14,000 patients with nonvalvular atrial fibrillation who were randomized to either rivaroxaban (20 mg once daily) or dose-adjusted warfarin, with a primary endpoint of either stroke or systemic embolism. The ROCKET-AF trial showed that rivaroxaban was noninferior to warfarin, with the primary endpoint occurring in 1.7% vs 2.2% of patients respectively (P<0.001 for noninferiority). In addition, while there was no difference in the risk of major bleeding (P=0.44), there was a reduction in intracranial bleeding (P=0.02) and fatal bleeding (P=0.003) with rivaroxaban. These results are promising and potentially add a new agent to the anticoagulation arsenal.  Of note, the drug was recently approved by the Food and Drug Administration for venous thromboembolism prophylaxis in patients undergoing hip and knee replacement surgery (Xarelto; Bayer, Leverkusen, Germany).[4]
The New England Journal of Medicine also published phase 1 reports of the use of chimeric antigen receptor-modified T-cells in the treatment of refractory chronic lymphocytic leukemia (CLL). While three patients have been treated with this novel therapy, only one case was reported in its entirety. In the study, autologous T-cells were collected and genetically modified to express a receptor to CD19, an antigen commonly found on both normal and malignant B-cells. The patient was infused with these T-cells and, as the study reports, found to be disease-free three weeks later. The New York Times reported that, of the three patients, two (including the one in the published paper) remain in remission a year after the treatment, and that the third has improved but is not completely disease-free. The outcomes of the other two patients were also published in Science Translational Medicine. An editorial simultaneously published in NEJM points out that, while the therapy appears to be effective, there are serious side effects, including delayed tumor lysis syndrome and hypogammaglobulinemia.[5-7]
Lastly, researchers from the University of California, San Francisco reported on the impact of drugs used in the management of gastroesophageal reflux disease (GERD) for patients with idiopathic pulmonary fibrosis (IPF). The study, published online in the American Journal of Respiratory and Critical Care Medicine, showed that patients who used GERD medications (proton pump inhibitors or histamine-2 blockers) had a median survival time of about 65 months, compared with 29 months for those who did not use them. In addition, those patients had a 53% reduced relative risk of death (hazard ratio 0.47). The results support the authors' hypothesis that chronic microaspiration may play a role in the development and progression of IPF.[8]
That's it–hoping you enjoy a "glass is half full" week!
Dr. Megha Shah is a 3rd year resident at NYU Langone Medical Center
Peer reviewed by Michael Tanner, Executive Editor, Clinical Correlations
Image courtesy of Wikimedia Commons
References:
Kuo YF, Goodwin JS. Association of hospitalist care with medical utilization after discharge: evidence of cost shift from a cohort study. Ann Intern Med. 2011;155(3):152-159. www.annals.org/content/155/3/152.full

Shah S. Clinical Correlations: Primecuts. December 6, 2010.

www.clinicalcorrelations.org/?p=3554

Peck P. AHA: ROCKET-AF may launch rivaroxaban approval.  MedPage Today.

http://www.medpagetoday.com/MeetingCoverage/AHA/23346

. Published November 15, 2010.  Accessed August 14, 2011. 

Patel MR, Mahaffey KW, Garg J, et al (ROCKET-AF investigators). Rivaroxaban versus warfarin in nonvalvular atrial fibrillation. N Engl J Med. Early online publication.

www.nejm.org/doi/full/10.1056/NEJMoa1009638#t=article

. Published August 10, 2011. Accessed August 14, 2011.

Porter DL, Levine BL, Kalos M, Bagg A, June CH. Chimeric antigen receptor-modified t cells in chronic lymphoid leukemia. N Engl J Med.

www.nejm.org/doi/full/10.1056/NEJMoa1103849#t=article

. Published August 10, 2011. Accessed August 14, 2011.

New York Times. Treatment for leukemia is showing early promise. http://www.nytimes.com/2011/08/11/health/research/11cancer.html. Published August 10, 2011. Accessed August 14, 2011.
Kalos M, Levine BL, Porter DL, et al. T cells with chimeric antigen receptors have potent antitumor effects and can establish memory in patients with advanced leukemia. Sci Transl Med. 2011;3(95):95ra73. 

stm.sciencemag.org/content/3/95/95ra73.full

Neale T. Acid reflux drugs may help in pulmonary fibrosis. MedPage Today.

www.medpagetoday.com/Pulmonology/GeneralPulmonary/27683?utm_content=&utm_medium=email&utm_campaign=DailyHeadlines&utm_source=WC&userid=265184

. Published July 22, 2011. Accessed August 14, 2011.