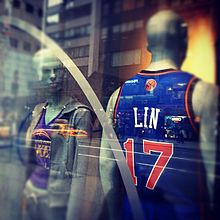 By Jiah Shin Teh, MD
Faculty Peer Reviewed
Whether you're a sports fan or not, the news that has recently captivated the attention of the city that never sleeps is about the Linsanity of the New York Knicks' stunning turnaround from a grim prospect for the playoffs to the team to beat. The media naturally has put a microscope on Jeremy Lin's zero-to-hero story giving it countless perspectives. Along with the movie Moneyball, Lin's story highlights the fact that in any line of work, things are often overlooked or disregarded. In the case of the Knicks it was identifying a roster-worthy player. In medicine it could be recognizing a novel finding or trend to inspire further investigation. In the era of evidence-based vs. personalized medicine it could also be appreciating a different, but still effective way of treating our patients who have failed standard therapy. This is a good opportunity to remind ourselves again that medicine is an evolving art rife with unknowns, to be practiced with humility and an open mind, and that we should not be afraid to venture out of our comfort zone and, together with good scientific methods, revisit conventions and dogma. After all, as The New York Times [1] details, a healthy amount of such a 'neophilic' attitude may help in the advancement of mankind. Having said that, let's see what neophilic news made the cut for Primecuts.
Among the most exciting recent discoveries is the therapeutic effect of the anti-cancer drug baxarotene on mouse models of Alzheimer's disease (AD). One of the features of AD is impaired clearance of and increased ß-amyloid (Aß) levels in the brain, which in turn is associated with the derangement of neural activity underlying AD. As detailed in a preclinical study published in Science [2], bexarotene resulted in increased clearance of Aß from the brain in three different murine models of AD. This effect was mediated by baxarotene binding to retinoid X receptors (RXR), which leads to enhanced ApoE expression. ApoE serves as a molecular scaffold and increases HDL production, and HDLs in turn promote the proteolytic degradation of soluble Aß. Activated RXR also stimulates phagocytic function of macrophages and microglia that assists in clearing Aß. In the murine AD models, bexarotene quickly restored cognition and memory as assessed by various behavioural and functional tests. Brains of mice treated with the drug revealed decreased soluble and insoluble Aß, plaque number, as well as abundant Aß-laden microglia. Though preliminary, the results are promising and will undoubtedly lead to efforts to develop bexarotene and other RXR-based agonists as future therapeutics against AD.
Another cutting-edge idea making headway is a proof-of-concept study that offers a glimpse into the future of non-surgical management in myocardial infarction, and perhaps even heart failure. In the CADUCEUS phase I clinical trial published in The Lancet [3], the authors showed that over-the-wire infusion of autologous cells derived from endomyocardial biopsies, aka cardiosphere-derived cells (CDCs), into the infarct-related arteries 1.5-3 months after MI was relatively safe and efficacious in preventing adverse post-MI remodelling. The study randomly assigned 31 participants with recent (<4weeks) non-right ventricular MI into either the CDC group or standard-of-care group. The CDC group underwent non-eventful percutaneous endomyocardial biopsies from which CDCs were cultured before being infused into the infarct-related artery within 90 days after MI. The standard-of-care group received optimized standard medical therapy. CDC administration caused no deaths, major adverse cardiac events, or tumors with the exception of one instance of non-Q wave MI out of the 23 participants receiving CDCs. MRI analyses showed CDCs reduced scar size (absolute difference -7.7% [SD 4.8], p=0.001) and increased viable myocardial mass (difference in mean 12.1g, p=0.01) compared to controls, findings that were verified by pathological analyses of rat hearts in a parallel study. Greater cardiac contractility and systolic wall thickening accompanied the anatomic improvements. Together, the findings provided evidence that CDC infusion is a viable future treatment for patients post-MI.
Since we're delving into matters of the heart, another noteworthy study in The Lancet [4] had something to say when it comes to the quest of replacing exercise stress test with the best non-invasive substitute that comes as close to 'cath' in terms of diagnosing coronary artery disease/myocardial ischemia. In the CE-MARC prospective trial involving 752 participants with suspected angina and at least one cardiovascular risk factor, the participants were randomized to undergo (rest and stress) cardiovascular magnetic resonance (CMR) or single-photon emission computed tomography (SPECT). Participants then received the other diagnostic modality before ultimately undergoing invasive x-ray coronary angiography as the gold standard. Compared with the gold standard, CMR came out as superior over SPECT with significantly better sensitivity and negative predictive value (p<0.0001 for both), arguing for greater usage over SPECT when it comes to diagnosing CAD especially considering the lack of ionizing radiation. Specificity and positive predictive value did not differ significantly between the two modalities.
The growing problem of antibiotic resistance has led to greater scrutiny of prescribing practices and necessity of antibiotics in treatment regimens. In the case of uncomplicated adult acute rhinosinusitis, which is responsible for roughly 1 in 5 antibiotic prescriptions for adults in the United States, current CDC guidelines recommend prescribing only in moderately-severe to severe cases with narrow-spectrum antibiotics active against Streptococcus pneumonia and Haemophilus influenzae. The Journal of the American Medical Association [5] published a randomized, blinded, placebo-controlled trial that examined the effectiveness of amoxicillin over symptomatic treatment in this subgroup of moderate-to-severe uncomplicated adult acute rhinosinusitis. The primary outcome was the Sinonasal Outcome Test-16 score, or aptly SNOT-16, which incorporates both symptom and subjective quality of life reporting. A total of 166 patients from 10 community practices in Missouri were randomized to either amoxicillin-symptomatic treatment or placebo-symptomatic treatment. The study revealed no significant difference in SNOT-16 scores between the groups at day 3 and at day 10, and only a slight improvement of SNOT-16 score for the amoxicillin group at day 7 (0.19 [95% CI, 0.024 to 0.35]). Of note, the only symptom that predicted benefit with antibiotic treatment at day 7 was nasal obstruction. Overall, as the difference in SNOT-16 scores at day 7 did not represent a clinically significant improvement and in light of the disease's high rate of symptom resolution by day 10, the study argued for a more conservative and watchful approach to treatment of uncomplicated moderate-to-severe acute rhinosinusitis, especially if follow-up is not a hurdle.
Finally, I'm sure all of us are eagerly waiting for warmer weather to arrive, when we can enjoy the sunshine and…exercise! That, of course, is what you'll likely want to do after digesting recent research findings into the molecular benefits of exercise. For example, the Journal of the American Medical Association [6] published a meta-analysis of 14 studies comprising 20,871 children that examined the association between moderate- to vigorous-intensity physical activity (MVPA) and cardiometabolic risk factors in healthy children, and revealed that higher levels of MVPA were associated with improve cardiometabolic risk factors such as lower waist circumference, lower systolic blood pressure, and higher HDLs. This dovetails findings published earlier this year in Nature [7] in which exercise was shown to promote BCL2-regulated intracellular autophagy, i.e. lysosomal degradation that actively recycles suboptimal organelles and proteins thereby providing quality control and protecting against cancer, ageing, inflammatory diseases and insulin resistance. Also in Nature [8] a week earlier, exercise was shown to result in the generation of a newly identified hormone, irisin, which stimulated white adipose cells into behaving like brown-fat cells and increasing energy expenditure, and ultimately improved obesity and glucose control. Wow…what are we waiting for? Let's put those sneakers on!
Dr. Jiah Shin Teh is a 1st year resident at NYU Langone Medical Center
Peer reviewed by Robert Gianotti, MD, section editor, Clinical Correlations
Image courtesy of Wikimedia Commons
References:
1. Tierney, John. What's New? Exuberance for Novelty Has Benefits. New York Times. Published Feb 13 2012. http://www.nytimes.com/2012/02/14/science/novelty-seeking-neophilia-can-be-a-predictor-of-well-being.html?_r=3&ref=health
2. Cramer PE, Cirrito JR, Wesson DW, et al. ApoE-Directed Therapeutics Rapidly Clear ?-Amyloid and Reverse Deficits in AD Mouse Models. Science. 2012 Feb 9. [Epub ahead of print] www.sciencemag.org/content/early/2012/02/08/science.1217697.abstract?sid=8b330f8e-e632-4aea-9951-e6c7c9b15ade
3. Makkar, RR, Smith RR, Cheng K, et al. Intracoronary cardiosphere-derived cells for heart regeneration after myocardial infarction (CADUCEUS): a prospective, randomised phase 1 trial. The Lancet, Early Online Publication, 14 February 2012. http://www.thelancet.com/journals/lancet/article/PIIS0140-6736%2812%2960195-0/abstract
4. Greenwood JP, Maredia N, Younger JF, et al. Cardiovascular magnetic resonance and single-photon emission computed tomography for diagnosis of coronary heart disease (CE-MARC): a prospective trial. The Lancet, Volume 379, Issue 9814, Pages 453 – 460, 4 February 2012. http://www.thelancet.com/journals/lancet/article/PIIS0140-6736%2811%2961335-4/fulltext
5. Garbutt JM, Banister C, Spitznagel E, Piccirillo JF. Amoxicillin for Acute Rhinosinusitis. JAMA. 2012; 307(7): 685-692. http://jama.ama-assn.org/content/307/7/685
6. Ekelund U, Luan J, Sherar LB, et al. Moderate to Vigorous Physical Activity and Sedentary Time and Cardiometabolic Risk Factors in Children and Adolescents. JAMA. 2012; 307(7): 704-712. http://jama.ama-assn.org/content/307/7/704
7. Congcong H, Bassik MC, Moresi V, et al. Exercise-induced BCL2-regulated autophagy is required for muscle glucose homeostasis. Nature 481, 511–515 (26 January 2012). http://www.nature.com/nature/journal/v481/n7382/full/nature10758.html
8. Bostrom P, Wu J, Jedrychowski MP, et al. A PGC1-?-dependent myokine that drives brown-fat-like development of white fat and thermogenesis. Nature (2012). Published online 11 January 2012. http://www.nature.com/nature/journal/vaop/ncurrent/full/nature10777.html