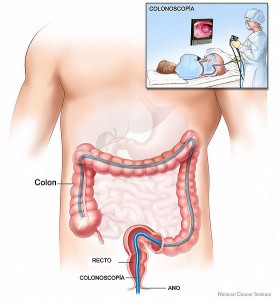 By Michael Fingerhood, MD, MPH
Faculty Peer Reviewed
As the sun set over the Kremlin on Sunday night, Vladimir Putin stood on a well-lit podium and raised his arms in victory following his recently announced repeat presidential nomination. By his side was the current Russian President Dimitri Medved (soon to be Prime Minister), as well as thousands of his supporters who gathered in Manezh Square for the occasion. As questions of fair and balanced elections in Russia arise [1], we find a renewed interest in the question of best practice for colorectal cancer screening.
New research in this week's New England Journal of Medicine (NEJM) revisits the screening test that patients often consider with tempered enthusiasm, namely colonoscopy. Quintero et al [2] presented initial results from their international multi-center prospective randomized clinical non-inferiority trial comparing Colonoscopy with Fecal Immunochemical Testing (FIT) for reducing mortality in colon cancer. FIT is an alternative potentially more accurate method than stool guaiac to detect occult bleeding. Quintero et al randomized more than 50,000 patients between ages 50 and 69 without a personal or family history of colon cancer to receive either one-time colonoscopy or FIT with subsequent colonoscopy for those patients with positive FIT tests, every two years. The follow up period for this cohort of patients is planned to be 10 years. Although the trial is still in the early stages (recruitment was completed in June 2011), Quintero et al present initial data on participation and detection rates, with illuminating results. Participation, while superior in the FIT group as compared to colonoscopy, was dismal in both groups (34.2% versus 24.6%, respectively). Under both intention to screen and per protocol analyses, there were no significant differences in the rate of colon cancers found by FIT versus colonoscopy, although colonoscopy diagnosed significantly higher numbers of adenomatous polyps regardless of stage. Although the low participation rate may ultimately hurt the statistical power of the trial, it approximates the test results as they would occur in actual practice. Although this study is limited to average risk patients, and we cannot yet draw any conclusions as to mortality, we can say that the ability of FIT to be non-inferior to colonoscopy in terms of colon cancer mortality is likely to be dependent on whether or not the increased detection (and removal) of adenomatous polyps by colonoscopy leads to decreased rates of colon cancer in this group.
Regarding polypectomy, we can look to the same issue of NEJM, where Zauber et al [3] present the mortality data from their National Polyp Study (NPS). Zauber et al performed a randomized prospective case-control study of 2602 patients who underwent polypectomy for adenomas and followed them for up to 23 years. The authors then compared their colon cancer mortality rates both for an internal cohort of patients with non-adenomatous polyps and for calculated estimates for rates of death in the general population from colon cancer. Results showed that the polypectomy group had a 53% lower mortality rate as compared to the population estimate and survival curves showed near equivalence between adenomatous polyps and the internal cohort for the first decade of the study. While it would be tempting to attempt to draw conclusions from Zauber et al and apply it to the questions remaining in Quintero et al, multiple issues arise: the patient population in this study had higher risks for colon cancer, the study was not intention to treat, and the possibility of lack of participation could not be factored into the results. The application of the results of the NPS study may also be difficult to abstract to the everyday clinical practice of caring for patients. As mentioned by the authors, this NPS population had lower all-cause mortality than the population based cohort that may have been attributable to better access to care and fewer comorbidities. Additionally, the analysis of mortality benefit of adenomatous polypectomy was limited by the very low death rate in the NPS cohort (12 deaths out of 2602 identified with adenomatous polyps). In the end, it seems we may have to just wait for the final results of Quintero et al. and other randomized controlled trials until we have a true handle on the absolute mortality benefit of screening colonoscopy.
If the thought of your first colonoscopy (or FIT) sends your blood pressure through the roof, than a little self-affirmation may be just what the Dr. ordered. In this week's edition of the Archives of Internal Medicine, NYU's own Dr. Ogedegbe and colleagues (4) published their randomized clinical trial evaluating the effectiveness of positive-affect induction and self-affirmation in addition to patient education (PA), as compared to patient education alone, in improving medication adherence (the primary outcome) and BP control in a population of hypertensive African Americans. A total of 256 patients were followed over a 12 month period. The PA intervention was three-fold. In addition to receiving the same educational hypertension workbook as the control group, the PA group was asked to incorporate positive thoughts into their daily lives. The incorporation of these thoughts was reinforced through bimonthly telephone calls. The authors also attempted to enhance the positive affect induction by mailing gifts to patients prior to the calls; thus improving their mood and possibly aiding in medication compliance. Lastly, patients were asked to evoke their inherent values and memories of their proudest moments at times they found it challenging to take medications. The results showed that patients in the affirmation group had significantly better medication adherence (42% vs 36% assessed by electronic pill counters) but there were no significant differences in reduction of diastolic or systolic BP. Although the study was not blinded and its power was diminished by a relatively small sample size, Ogedegbe and colleagues' provide convincing evidence that positive-affect induction and self-affirmation can improve medication adherence in this population; further larger trials will be required to show if this improved adherence can translate into improved blood pressure and ultimately improved hypertension-related outcomes.
That's it for this week of Primecuts! Stay tuned for more in the upcoming weeks… and may we all continue to make educated choices in all our decisions.
Dr.Michael Fingerhood is a second year resident at NYU Langone Medical Center   
Peer reviewed by Robert Gianotti, MD, section editor, Clinical Correlations
Image courtesy of Wikimedia Commons
 References
1. New York Times. Putin Wins, But Opposition Keeps Pressing (http://www.nytimes.com/2012/03/05/world/europe/russia-votes-in-presidential-election.html?hp).   Published March 4th, 2012. Accessed March 4th, 2012.
2. Quintero E, Castells A, Bujanda L et al. Colonoscopy versus Fecal Immunochemical Testing in Colorectal-Cancer Screening. N Engl J Med 2012;366:697-706. http://www.nejm.org/doi/full/10.1056/NEJMoa1108895
3. Zauber AG, Winawer SJ, O'Brien ML et al. Colonoscopic Polypectomy and Long-Term Prevention of Colorectal-Cancer Deaths. N Engl J Med 2012;366:687-96.  http://www.ncbi.nlm.nih.gov/pubmed/22356322
4. Ogedegbe GO, Boutin-Foster C, Wells MT et al. A Randomized Controlled Trial of Positive-Affect Intervention and Medication Adherence in Hypertensive African Americans. Arch Intern Med. 2012;172(4):322-326.