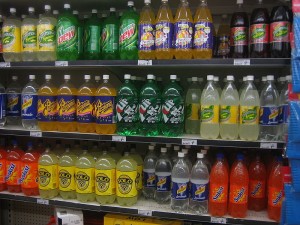 By Joshua Strauss, MD
Faculty Peer Reviewed
Temperatures have been rising in New York this past week, with Memorial Day highs approaching 90 degrees. This was a great setup for trips to the shore, barbecuing, sitting outside… and drinking an enormous regular soda?
Maybe not. For several days this past week, health news in New York was dominated by the mayor's announcement of his plan to ban sugary drinks (such as sodas, sweetened iced teas, and energy drinks) larger than 16 fluid ounces from restaurants, movie theatres, sports arenas and street carts in New York City. The effort comes as part of Mayor Bloomberg's continued push to address issues of public health in the city, including bans on smoking in restaurants and prohibitions against artificial trans fat in restaurant food. The plan has provided ample comedic fodder to late night shows, but whether or not you believe Mayor (err… Nanny?) Bloomberg is overreaching, two things seem clear to me: (1) Drinking more than 16 ounces of regular soda in one sitting is not good for you, and (2) New York City – where more than half of adults are obese or overweight – has a weight problem and something needs to be done about it.
As the vociferous debates over "sodagate" receded, it seemed to me that health news in the popular media became inundated with new data on cancer drugs. This was actually not my bias as a budding oncologist, but rather a direct result of presentations and article releases coinciding with the annual meeting of ASCO (American Society of Clinical Oncology) in Chicago. The biggest headline-grabbers were the drugs anti-PD1, T-DM1, and Trametinib.
– Treatment targeted against programmed death 1 (PD-1) protein – a mediator of immunosuppression – and one of its ligands (PD-L1) was shown to induce tumor regression in patients with advanced non-small cell lung cancer, melanoma or renal cell cancer. In other words, by removing one of the body's innate preventions against immune over-response, the immune system is unleashed to fight against tumor cells. One of the studies looked at 300 adults with advanced cancers who were treated with anti–PD-1 antibody for up to 2 years. Objective tumor responses occurred in 18% of patients with non–small-cell lung cancer, 28% with melanoma, and 27% with renal-cell cancer. More than half of responses lasted a year or longer. In the second study, some 200 patients were treated with anti–PD-L1 antibody. Again, objective responses were observed. The findings, presented at ASCO and published in the New England Journal of Medicine, represent an important advance in harnessing immune responses in the treatment of cancer. In particular, this drug is also a breakthrough because it is active against lung cancer, which has been notoriously resistant to immunotherapy, and because the response rates are almost double those of previous immunotherapies. According to the NEJM editorialist, the use of PD-1 blockade, "may well have a major effect on cancer treatment."
– A new drug for breast cancer is being described as a "heat-seeking missile" or a "smart bomb." The drug T-DM1 (trastuzumab emtansine) is a monoclonal antibody joined to a powerful chemotherapy, one of a new breed of therapies called "antibody drug conjugates." By combining trastuzumab and emtansine, T-DM1 both disrupts HER2 signaling and transports the cytotoxic agent DM1 directly into tumor cells. It appears superior to standard treatment in Her-2 positive locally advanced or metastatic breast cancer: T-DM1 met its pre-specified progression free survival goal by delaying disease progression for a median of 9.6 months, as compared with 6.4 months. It approached but did not meet its coprimary endpoint of overall survival, but there was still an apparent survival benefit in the T-DM1 arm. Importantly, since the cytotoxic drug is inactive until it reaches the tumor, the side effect profile of the drug was favorable. The results of this phase III trial were also presented at ASCO over the weekend.
– Advanced melanoma has long been resistant to treatment, but several recent advances have provided some optimism. In 2010, ipilimumab immunotherapy (Yervoy) was approved by the FDA to improve overall survival in this disease. On its heels in 2011, the BRAF kinase inhibitor vemurafenib (Zelboraf), was approved to better overall survival in previously untreated metastatic melanoma with the BRAF V600E mutation. Now, a third drug has arrived: Trametinib. Results of a phase III trial for this oral selective MEK inhibitor were published online this week in the NEJM and also demonstrate a survival advantage: Median progression-free survival was 4.8 months in the trametinib group and 1.5 months in the chemotherapy group. After so many years without a significant treatment, it seems there have been true breakthroughs in the treatment of this deadly disease.
Moving on from cancer drugs, I was intrigued by another study published in the New England Journal of Medicine this week entitled, "Nighttime Intensivist Staffing and Mortality Among Critically Ill Patients." (Perhaps my intrigue was related to my imminent rotation in the medical ICU!) The study comes in the context of many hospitals revisiting their approach to ICU staffing, with recent studies consistently showing that daytime intensivist physician staffing is associated with improved outcomes among ICU patients. It is being considered that perhaps extending the intensivist staffing to include nighttime hours would improve outcomes even more so. The study was conducted retrospectively and data were obtained from the Acute Physiology and Chronic Health Evaluation (APACHE) clinical outcomes database. Data were analyzed from 25 hospitals and approximately 65,000 ICU admissions – 14,000 of which were at hospitals with nighttime intensivists (defined as "an intensivist attending physician who was physically present in the ICU or elsewhere in the hospital and immediately available to manage ICU emergencies during nighttime hours") and 51,000 of which were without nighttime intensivists. The results showed that when stratified into groups of low-intensity daytime staffing (optional consultation with the intensivist) and high-intensity daytime staffing (mandatory consultation with the intensivist or primary transfer of care to the intensivist) , the addition of a nighttime intensivist only improved risk-adjusted in-hospital mortality in the former. When the definition of "nighttime intensivist" was broadened to include resident physicians, nighttime staffing reduced in-hospital mortality in both groups. Thus, while the study has several limitations, it suggests that in ICU's staffed by resident physicians, the addition of an overnight intensivist confers little incremental benefit in reducing ICU mortality.
The study is interesting to me because both models are represented in the hospitals affiliated with the NYU medicine residency program and I was unaware that any data existed comparing the models. It furthered my thinking about the dearth of evidence for any of the training models and coverage schemes we currently employ in our hospital systems and the important need for studies like this one to sort out the issues and optimize care.
In the same NEJM issue, a perspective piece analyzes recent residents views regarding the 2011 duty hour regulations mandated by the ACGME Duty Hours Task Force. The authors note that "twice as many residents reported receiving better supervision as reported receiving worse supervision (17.9% vs. 8.3%), though the availability of supervision was overwhelmingly thought to be unchanged (73.8%). Although 42.8% of residents reported no change in the quality of education, a nearly equal proportion (40.9%) reported worsened education — a far greater number than those who saw improvement (16.3%). Similarly, a majority (51.5%) of residents believed that preparation for more senior roles was worse."
These surveys suggest that a one size-fits-all approach may not be adequate or appropriate for all
trainees and training programs. As in the case of the overnight intensivist, real study is needed to optimize our training models and coverage schemes to optimize safety and quality of care for our patients, as well as education for our residents.
Dr. Joshua Stauss is a 4th year resident, internal medicine at NYU Langone Medical Center
Peer reviewed by Robert Gianotti, MD, Associate Editor, Clinical Correlations
Image courtesy of Wikimedia Commons
References:
Sugar Drinks
http://www.nytimes.com/2012/05/31/nyregion/bloomberg-plans-a-ban-on-large-sugared-drinks.html
PD-1
http://www.nejm.org/doi/full/10.1056/NEJMoa1200690
http://www.nejm.org/doi/full/10.1056/NEJMoa1200694
http://www.nejm.org/doi/full/10.1056/NEJMe1205943
http://www.nytimes.com/2012/06/02/business/drug-helps-immune-system-fight-cancer.html
Melanoma
http://www.nejm.org/doi/full/10.1056/NEJMoa1203421
http://www.nytimes.com/2012/06/04/health/glaxosmithkline-melanoma-drug-prolongs-patients-lives.html
T-DM1
http://www.nytimes.com/2012/06/04/health/glaxosmithkline-melanoma-drug-prolongs-patients-lives.html
http://www.nydailynews.com/life-style/health/experimental-drug-dubbed-t-dm1-shows-stunning-results-delaying-progression-breast-cancer-article-1.1089384
Nighttime Intensivists
http://www.nejm.org/doi/full/10.1056/NEJMsa1201918
Resident Duty Hours
http://www.nejm.org/doi/full/10.1056/NEJMp1202848?query=featured_home