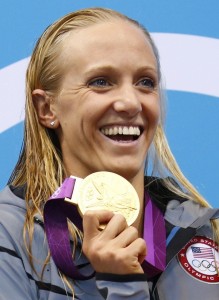 By Syril Keena Que, MD
Faculty Peer Reviewed
This week's Primecuts starts with Olympic highlights from the past week. In gymnastics, Gabby Douglas won the gold medal for women's individual all-around while the women held their own and took team gold. Michael Phelps won his 4th gold medal of the London Games and the 18th gold medal of his career. Another athlete worthy of mention is Dana Vollmer, who set a world record by being the first woman to finish the 100-meter butterfly in less than 56 seconds. Vollmer was also one of the few athletes with prolonged QT syndrome who did not let her heart condition stand in the way of her dreams[1]. On that note, let us begin with some of the top news in cardiology.
The results of the HF-ACTION trial[2] were published in JAMA this week. This study showed the effects of exercise training on depression in patients with chronic heart failure. In this multicenter, controlled trial, 2322 stable patients being treated for heart failure across 82 medical centers were randomized to receive supervised aerobic exercise or education and guideline-based heart failure care. The main outcome measures were death or hospitalization due to any cause and Beck Depression Inventory II (BDI-II) scores at 3 and 12 months. Over the median follow-up of 30 months, 789 patients (68%) died or were hospitalized in the education group compared with 758 patients (66%) in the aerobic exercise group (hazard ratio 0.89, P=0.03). Individuals with aerobic exercise had lower mean depression scores at 3 months (aerobic exercise 8.95 vs. usual care 9.70) and at 12 months (aerobic exercise 8.86 vs. usual care 9.54).
This study builds upon existing research showing that exercise can alleviate depressive symptoms[3,4]; the one difference is that the investigators of HF-ACTION narrow the scope of its findings to patients with heart failure. While the results show a modest reduction in depression scores, what is notable is the rate of death or hospitalization in the aerobic exercise group compared to the control group. For physicians hesitant to recommend exercise to patients with heart failure, this study demonstrates that moderate exercise is not harmful and might in fact help to reduce the incidence of death or hospitalization. Of note, patients in the aerobic exercise group were eased into their exercise routine, with a goal of 90 minutes/week for months 1-3, followed by a goal of 120 minutes/week for months 4-12. Keeping in mind the physical and psychological benefits delineated in this study, it becomes worthwhile to recommend a moderate exercise regimen to our patients with heart failure.
Other news in cardiology includes the updated U.S. Preventive Services Task Force (USPSTF) recommendations on stress testing. In an article published in the Annals of Internal Medicine, the USPSTF advised against routine stress tests in asymptomatic adults at low risk for CHD[5]. Factors that increase the risk of CHD include older age, male sex, high blood pressure, smoking, abnormal lipid levels, diabetes, obesity, and sedentary lifestyle. Individuals calculated to have a 10-year risk <10% are considered to be low-risk. The USPSTF decision was based on studies which showed that resting or exercise electrocardiogram (ECG) did not help in the stratification of individuals into risk groups and did not affect risk management[6]. Another concern is that using stress tests in asymptomatic, low-risk individuals often leads to unnecessary follow-up testing and interventions, such as angiography and revascularization. The take-home message is to avoid routine screening for CHD in asymptomatic patients and to instead concentrate on modifying the risk factors such as hypertension and diabetes.
Transitioning now to the field of oncology, the New England Journal of Medicine recently published a study that could change the standard of care for breast cancer. In this study by Mehta and colleagues, 707 postmenopausal women with previously untreated metastatic disease were randomly assigned to receive either anastrazole or anastrazole and fulvestrant in combination[7]. Anastrazole is an aromatase inhibitor that inhibits estrogen synthesis, and fulvestrant is an agent that binds and facilitates estrogen receptor degradation. Both medications are used to treat breast cancer though usually not prescribed simultaneously. The primary endpoint, median progression-free survival, improved from 13.5 months in patients taking anastrozole alone to 15.0 months in those taking the combination (P = .007). In terms of median overall survival, patients who took combination therapy survived about 6 months longer than those who took anastrazole alone (hazard ratio [HR] for death, 0.81; 95% confidence interval, 0.65 to 1.00; P = .05). This level of improvement in metastatic breast cancer survival has not been achieved in any previous study. With such impressive results, this paper can potentially change our approach to the management of metastatic breast cancer.
Finally, let us delve into some innovative research taking place in dermatology. Three days ago, the Lancet published the results of a phase 2, multicenter, randomized trial focused on the use of spray-applied cell therapy for chronic venous leg ulcers[8]. This involved randomizing 228 adult patients from 28 medical centers to 4 treatment groups and 1 control group. Patients in the treatment group had growth-arrested allogeneic neonatal keratinocytes and fibroblasts applied to their ulcers in spray form at various concentrations, either at 7-day or 14-day intervals. Intention-to-treat analysis showed significantly greater mean reduction in wound area with spray treatment compared to vehicle (p=0.0446). At 12 weeks, a dose of 0.5×106 cells closed 70% of wounds compared with 46% of wounds in the control group. Cell therapies offer much hope for non-healing venous ulcers. The one drawback is the high cost involved in their development and use. Hopefully, with the implementation of methods to reduce costs, these cell therapies will eventually be available in the clinic setting.
With that, I conclude this week's issue of Primecuts. Enjoy the rest of the Olympic games!
A list of other noteworthy articles to peruse:
-JAMA: Exertional fatigue and diminished energy can be a common side effect of statins, even when given in modest doses9.
– Archives of Internal Medicine: Living alone is associated with increased 4-year mortality and cardiovascular death in middle-aged individuals (45-65 years old)10.
-The Lancet: A randomized, double-blind, placebo-controlled trial compared the treatment of acute pyelonephritis with ciprofloxacin for 7 days vs 14 days and found that 7 days was successful in treating pyelonephritis, even in older women and in those with more severe disease11.
-Clinical Gastroenterology and Hepatology: Aspirin may reduce the risk of Barrett's esophagus12.
-Lung Cancer: Patients with non small-cell lung cancer who developed papules and pustules when treated with anti-epidermal growth factor receptor (EGFR) tyrosine kinase inhibitors erlotinib or gefitinib were more likely to respond to treatment compared to patients with no skin findings (42% vs 7%). Patients with a skin eruption were also more likely to have a reduced risk of disease progression (hazard ratio 0.50, p<0.00001) and death (hazard ratio 0.30, p<0.00001)13.
Dr. Syril Keena Que is a 1st year resident at NYU Langone Medical Center
Peer reviewed by Robert Gianotti, MD, Associate Editor, Clinical Correlations
References:
1. O'Connor, Anahad. Overcoming a Heart Condition to Win Olympic Gold. NY Times. July 31, 2012. Accessed on August 4, 2012. http://well.blogs.nytimes.com/2012/07/31/overcoming-a-heart-condition-to-win-olympic-gold/
2. Blumenthal JA, Babyak MA, O'Connor C, et al. Effects of exercise training on depressive symptoms in patients with chronic heart failure: the HF-ACTION randomized trial. JAMA.2012;308(5):465-74. http://jama.jamanetwork.com/article.aspx?articleid=1273016
3. Rimer J, Dwan K, Lawlor DA, et al. Exercise for depression. Cochrane Database Syst Rev. 2012;11(7):CD004366.
4. Heyman E, Gamelin FX, Goekint M, et al. Intense exercise increases circulating endocannabinoid and BDNF levels in humans–possible implications for reward and depression. Psychoneuroendocrinology.2012;37(6):844-51. http://www.psyneuen-journal.com/article/S0306-4530(11)00287-3/abstract
5. Moyer V. Screening for Coronary Heart Disease With Electrocardiography: U.S. Preventive Services Task Force Recommendation Statement. Annals of Internal Medicine, 2012. [Epub ahead of print] http://annals.org/article.aspx?articleid=1262305
6. Chou R, Arora B, Dana T, et al. Screening asymptomatic adults with resting or exercise electrocardiography: a review of the evidence for the U.S. Preventive Services Task Force. Ann Intern Med.2011;155:375-85. http://annals.org/article.aspx?articleid=747127
7. Mehta R, Barlow W, Albain K, et al. Combination Anastrazole and Fulvestrant in Metastatic Breast Cancer. NEJM.2012;367:435-444. http://www.nejm.org/doi/full/10.1056/NEJMoa1201622?query=featured_home
8. Kirsner RS, Marston WA, Snyder RJ, et al. Spray-applied cell therapy with human allogeneic fibroblasts and keratinocytes for the treatment of chronic venous leg ulcers: a phase 2, multicentre, double-blind, randomised, placebo-controlled trial. Lancet.2012. [Epub ahead of print] http://www.thelancet.com/journals/lancet/article/PIIS0140-6736%2812%2960644-8/abstract
9. Golomb BA, Evans MA, Dimsdale JE, et al. Effects of Statins on Energy and Fatigue With Exertion: Results From a Randomized Controlled Trial.Arch Intern Med. 2012;13:1-2. http://archinte.jamanetwork.com/article.aspx?articleid=1183454
10. Udell JA, Steg PG, Scirica BM, Smith SC,et al; Reduction of Atherothrombosis for Continued Health (REACH) Registry Investigators. Living Alone and Cardiovascular Risk in Outpatients at Risk of or With Atherothrombosis. Arch Intern Med. 2012;172(14):1086-1095. http://archinte.jamanetwork.com/article.aspx?articleid=1188041
11. Sandberg T, Skoog G, Hermansson A. Ciprofloxacin for 7 days versus 14 days in women with acute pyelonephritis: a randomised, open-label and double-blind, placebo-controlled, non-inferiority trial. The Lancet.2012;380:484-490. http://www.thelancet.com/journals/lancet/article/PIIS0140-6736%2812%2960608-4/abstract
12. Omer Z, Ananthakrishnan A, Nattinger K, et al. Aspirin Protects Against Barrett's Esophagus in a Multivariate Logistic Regression Analysis. Clinical Gastroenterology and Hepatology.2012;10:722-727. http://www.cghjournal.org/article/S1542-3565%2812%2900310-2/abstract
13. Petrelli F, Borgonovo K, Cabiddu M, et al. Relationship between skin rash and outcome in non-small-cell lung cancer patients treated with anti-EGFR tyrosine kinase inhibitors: A literature-based meta-analysis of 24 trials. Lung Cancer. 2012. [Epub ahead of print]. http://www.lungcancerjournal.info/article/S0169-5002%2812%2900390-X/abstract