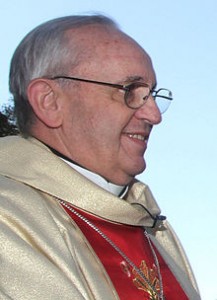 By Gregory Katz, MD
Faculty Peer Reviewed
Habemus papum! It was hard to find anything in the news this week that didn't mention Cardinal Jorge Mario Bergoglio's ascension to infallibility as he became Pope Francis. As the first pontiff from the Western Hemisphere, Francis ushers in a new era for the Catholic Church. He chose his name to honor St. Francis, the Italian friar best known for his advocacy for the poor. Overshadowed by the church's announcement was the legal rejection of Mayor Bloomberg's plan to help the health of the poor by limiting their access to cheap sources of high fructose corn syrup. Judge Milton Tingling of the New York State Supreme Court overturned the proposed embargo on sugared beverages over sixteen ounces because the Mayor's office did not go through the proper legislative channels in formulating policy.
In clinical news, the Lancet devotes their entire issue to the current and future health issues facing Iraq as it struggles to rebuild after three decades of war. Since the US invasion in 2003, more than 116,000 non combatant Iraqis have been killed and 5 million have been displaced from their homes.[1] The health supporting infrastructure has been decimated, creating a host of challenges but also an opportunity for health care system development that is in line with the needs of the people. But the Iraqi people are not the only ones affected by the years of war. Integrating veterans back into society following deployment creates unique health obstacles that must be understood by physicians who treat this population. Another study[2] found that facing combat increased the risk for committing a violent criminal offense, whereas simply being deployed did not. Risk of violence increased with increasing exposure to traumatic events while serving, with 4.1% of soldiers exposed to more than 1 traumatic event committing violent crimes upon their return, compared to 1.6% of those soldiers with 1 or fewer traumatic encounters (p<0.0001). Returning veterans are also at increased risk for alcohol abuse, and this risk increases with increasing violence exposure while serving (9.0% vs 2.3%, p<0.0001). For clinicians who work in a VA medical center, the importance of screening for traumatic experiences while serving as well as alcohol use upon return cannot be ignored.
Stroke prevention for patients with atrial fibrillation is changing rapidly with the advent of new oral anticoagulants, providing clinicians managing these patients with a new set of clinical questions to consider during management. Although data from the RELY trial demonstrated no increased risk of bleeding with dabigatran compared to warfarin for patients with nonvalvular atrial fibrillation, the FDA Adverse Events Reports System (FAERS) has received many reports of serious and fatal bleeding, suggesting to some that the risk from this drug may be higher than indicated by previously published data. A report this week from the New England Journal of Medicine [3] suggests that the novelty of dabigatran leads to a higher chance of reporting of adverse events. The authors analyzed data from the FDA's Mini-Sentinel Database and concluded that the risk of gastrointestinal and intracranial hemorrhages to be no higher for dabigatran than for warfarin. They attribute the large number of reported bleeds to "stimulated reporting." This paper underscores the importance clinicians must place in quantitative risk-benefit analysis and reinforces the notion that the plural of anecdote is not data.
Also in blood thinning news is a report from Nature Medicine [4] on the development of antidotes to the factor Xa inhibitors also used in A-fib stroke prevention. One of the major hurdles to more widespread adoption of these medications has been their lack of reversibility. This article details promising strides being made on development of antidotes for rivaroxaban and apixaban. PRT064445, an injectable competitive inhibitor of the anti-Xa drugs, has been shown to reverse the anticoagulant effects in vitro in human plasma and in vivo in rabbits and rats. It was also shown to be safe in a yet-unpublished phase 1 clinical trial and will start phase II in the coming months.
Finally, a few additional articles that caught our attention this week:
1. Medicaid Drug Selection Committees and Inadequate Management of Conflict of Interest [5]
JAMA Internal Medicine looks at the lack of standardization and transparency for state Medicaid reimbursement committees and concludes that patients are not sufficiently protected from pharmaceutical industry influences and committee member conflict of interest. This issue takes on increasing importance as the Affordable Care Act expands access to Medicaid in the coming years.
2. Post-Treatment HIV-1 Controllers with a Long-Term Virological Remission after the Interruption of Early Initiated Antiretroviral Therapy ANRS VISCONTI Study [6]
A study in PLOS Pathogens found that early treatment with combinated antiretroviral therapy allows some patients a "functional cure." The authors found that about one in eight patients who started treatment early and continued for at least a year were able to control the HIV virus for years after stopping therapy. This article raises the question of whether long term HAART will be necessary for patients with HIV.
3. Why US Adults Use Dietary Supplements [7]
This article from JAMA Internal Medicine finds that more than half of all US adults use dietary supplements and investigated their motives. Women are more likely to use products for bone health whereas men tend to use supplements for cardiac risk modification. This gives insight into the $55 billion, largely unregulated supplement industry's grip on the American people.
4. Sofosbuvir with pegylated interferon alfa-2a and ribavirin for treatment-naive patients with hepatitis C genotype-1 infection (ATOMIC): an open-label, randomised, multicentre phase 2 trial [8]
This RCT from the Lancet suggests that sofosbuvir treatment for chronic HCV is well tolerated and only needs to be continued for 12 weeks. Further inquiry in the form of phase 3 trials will be required to further establish efficacy and safety.
Habemus Primecuts!
Dr. Gregory Katz is a 1st year resident at NYU Langone Medical Center
Peer reviewed by Lakshmi S. Tummala, MD, Chief Resident, Internal Medicine, NYU Langone Medical Center
References:
1. http://www.thelancet.com/journals/lancet/article/PIIS0140-6736(13)60254-8/fulltext
2. http://www.thelancet.com/journals/lancet/article/PIIS0140-6736(13)60354-2/abstract
3.  http://www.nejm.org/doi/full/10.1056/NEJMp1302834?query=featured_home
4.  http://www.nature.com/nm/journal/v19/n3/full/nm0313-251.html
5.  http://www.ncbi.nlm.nih.gov/pubmed/23400249
6.  http://www.plospathogens.org/article/info%3Adoi%2F10.1371%2Fjournal.ppat.1003211
7.  http://archinte.jamanetwork.com.ezproxy.med.nyu.edu/article.aspx?articleid=1568520
8.  http://www.thelancet.com/journals/lancet/article/PIIS0140-6736(13)60247-0/fulltext