By Benjamin P. Geisler, MD, MPH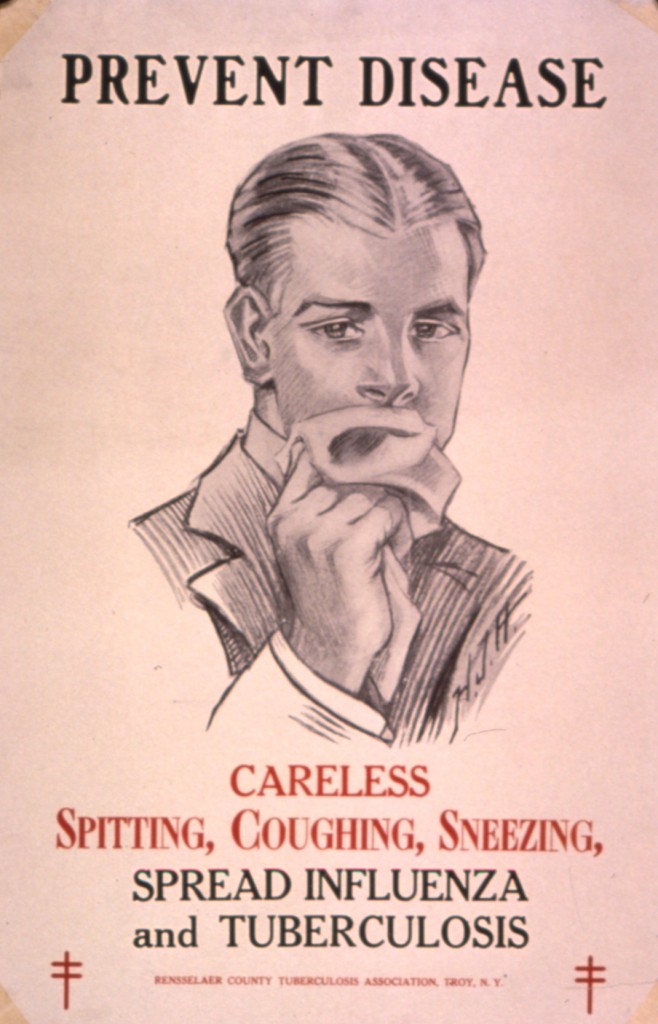 On March 24th, World Tuberculosis (TB) Day was commemorated, exactly 131 years after Robert Koch identified the mycobacterium in a talk at the Physiological Society of Berlin. In other news this week, the return of the VA primary care clinic to Manhattan was announced for April 8th, and spring began on March 20th. To mark these occasions, Primecuts brings you the freshest studies published online during the past week.
The U.S. Centers for Disease Control and Prevention's Morbidity and Mortality Weekly Report reported U.S. TB trends this week. In the U.S. – despite a drop in incidence to under 10,000 cases per year or a rate of 3.2 per 100,000 – TB remains a problem in foreign-born, HIV-positive, homeless, and/or incarcerated people, as well as those with excessive alcohol consumption. Accordingly, four states with large immigrant populations: California,Texas, New York, and Florida, account for about 50% of the case load. Multi-drug resistent (MDR) TB increased slightly from 1.3% to 1.6%, and there was one case of extensively drug-resistant (XDR) TB in the entire United States.
The latest installment The Lancet Infectious Diseases series focused on the worldwide TB situation: roughly 2 billion people, or one-third of the world's population, are infected with TB, which causes the second greatest number of deaths due to an infectious disease. HIV/AIDS remains the number one cause.  95% of TB-related deaths occur in developing countries, and 5.3% of all TB cases worldwide were classified as MDR-TB, although both MDR- and XDR-TB are probably underreported internationally due to the inability of some labs to test sensitivities. The most intriguing of the six articles in this series argues that community engagement is not just key for routine treatment, but that it can also improve participation, ethics, and research relevance. Although more research into community engagement itself is needed, preliminary good participatory practice guidelines do exist.
JAMA Internal Medicine (the journal formerly known as Archives) brings us perspectives on the use and outcomes associated with inferior vena cava filters (IVFs): a retrospective analysis from Boston Medical Center quantifies the potential harms after IVF placement.  In this study, 8% of participants had a venous thrombo-embolic event (one-third of these a pulmonary embolism); however, only half of them had a known VTE before placement, and 25% were discharged on anticoagulants. Accompanying these interesting findings are a study on the variation of IVF use, an editorial, and a narrative review. The authors rightly point out the lacking evidence of beneficial health outcomes after IVFs, the infrequent use of retrievable filters, and the sometimes wrong initial assessments that prevent anticoagulant use in the first place. They demand a randomized controlled trial from the manufacturers or a federally-funded one. In my opinion, those would possibly lead to more subgroup-related questions. After all, patients receiving IVFs are a very heterogenous group, and further retrospective or post-hoc analysis of prospective studies might elucidate certain populations with very different risk/benefit profiles.
Speaking of which, a secondary analysis of two prospective cohort studies in the BMJ looked at cardiovascular events during and after clarithromycin use in exacerbations of chronic obstructive pulmonary disease (COPD) and pneumonia. After multivariate adjustment, clarithromycin was associated with 50% more cardiovascular events (number needed to harm [NNH]: 8; 95% confidence interval: 5 to 24), 67% excess risk of acute coronary syndrome and 52% cardiovascular mortality, but notably no statistically significant additional all-cause mortality. This study used propensity score matching to account for measured confounders but remains observational. The authors speculate on the mechanism, possibly relating to macrophage activation that could cause rupture of vulnerable plaques. This relates to a randomized controlled trial from 2006 which hypothesized that the anti-chlamydial effects of clarithromycin would lead to a decrease in mortality and cardiovascular events but in fact showed an increase in one of the endpoints (cardiovascular mortality, MI, unstable angina, stroke, or peripheral artery disease). A recent observational study of another macrolide, azithromycin, showed an increase in cardiovascular and all-cause mortality during the five-day course of a "Z-pak" compared to amoxicillin and led to a black box warning by the Food and Drug Administration.
A study from a Sloan Kettering research team published in Science Translational Medicine showed the promise of a CD19-specific "second-generation" chimeric (CD28 and CD3 x chain) antigen for relapsed B-cell acute leukocytic leukemia. A similar treatment was previously deemed helpful for chronic leukemic leukemia in a trial at UPenn. The treatment, with the patients' own T-cells, is known as adoptive cellular therapy, where a retrovirus encoding a T-cell receptor that matches the target – in this case CD19 – infects T-cells in vitro, after which these cells are transferred back to the patients. All five patients in the trial achieved complete remission initially. A resulting cytokine storm that was described as correlating to the bulk of the residual disease was controlled with steroids. Four patients received a hematopoietic stem cell transplantation (HSCT) soon after a the T-cell transfer and then conditioning with cyclophosphamide, and they did not relapse until the end of follow-up – six weeks to 18 months after HSCT. One patient was deemed ineligible for a HSCT and relapsed. The limiting factor might have been the steroid therapy, but the authors suggest that repeated transfusions can be considered in cases where adopted T-cells do not persist and where HSCT is impossible.
Two randomized controlled trials investigating closure of patent foramen ovale versus medical therapy for secondary stroke prevention from paradoxical embolism were published simultaneously by The New England Journal. Medical therapy in the RESPECT trial consisted of aspirin in 47% of patients, warfarin in 25%, clopidogrel in 14% and the rest with combination therapy; the follow-up was 2.6 years. The PC trial also included patients with prior TIAs and had a composite endpoint of TIA, nonfatal stroke, and peripheral embolism. Both trials showed a trend towards reducing their respective endpoints but failed to show a significant difference. The authors explain this with a lower than expected event rate and the increased cross-over. However, the PC trial did not list the distribution of anticoagulants used and the RESPECT trial does not report stratified results by subgroups.
Other notable negative studies this week included the ASTRONAUT trial that failed to show a reduction in cardiovascular mortality or rehospitalizations by aliskiren, compared to standard of care alone, and the ACCESS trial which concluded that eritoran, a MD2-TLR4 antagonist, did not reduce mortality in severe sepsis. The efficacy of RTS,S/AS01E, a malaria vaccine, was judged to be only modest. However, there is a whole new class of antimalarials in animal studies right now, quinolone-3-diarylethers, that could be helpful treating malaria.
Finally, a PLoS One paper studied the routine use of placebos in the United Kingdom, where one in eight doctors have ever prescribed pure placebos and almost all doctors have a lifetime prevalence of prescribing impure placebos, i.e., those that lack efficacy for the patient's complaint. Similarly, only 1% of physicians used pure placebos at least once a week but three out of four did so with impure placebos. Almost one in five survey respondents did not find it troubling to use placebos even when they involve deception.
In case you are wondering about the illustration in this week's Primecuts, the VA actually still has a penalty for spitting on their grounds. It's $25.
Benjamin P. Geisler, MD, MPH is an intern in NYU's Categorical Residency Program in Internal Medicine
Peer reviewed by Lakshmi S. Tummala, MD, Associate Editor, Clinical Correlations

Image courtesy of Wikimedia Commons