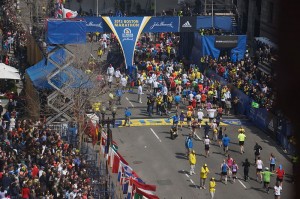 By Ellie Hammer, MD
Faculty Peer Reviewed
This week NBA basketball player Jason Collins came out as the first openly gay athlete playing on a major American sports team. Fighting continued in Syria and law enforcement officers continued to investigate the Boston Marathon bombers and their motivations. Finally, the cannibalized remains of a young settler at Jamestown, the first permanent English settlement in the New World, were discovered. This finding furthers our understanding of the harsh reality our forefathers endured to establish a permanent presence in the Americas. After contemplating this news about our collective past, we look ahead to our future in this weeks' installment of Primecuts.
This week the New England Journal of Medicine reported the effects of Medicaid coverage on clinical outcomes [1]. In 2008, Oregon underwent a limited expansion of its Medicaid program. Spots were allocated via a lottery system and health outcomes over 2 years from the 10,405 winners were compared with those of the 10,340 not selected to receive coverage. This was the first randomized controlled trial to scrutinize the utility of health insurance and it found that enrollment in Medicaid led to increased access to and utilization of the health care system with associated improvements in rates of depression. True to its intended purpose the acquisition of health insurance significantly decreased financial strain. Importantly, coverage did not improve blood pressure, hemoglobin A1c, or cholesterol levels, though the authors point out that the power to detect these changes was limited by small numbers. The implications of this study on health policy are still open to debate.
Moving from macro to micro, scientists from the Cancer Genome Atlas Research Network delved into the genetics of endometrial cancer this week in Nature [2]. Their goal was to evaluate the utility of genetic markers to help guide the appropriate post-surgical adjuvant therapy in women with aggressive tumors. Endometrial cancer is generally divided into two different subtypes. One tends to have a favorable prognosis and is treated with adjuvant radiation whereas the other portends worse outcomes and necessitates treatment with chemotherapy. It is often difficult to distinguish between these two subtypes pathologically, particularly with respect to high grade serous and endometrioid endometrial carcinomas. Comprehensive molecular analysis of tumor samples from 373 patients using genomic and proteomic platforms revealed patterns of genetic abnormalities that allowed tumors to be classified into four distinct groups based on POLE (a catalytic subunit of DNA polymerase involved in DNA replication and repair), microstatellite instability, and high versus low copy number. This reclassification of tumors may significantly affect choice of post-surgical adjuvant therapy, particularly in women with high-grade tumors.
Furthermore, uterine serous carcinomas were found to share many molecular features with high-grade serous ovarian carcinomas and basal-like breast carcinomas, suggesting that all three may be treated similarly. Additionally, molecular analyses demonstrated many shared characteristics between endometrioid endometrial carcinomas and colorectal cancers. These combined findings point to a marked paradigm shift in cancer classification. Our current system of categorizing cancers based on organ of origin may in the not-to-distant future be supplanted by a classification system based on shared genetic markers with major implications for prognosis and treatment.
In sticking with genes, Janssen et al [3] report in NEJM initial, limited success in the treatment of chronic Hepatitis C genotype 1 infection with a non-interferon based regimen. MicroRNA-122 (miR-122) is a non-coding RNA expressed in the liver that is involved in post-transcriptional regulation of gene expression and is essential to the stability and propagation of HCV RNA. The nucleotide analog Miravirsen binds and inhibits miR-122 thereby suppressing HCV infection. Thirty-six patients were enrolled in this randomized, double-blind, placebo-controlled phase 2a trial of once weekly injected Miravirsen. Results revealed a dose-dependent reduction in HCV RNA levels of 1.2 to 3 (log10 IU per ml) with Miravirsen as compared with a 0.4 (log10 IU per ml) reduction in the placebo group. This study demonstrates the promise of therapies directed at silencing noncoding host miRNA, as well as the potential for HCV therapy free of interferferon and ribavirin and their substantial side effects. Keep your fingers crossed.
While we're waiting, let's take a look at the recently released U.S. Preventive Services Task Force Recommendation (USPSTF) Statement [4] on screening for HIV infection published in the Annals of Internal Medicine. 1.2 million people in the U.S. currently have HIV; 20-25% of them do not know it. Since 2005 – when the USPSTF guidelines recommended risk based screening rather than universal screening – new evidence has demonstrated a benefit of treatment for CD4 counts of 200-500 with subsequent marked increases in the pool of patients who could potentially benefit. Recent studies have also shown that early ART initiation can decrease the risk of transmission and high-risk behaviors. In light of this new evidence the USPSTF, like the Centers for Disease Control, now recommends that all patients ages 15-65, all pregnant women, and individuals outside this age range at high risk be screened routinely for HIV. The optimal screening interval, though, remains to be determined.
Getting back to NEJM, Katz et al. [5] compared the utility of surgical intervention with that of medical management for patients over age 45 with a symptomatic meniscal tear and radiographic evidence of osteoarthritis. 274 patients were randomly assigned to arthroscopic partial meniscectomy followed by physical therapy (PT) or to PT alone. After 6 months there was no statistically significant difference between the two groups with respect to change in scores from baseline on the Western Ontario and McMaster Universities Osteoarthritis Index (WOMAC). However, by that point in time 30% of patients originally assigned to medical management had crossed over to undergo surgical intervention. It is also worth noting that strong patient or physician preference for treatment modality limited rates of enrollment in this study. Despite this, it seems that in the absence of a strong preference, surgery should be reserved for those who don't improve with a trial of medical therapy alone.
Here are a few other interesting reads from this week:
1. Thomas K, et al. Penicillin to prevent recurrent leg cellulites. NEJM 2013; 368(18):1695-1703. http://www.nejm.org/doi/full/10.1056/NEJMoa1206300
This randomized, double-blind, placebo-controlled trial found that low dose oral penicillin prophylactic therapy decreased the risk of recurrent cellulitis by 45%; unfortunately, patients with a BMI>33, history of at least 3 prior episodes of cellulitis, or pre-existing lymphedema were less likely to respond to prophylaxis.
2. Lavigne, E. Breast cancer detection and survival among women with cosmetic breast implants: systematic review and meta-analysis of observational studies. BMJ 2013;346:f2399 doi: 10.1136/bmj.f2399. http://www.bmj.com/content/346/bmj.f2399
 This systematic review of the literature determined the presence of cosmetic breast implants in women diagnosed with breast cancer was associated with a later stage of tumor diagnosis and, in a meta-analysis of relevant studies, a reduced survival after breast cancer diagnosis (hazard ratio 1.38).
3. Underwood et al. Exercise for depression in elderly residents of care homes: a cluster-randomised controlled trial. The Lancet 2013: doi:10.1016/S0140-6736(13)60649-2. http://www.thelancet.com/journals/lancet/article/PIIS0140-6736(13)60649-2/fulltext
Although exercise is a moderately low risk intervention, a moderately intense exercise program did not reduce depressive symptoms in residents of nursing home.
Dr. Ellie Hammer is a 2nd year resident at NYU Langone Medical Center
Peer reviewed by Robert Gianotti, MD, Associate Editor, Clinical Correlations
Image courtesy of Wikimedia Commons
References:
1. Baicker et al. The Oregon experiment; effects of Medicaid on clinical outcomes. NEJM 2013; 368:1713-1722. http://www.nejm.org/doi/full/10.1056/NEJMsa1212321
2. The Cancer Genome Atlas Research Network. Integrated genomic characterization of endometrial carcinoma. Nature 497, 67–73 (02 May 2013) doi:10.1038/nature12113
Received 10 December 2012 Accepted 21 March 2013 Published online 01 May 2013. http://www.nature.com/nature/journal/v497/n7447/full/nature12113.html
3. Janssen et al. Treatment of HCV infection by targeting microRNA. NEJM 2013; 368(18):1685-94. http://www.nejm.org/doi/full/10.1056/NEJMoa1209026
4. Screening for HIV: U.S. Preventive Services Task Force Recommendation Statement
Ann Intern Med. Published online 30 April 2013 doi:10.7326/0003-4819-159-1-201307020-00645. http://annals.org/article.aspx?articleid=718527
5. Katz et al. Surgery versus physical therapy for a meniscal tear and osteoarthritis. NEJM 2013; 368(18):1675-84. http://www.nejm.org/doi/full/10.1056/NEJMoa1301408