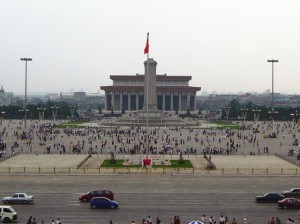 By Mark Adelman, MD
Peer Reviewed
This week marked the anniversaries of several major events in 20th century world history. June 4th was the 25th anniversary of the Tiananmen Square Massacre, during which the Chinese military forcibly removed pro-democracy protestors that had been camped outside of Beijing's Forbidden City. Estimates vary widely due to the Chinese government's official prohibition on public discussion of the events, but anywhere from a few hundred to several thousand people were killed in the process [1]. Seventy years ago on June 6th, over 150,000 Allied troops landed on the beaches of Normandy, France. Known as D-Day, this largest seaborne invasion in history was the beginning of the end for the Nazi occupation of Europe [2]. With these historic events in mind, we now turn our eyes to present day medical literature.
A new, oral, peripherally-acting opioid receptor antagonist for treatment of opioid-induced constipation
Constipation is a commonly reported side effect of opioid analgesic therapy. With over 240 million opioid prescriptions dispensed in the US per year, opioid-induced constipation is a highly prevalent problem for patients and providers, and can respond poorly to dietary change, lifestyle modification and laxative use. With this in mind, Chey and colleagues studied the use of naloxegol, an oral, peripherally-acting mu-opioid receptor antagonist in patients with constipation due to the use of opioids for non-cancer pain. The results of their two industry-funded, multi-center, randomized, double-blind, placebo-controlled studies are published online by the New England Journal of Medicine [3]. Patients were eligible if they were taking a stable dose of an opioid for at least four weeks, had no cancer diagnosis within five years, and reported constipation (defined as <3 spontaneous bowel movements per week with one or more of the following symptoms: hard or lumpy stools, straining, or a sensation of incomplete evacuation or anorectal obstruction in at least 25% of bowel movements during the 4 weeks before screening). Enrolled patients were randomized to receive either 25mg of naloxegol, 12.5mg of naloxegol or placebo daily for 12 weeks. The primary endpoint was a clinical response defined as: three or more spontaneous bowel movements per week and an increase of one or more spontaneous bowel movements over baseline for at least 9 of 12 treatment weeks and at least 3 of the final 4 treatment weeks. 652 patients were enrolled in "study 04" and 700 patients in "study 05." Both study groups had a statistically significant response to the 25mg dose compared to placebo (44.4% vs. 29.4% in study 04, 39.7% vs. 29.3% in study 05), while only the participants in study 04 had a significant response to the 12.5mg dose. Adverse events were more common in the 25mg group, and most commonly included abdominal pain and diarrhea. This new medication may prove to be an important addition to currently available treatments for opioid-induced constipation such as methylnaltrexone, which is FDA-approved only for patients taking opioids for cancer-associated pain and must be injected subcutaneously.
Is azithromycin use in elderly patients with pneumonia beneficial or harmful?
Azithromycin is a first-line therapy for both inpatient and outpatient management of community-acquired pneumonia (CAP), with the Infectious Disease Society of America and American Thoracic Society advocating for its use in their most recent clinical practice guideline on the management of CAP in adults. Recently published observational studies have come to different conclusions regarding an association between azithromycin use and cardiovascular events and death [4,5]. Mortensen and colleagues add to this debate with a large, retrospective cohort study published in JAMA that examined the use of azithromycin and other guideline-supported antibiotics in elderly patients hospitalized for pneumonia [6]. Using a nationwide VA health care system database, 31,863 patients aged >65 years exposed to azithromycin during a hospitalization for pneumonia were matched 1:1 to controls who received other antibiotics for treatment of pneumonia. Outcomes included 30 and 90-day all-cause mortality as well as 90-day cardiovascular events (which included myocardial infarction, arrhythmias and heart failure). Azithromycin use was associated with lower all-cause mortality at both 30 days (odds ratio [OR] 0.76; 95% confidence interval [CI], 0.73-0.80) and 90 days (OR 0.73; 95% CI, 0.70-0.76). Of the cardiovascular adverse event outcomes, only myocardial infarction was more common in the azithromycin group, and the absolute risk increase was small: 5.1% (95% CI, 4.8%-5.3%) vs. 4.4% (95% CI, 4.2%-4.6%). Further investigation may be warranted to identify those patients at highest risk for adverse events related to therapy with azithromycin. But this study should serve to reassure prescribers that when patients present with an infection for which azithromycin is indicated, such as inpatient management of pneumonia, benefits likely outweigh potential harms.
Do 5α-reductase inhibitors increase the risk of high-grade prostate cancer?
5α-reductase inhibitors (5ARIs) are commonly prescribed for benign prostatic hyperplasia. Use of 5ARIs has also been investigated for chemoprophylaxis of prostate cancer. Previous randomized controlled trials [7,8] have suggested that 5ARI use can reduce the incidence of low-grade prostate cancer (Gleason score <6), but unexpectedly may increase the risk of high-grade prostate cancer (Gleason score 8-10). In an online first study released by JAMA Internal Medicine this week, investigators used data from the Health Professionals Follow-up Study, a large, prospective cohort study of male health professionals aged 40-75 years at baseline that has collected health-related information on subjects for over two decades [9]. Their analysis focused on men who were diagnosed with prostate cancer between 1996 and 2010 (1996 was the first year questions related to 5ARI use were included in the survey). Among approximately 38,000 men without a prior diagnosis of prostate cancer, about 3700 were diagnosed during the study period. Adjusting for possible confounders with multivariate analysis, investigators found that exposure to 5ARIs was associated with a lower risk of overall (HR 0.77; 95% CI, 0.65-0.91) and low-grade (HR, 0.74; 95% CI, 0.57-0.95) prostate cancer diagnosis. There was no association between 5ARIs and incident high-grade (HR, 0.97; 95% CI, 0.64-1.46) or lethal (HR, 0.99; 95% CI, 0.58-1.69) prostate cancer. One important limitation that the authors acknowledge is that the number of subjects with high-grade or lethal prostate cancers was small (289 and 456 patients, respectively), with wide resultant confidence intervals and the possibility that they simply failed to detect a signal of increased harm in this particular population. Furthermore, 91% of the study population was white, limiting its generalizability to black men who are more likely than white men to be diagnosed with both any prostate cancer as well as high grade tumors. Mortality rates among black men with prostate cancer are also higher than in white men. This clinical question seems to remain unanswered, and further studies are needed.
Other notable publications this week
Intravenous metoprolol given to patients who presented with Killip class <II ST elevation myocardial infarction before undergoing primary percutaneous coronary intervention resulted in higher left ventricular ejection fraction at 6 months and reduced heart failure admissions at 2 years [10].
Simeprevir is another oral agent active against hepatitis C virus (HCV) protease NS3/4A. When added to interferon and ribavirin therapy in patients infected with HCV genotype 1 who had relapsed after prior treatment, sustained virological response rates were about 80% [11].
A systematic review and meta-analysis of interventions to reduce readmissions among patients with heart failure found the following: Home visit programs and multidisciplinary heart failure clinic visits reduced all-cause readmission and mortality; Telephone-support interventions reduced heart failure specific admissions and mortality [12].
A case report in the New England Journal of Medicine of laboratory-confirmed transmission of the MERS Coronovirus from a camel to a Saudi man who died of his infection. Camels may represent an important reservoir for this new and often lethal virus [13].
Dr. Mark Adelman is a contributing editor, Clinical Correlations
Peer reviewed by Matthew Vorsanger, MD, Associate Editor, Clinical Correlations
Image courtesy of Wikimedia Commons
References
1. Wan W, Denyer S. In Tiananmen Square, no trace of remembrance on 25th anniversary of protests. Washington Post. Published June 4, 2014. http://www.washingtonpost.com/world/security-tight-as-china-represses-tiananmen-anniversary/2014/06/04/4d1c39e9-84c4-475c-a07a-03f1d2dd9cdf_story.html
2. CNN Library. D-Day Fast Facts. Available at: http://www.cnn.com/2013/06/03/world/europe/d-day-fast-facts/index.html
3. Chey WD, Webster L, Sostek M, Lappalainen J, Barker PN, Tack J. Naloxegol for Opioid-Induced Constipation in Patients with Noncancer Pain. N Engl J Med. Epub June 4, 2014. http://www.nejm.org/doi/full/10.1056/NEJMoa1310246
4. Ray WA, Murray KT, Hall K, Arbogast PG, Stein CM. Azithromycin and the risk of cardiovascular death. N Engl J Med. 2012;366(20):1881-1890. http://www.nejm.org/doi/full/10.1056/NEJMoa1003833
5. Svanström H, Pasternak B, Hviid A. Use of azithromycin and death from cardiovascular causes. N Engl J Med. 2013;368(18):1704-1712. http://www.nejm.org/doi/full/10.1056/NEJMoa1300799
6. Mortensen EM, Halm EA, Pugh MJ, Copeland LA, Metersky M, Fine MJ, et al. Association of Azithromycin With Mortality and Cardiovascular Events Among Older Patients Hospitalized With Pneumonia. JAMA. 2014;311(21):2199-2208. http://jama.jamanetwork.com/article.aspx?articleid=1877208
7. Andriole GL, Bostwick DG, Brawley OW, et al; REDUCE Study Group. Effect of dutasteride on the risk of prostate cancer. N Engl J Med. 2010;362(13):1192-1202. http://www.nejm.org/doi/full/10.1056/NEJMoa0908127
8. Thompson IM, Goodman PJ, Tangen CM, et al. The influence of finasteride on the development of prostate cancer. N Engl J Med. 2003;349(3):215-224. http://www.nejm.org/doi/full/10.1056/NEJMoa030660
9. Preston MA, Wilson KM, Markt SC, Rongbin G, Morash C, Stampfer MJ. 5?-Reductase Inhibitors and Risk of High-Grade or Lethal Prostate Cancer. JAMA Internal Med. Epub June 2, 2014. http://archinte.jamanetwork.com/article.aspx?articleid=1878668
10. Pizarro et al. Long term benefit of early pre-reperfusion metoprolol administration in patients with acute myocardial infarction: results from the METOCARD-CNIC trial. J Am Coll Cardiol. 2014 Mar 24. pii: S0735-1097(14)01682-9. http://content.onlinejacc.org/article.aspx?articleID=1854321
11. Forns et al. Simeprevir With Peginterferon and Ribavirin Leads to High Rates of SVR in Patients With HCV Genotype 1 Who Relapsed After Previous Therapy: A Phase 3 Trial. Gastroenterology. 2014 Jun;146(7):1669-1679. http://www.gastrojournal.org/article/S0016-5085%2814%2900293-5/fulltext
12. Feltner et al. Transitional Care Interventions to Prevent Readmissions for Persons With Heart Failure: A Systematic Review and Meta-analysis. Ann Intern Med. 2014 Jun 3;160(11):774-84. http://annals.org/article.aspx?articleid=1874735
13. Azhar et al. Evidence for Camel-to-Human Transmission of MERS Coronavirus. N Engl J Med. 2014 Jun 4. [Epub ahead of print]. http://www.nejm.org/doi/full/10.1056/NEJMoa1401505