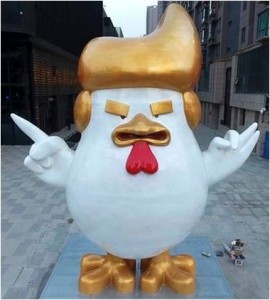 By Carolyn B. Drake, MD, MPH
Peer Reviewed
News:
In the fortnight since Donald Trump was inaugurated as the 45th president of the United States, we've seen a flurry of political activity as the new president seeks to make good on his promises from the campaign trail. From the headlines, these actions include: a number of executive orders signed, a controversial refugee ban enacted with widespread protests in its wake, the release of initial plans to build a wall along the border between Mexico and the U.S., the nomination of a conservative Supreme Court justice candidate, approval for the advancement of oil pipelines across Native American territories, the cessation of international trade partnerships, and initial steps to overhaul or completely curtail the Affordable Care Act.
Taking a break from politics, a review of this week's cultural news, both international and domestic: China welcomed the year of the rooster, the tenth in the 12-year cycle of Chinese zodiac sign, and New Yorkers celebrated with a festive parade through Chinatown. And, at a time when celebrating and recognizing diversity is on the minds of many, Black History Month began on February 1st. Incidentally (or perhaps intentionally), this was also the day Beyoncé announced that she is expecting twins. Finally, for the superstitious among us, Punxsutawney Phil made his 131st prognostication on Groundhog Day, and it's looking like winter will be with us for another six weeks.
Primecuts: 
Asymptomatic carriers contribute to nosocomial Clostridium difficile infection: a cohort study of 4508 patients1
The incidence, morbidity, and mortality of Clostridium difficile infections in hospitalized patients have all increased substantially in the past decade, partially driven by the emergence of increasingly virulent strains.2 Correspondingly, research focusing on effective treatment regimens and the prevention of nosocomial C difficile transmission has also proliferated, with many important articles being published even in the past few weeks.3–5 Until this year, no large, high-level studies had examined the impact of asymptomatic carriers of toxigenic C difficile on the rates of nosocomial C difficile infection. Danish researchers conducted a population-based, prospective cohort study of all patients admitted to two university hospitals in Copenhagen (4,508 from a catchment area of approximately 416,000) over four months in 2012-2013;1 the only patients from whom a fecal swab was not collected for the study were those who chose not to participate, those who were discharged too quickly to facilitate collection of a sample, and those for whom critical illness, language disparity, or cognitive impairment presented a barrier to consent for fecal swabbing. Still, investigators' calculations of the 'infectious pressure' on any given patient (their infection risk based on the number of asymptomatic carriers identified among of the total number of patients in the same ward or shared patient room) included these un-tested patients as well, as the results were not found to vary significantly based on their inclusion or exclusion.
In general, patients exposed to asymptomatic carriers in their shared room were much more likely to develop C difficile infection than those not exposed (4.6% and 2.6% respectively, OR 1.79, 95% CI 1.16-2.76). The number needed to harm was 50 patients at the room level (95% CI 27–359) and 71 patients (95% CI 37–698) at the ward level. Asymptomatic carriers of toxigenic C difficile were much more likely than non-carriers to develop an infection while admitted (OR 4.64, 95% CI 2.86–7.54). Interestingly, the cases of C difficile infection that arose during the study period were not clustered during a particular time period, on a certain ward, or within one of the hospitals. Both carriers of C difficile and those with an active infection were, on average, older and had a greater number of comorbidities and prior hospitalizations relative to those without toxigenic C difficile. The main limitation of the study is its relatively narrow focus on two Danish hospitals; employees and trainees at these institutions may have particularities of room cleaning and isolation practices that are not generalizable to other institutions, and the strains of C difficile endemic to their catchment area may or may not be similar to those of other European or US institutions. Still, the finding that one in every fifty patients exposed to an asymptomatic carrier in a shared patient room is likely to develop a nosocomial C difficile infection indicates that there may be some benefit to routine fecal screening at the time of admission, with implementation of isolation precautions even for asymptomatic carriers. Taken together with other recent publications calling for increased research into enhanced terminal room disinfection strategies, such as the use of UV light to decrease spore burden,3,4 the research indicates that a number of hospital policies and practices may need to shift to adequately control the increasing burden of nosocomial C difficile infection.
Twenty-Year Outcome after Mitral Repair Versus Replacement for Severe Degenerative Mitral Regurgitation: Analysis of a Large, Prospective, Multicenter International Registry.6
Guidelines currently recommend that mitral valve repair be conducted preferentially to mitral valve replacement for severe chronic degenerative mitral regurgitation.7 However, the level of evidence supporting this recommendation is fairly low, and a number of recent studies have called the superiority of mitral valve repair versus replacement into question.8–12 In an attempt to provide an update to the evidence on which the recommendations for MV repair versus replacement are based, researchers used data from the Mitral Regurgitation International Database (the MIDA is a large, prospective, multicenter international registry drawing from 6 tertiary care facilities) to create a comprehensive, statistically nuanced, propensity score-matched analysis of short- and long-term outcomes associated with MV repair and replacement.6 The 2472 patients in the MIDA registry were enrolled after degenerative MR with flail leaflet was identified on transthoracic echocardiography completed between 1980 and 2005. The MIDA registry did not enroll persons with ischemic MR, concurrent aortic valvular dysfunction, mitral stenosis, congenital heart disease, or prior cardiac surgery. Of those in the MIDA registry, 1922 patients were included in the study: 1709 had undergone mitral valve repair, while 213 underwent mitral valve replacement surgery. Those excluded from analysis were those under 18 years old, those with incomplete data sets, and those who were exclusively medically managed.
The findings of the study unequivocally supported mitral valve repair over replacement: in propensity-matched populations, MV repair had lower operative mortality than replacement (0.2% versus 4.4%, P<0.001) and better 20-year survival rates (41% versus 24%, P<0.001), and the superiority of repair held when analysis was stratified by age, sex, leaflet(s) prolapsed, or other coronary risk factors. Patients who underwent repair also had fewer complications on the whole, including stroke, bleeding, and endocarditis, and a slightly lower rate of re-operation than those who had their valve replaced. Overall, the article provided a thorough and needed update to the available evidence supporting the recommendation to repair rather than replace the mitral valve in the setting of severe degenerative disease with flail leaflet.
Association Between Tracheal Intubation During Adult In-Hospital Cardiac Arrest and Survival13
European and American 2015 guidelines for cardiopulmonary resuscitation recommend that either a bag-valve-mask or an advanced airway may be used to assist with oxygenation and ventilation during resuscitative efforts,14,15 but very little data – and no randomized trials – are available regarding the utility or outcomes associated with the use of advanced airways in this setting.16 An observational, retrospective cohort study was recently published analyzing data from 108,079 adult patients who experienced in-hospital cardiac arrest between 2000 and 2014, available through the multicenter, US-based Get With The Guidelines-Resuscitation (GWTG-R) registry. Patients with an airway already in place at the time of cardiac arrest were excluded from consideration. Of all patients considered, only 22.4% survived to hospital discharge. The majority (66.3%) were intubated within the first 15 minutes of cardiopulmonary resuscitation. For the analysis, propensity-matched cohorts were created, pairing patients who were intubated during any given minute of the first 15 minutes with patients who were not intubated during that minute; intubated patients were found to have lower rates of ROSC (57.8% versus 59.3%, RR = 0.97; 95% CI 0.96-0.99; P < .001), lower survival rates to hospital discharge (16.3% versus 19.4%, RR = 0.84; 95% CI, 0.81-0.87; P < .001), and lower rates of good functional neurological outcome following resuscitation (10.6% versus 13.6%, RR = 0.78; 95% CI, 0.75-0.81; P < .001).The authors posit that possible reasons for poorer outcomes associated with early intubation include prolonged cessation of chest compressions during an intubation attempt, as well as possible delay in the delivery of other needed interventions such as defibrillation or epinephrine administration; hyperventilation or hyperoxia following intubation and tube mis-placement or malfunction were also proposed as possible mechanisms.
The study's major limitation is that data were drawn from a dataset that did not include information regarding the underlying etiology of the cardiac arrests, nor the clinical factors that prompted the decision to intubate, leaving the results of the study open to 'confounding by indication.'17 It is possible that patients who were intubated earlier had a greater number of comorbidities or poorer overall prognosis contributing to the decision to intubate. Similarly, for patients with pre-existing respiratory insufficiency (e.g., from underlying pulmonary pathology), it is possible that the development of respiratory failure prompted cardiac arrest; in these instances, earlier intubation would theoretically be beneficial. The study's findings in subgroup analysis supported this hypothesis: intubation was not found to have a negative impact on survival for those with respiratory insufficiency – one of the only subgroups for which this was the case. Overall, the article makes a valuable contribution to the evidence on which future recommendations may be based, finding that the common practice of early tracheal intubation during cardiac arrest is not supported by available data.
Financial ties of principal investigators and randomized controlled trial outcomes: cross sectional study18
A recent study published in the British Medical Journal analyzed associations between drug trial findings and the personal financial ties of the study's principal investigators. The authors noted that a number of previously-published articles had assessed the interplay between industry funding for studies and their outcomes, but that theirs was the first to analyze the personal funding of principal investigators – honoraria, consultancy payments, travel or speaker fees, stock ownership, or employee relationships – as separate from funding granted to an institution for the study itself, across different medical specialties, drug classes, and journals. The researchers identified a total of 2851 RCTs published in "core clinical" journals in 2013 via Medline search, including only English-language, human-subject trials. Non-drug studies and non-primary studies were excluded, as were those without an identifiable funding source for the study and those for which the drug manufacturer was unidentifiable. A random sample of studies (n=190) that met inclusion criteria were ultimately analyzed for financial ties of PIs and positive or negative outcomes for the drug being studied.
Of the cross-section of publications analyzed, 67.7% were found to have financial ties between principal investigator(s) and the pharmaceutical industry. Principal investigators of RCTs with positive outcomes (drug efficacy, superiority, or non-inferiority) were much more likely to have financial ties than those with negative findings (76% and 49%, respectively). Even following multivariate analysis controlling for study funding source, study phase, country of first authors, medical specialty, study design, and outcome measure, the association between financial ties of study authors and the findings of the RCT held (OR 3.37, 1.4 to 7.9). Authors noted that one limitation of the study was its cross-sectional nature; causation cannot be established from these findings. Still, the article raises important questions about the possibility of bias in the evidence base, given the wide prevalence of industry funding for the principal investigators of the RCTs used to shape medical practice and drug utilization. Mini-cuts articles:
Despite a dearth of data to support the practice, the number of US adults without a diagnosis of celiac disease who reported following a gluten-free diet tripled between 2009 and 2014. In the same time period, the prevalence of celiac disease in the United States – which has been on the rise in recent years – was found to have plateaud.19 
Good news for "weekend warriors": a recent analysis of data from nearly 64,000 UK adults over a nine year period found that those exercising only once or twice per week (often on weekends) with at least moderate intensity – were found to have similar reductions in all-cause, cardiovascular, and cancer-related mortality when compared to their peers who exercised more frequently.20
While appropriate regimens for diet and exercise are among the least contentious areas of medical science, some more controversial areas of healthcare are in flux as current sociopolitical shifts play out: a New England Journal of Medicine perspective piece discusses the pending policy decisions governing the availability of free birth control, access to abortion services, and non-discrimination in the pursuit of goods, services, healthcare, and job opportunities for gender and sexuality minorities.21
Dr. Carolyn B. Drake, MPH, is a 1st year resident, internal medicine, at NYU Langone Medical Center
Peer Reviewed by Benjamin Milgrom, MD, internal medicine, Bellevue Hospital
Image courtesy of Associated Press: http://indianexpress.com/article/trending/bizarre/trump-china-rooster-trump-statue-has-left-the-twitterati-is-splits-4458568/
References
Blixt T, Gradel KO, Homann C, et al. Asymptomatic carriers contribute to nosocomial Clostridium difficile infection: a cohort study of 4508 patients. Gastroenterology. January 2017. doi:10.1053/j.gastro.2016.12.035.
Gabriel L, Beriot-Mathiot A. Hospitalization stay and costs attributable to Clostridium difficile infection: A critical review. J Hosp Infect. 2014;88(1):12-21. doi:10.1016/j.jhin.2014.04.011.
Anderson DJ, Chen LF, Weber DJ, et al. Enhanced terminal room disinfection and acquisition and infection caused by multidrug-resistant organisms and Clostridium difficile (the Benefits of Enhanced Terminal Room Disinfection study): a cluster-randomised, multicentre, crossover study. Lancet. January 2017. doi:10.1016/S0140-6736(16)31588-4.
Crotty MP, Jackson PJ. Terminal room disinfection : how much BETR can it get ? Lancet. 2017;6736(16):10-11. doi:10.1016/S0140-6736(16)32412-6.
Wilcox MH, Gerding DN, Poxton IR, et al. Bezlotoxumab for Prevention of Recurrent Clostridium difficile Infection. N Engl J Med. 2017;376(4):305-317. doi:10.1056/NEJMoa1602615.
Lazam S, Vanoverschelde J-L, Tribouilloy C, et al. Twenty-Year Outcome after Mitral Repair Versus Replacement for Severe Degenerative Mitral Regurgitation: Analysis of a Large, Prospective, Multicenter International Registry. Circulation. 2016;135(5):CIRCULATIONAHA.116.023340. doi:10.1161/CIRCULATIONAHA.116.023340.
Bonow, R., Carabello, B., Erwin, J. … Thomas J. 2014 AHA / ACC Guideline for the Management of Patients With Valvular Heart Disease: Executive Summary. J Am Coll Cardiol. 2014;63(22):1-169. doi:10.1161/CIR.0000000000000029/-/DC1.The.
Vassileva CM, McNeely C, Mishkel G, Boley T, Markwell S, Hazelrigg S. Gender differences in long-term survival of medicare beneficiaries undergoing mitral valve operations. Ann Thorac Surg. 2013;96(4):1367-1373. doi:10.1016/j.athoracsur.2013.04.055.
Wang TKM, Oh T, Voss J, Gamble G, Kang N, Pemberton J. Valvular repair or replacement for mitral endocarditis: 7-year cohort study. Asian Cardiovasc Thorac Ann. 2014;22(8):919-926. doi:10.1177/0218492314521613.
Gillinov AM, Blackstone EH, Nowicki ER, et al. Valve repair versus valve replacement for degenerative mitral valve disease. J Thorac Cardiovasc Surg. 2008;135(4):885-893, 893-2. doi:10.1016/j.jtcvs.2007.11.039.
Acker MA, Parides MK, Perrault LP, et al. Mitral-Valve Repair versus Replacement for Severe Ischemic Mitral Regurgitation. N Engl J Med. 2014;370(1):23-32. doi:10.1056/NEJMoa1312808.
Thourani VH, Weintraub WS, Guyton RA, et al. Outcomes and long-term survival for patients undergoing mitral valve repair versus replacement: Effect of age and concomitant coronary artery bypass grafting. Circulation. 2003;108(3):298-304. doi:10.1161/01.CIR.0000079169.15862.13.
Andersen LW, Granfeldt A, Callaway CW, et al. Association Between Tracheal Intubation During Adult In-Hospital Cardiac Arrest and Survival. JAMA. 2017;132(16):S84-S145. doi:10.1001/jama.2016.20165.
Soar J, Nolan JP, B??ttiger BW, et al. European Resuscitation Council Guidelines for Resuscitation 2015. Section 3. Adult advanced life support. Resuscitation. 2015;95:100-147. doi:10.1016/j.resuscitation.2015.07.016.
Link MS, Berkow LC, Kudenchuk PJ, et al. Part 7: Adult advanced cardiovascular life support: 2015 American Heart Association guidelines update for cardiopulmonary resuscitation and emergency cardiovascular care. Circulation. 2015;132(18):S444-S464. doi:10.1161/CIR.0000000000000261.
Callaway CW, Soar J, Aibiki M, et al. Part 4: Advanced life support: 2015 International consensus on cardiopulmonary resuscitation and emergency cardiovascular care science with treatment recommendations. Circulation. 2015;132:S84-S145. doi:10.1161/CIR.0000000000000273.
Kyriacou DN, Lewis RJ, KJ R, et al. Confounding by Indication in Clinical Research. JAMA. 2016;316(17):1818. doi:10.1001/jama.2016.16435.
Ahn R, Woodbridge A, Abraham A, et al. Financial ties of principal investigators and randomized controlled trial outcomes: cross sectional study. BMJ. 2017;356:1290-1296. doi:10.1136/bmj.i6770.
Choung RS, Unalp-Arida A, Ruhl CE, Brantner TL, Everhart JE, Murray JA. Less Hidden Celiac Disease But Increased Gluten Avoidance Without a Diagnosis in the United States: Findings From the National Health and Nutrition Examination Surveys From 2009 to 2014. Mayo Clin Proc. 2016;92(1):30-38. doi:10.1016/j.mayocp.2016.10.012.
O'Donovan G, Lee I-M, Hamer M, et al. Association of "Weekend Warrior" and Other Leisure Time Physical Activity Patterns With Risks for All-Cause, Cardiovascular Disease, and Cancer Mortality. JAMA Intern Med. 2017;175(6):959-967. doi:10.1001/JAMAINTERNMED.2016.8014.
Murray M. Intimate Choices, Public Threats – Reproductive and LGBTQ Rights under a Trump Administration. N Engl J Med. 2017;376(4):301-303. doi:10.1056/NEJMp1615718.