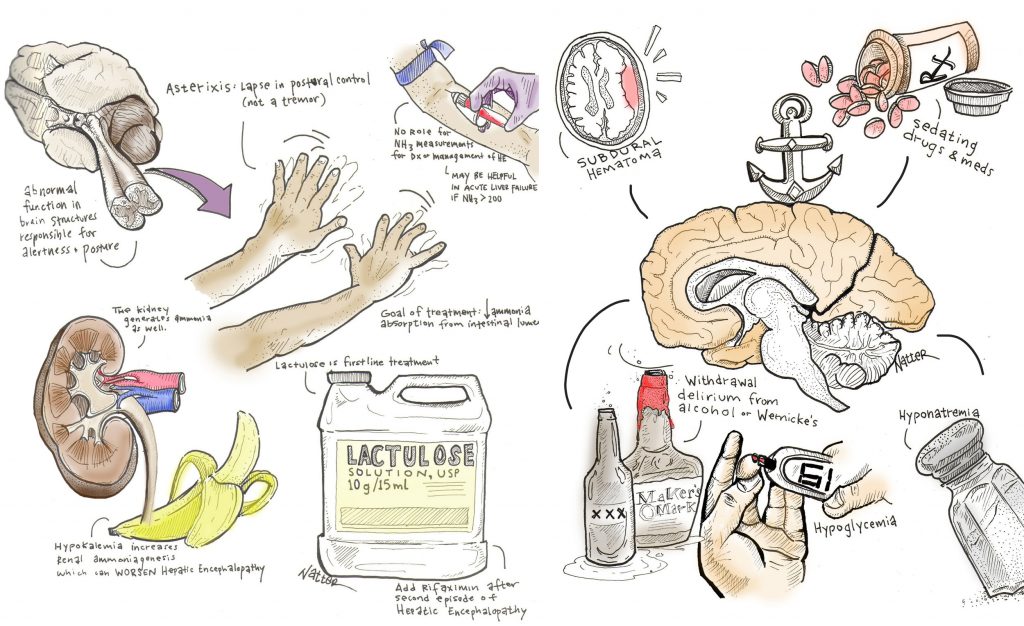 By Dr. John Hwang MD, Marty Fried MD and Shreya P. Trivedi MD; Illustration by Mike Natter MD.  Quiz yourself on the following 5 Pearls we'll be covering on Hepatic Encephalopathy (HE):
Time Stamps
What are other causes of altered mental status in cirrhotics? What are common precipitants for an acute episode of HE? (1:45)

What is asterixis? What is the diagnostic utility of a cirrhotic with asterixis? (6:10)

How do lactulose & rifaximin work? What are their indications? (11:00)

What is the connection between hypokalemia and HE? (14:10)

What is the discriminatory power of an ammonia level in HE? In what situation does the NH3 has stronger predictive value? (16:40)
Subscribe to CORE IM on any Podcast app! Follow us on Facebook @Core IM, Twitter @COREIMpodcast and Instagram @core.im.podcast. Please give any feedback to COREIMpodcast@gmail.com.