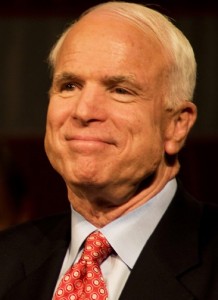 By Rachael Winchester-Hayes, MD
Political friends and foes alike were shocked last month when Senator John McCain's office announced his diagnosis of glioblastoma after what was thought to be a minor surgery for removal of a blood clot. Watching the reactions unfold on social media, I was struck not just by the bipartisan showing of support – perhaps the first bipartisan action since the election – but also by the combative language used in the tweets, Facebook posts and even official statements.  The White House released a statement from President Trump: "Senator John McCain has always been a fighter.  Melania and I send our thoughts and prayers…".
Former President Barack Obama tweeted "John McCain is an American hero & one of the bravest fighters I've ever known.  Cancer doesn't know what it's up against.  Give it hell, John."
Former Arizona Congresswomen, Gabrielle Giffords offered "Hang in there @SenJohn" McCain.  You're tough! You can beat this.  Fight, fight, fight! I am proud to call you my friend."
While these messages of support were undoubtedly well-meaning, I question the language used to address the diagnosis.  Sen. McCain is called a "fighter" and told to "stay tough" and that he "can beat this," implying that with enough physical strength and mental fortitude, he can "defeat" this deadly brain tumor that has a median survival of 11 months [1].  But unfortunately, cancer doesn't care that Senator McCain is an American hero who was a POW for five years in Vietnam. And, if he is not one of the 5% of patients with glioblastoma that survive longer than five years, has he then "lost" his "battle"? [1]
The militarization of cancer has a long history, dating back to the early 1900's [2]. When President Nixon declared "War on Cancer" by signing the National Cancer Act in 1971, advocates advanced a narrative that suffering and death from cancer should not be accepted; cancer should be fought and eradicated [3].  And this narrative continues today – the militarization has become so entrenched in our vernacular that we've become immune to obituaries with phrases like "she lost her battle with cancer".  Many cancer patients have written of their resentment of the use of combat as a metaphor for their disease [2,4,5].
As a doctor, I've seen many patients feel that they're "giving up" when their chemotherapy fails, begging their oncologists to let them try a fourth or fifth round of chemotherapy with little chance of success.  When we put cancer talk into combat metaphors, we create losers and winners.  The patient who "loses his heroic battle with lung cancer" isn't morally superior to the patient who "defeated breast cancer."  But by perpetuating these metaphors, we also sustain the myth that a willingness to endure results in better outcomes.  By changing the dialogue around cancer, we can create a larger change within the medical community —giving the message that seeking palliative rather than curative treatment does not mean "losing the battle", but facing a disease on one's own terms.
Senator McCain showed his true courage when he returned to the Senate, days after his diagnosis, and talked about doing what was best for the country not for any political party, and – against tremendous political pressure – voting against a bill that he believed was wrong for the country. Someday – hopefully in the very distant future – when he is laid to rest, I hope he will be remembered for the battles he fought in life.
Dr. Rachael Winchester-Hayes is a Chief Resident in Internal Medicine at NYU Langone Health.
Image courtesy of Wikimedia Commons 
References:
[1] D.S. Tsang, L. Khan, J.R. Perry, H. Soliman, A. Sahgal, J.L. Keith, T.G. Mainprize, S. Das, L. Zhang, M.N. Tsao, Survival Outcomes in Elderly Patients with Glioblastoma, Clinical Oncology, Volume 27, Issue 3, 2015, Pages 176-183, ISSN 0936-6555, http://dx.doi.org/10.1016/j.clon.2014.11.026. (http://www.sciencedirect.com/science/article/pii/S0936655514004427)
[2] Sontag, Susan. Illness as Metaphor. A Division of Random House, 1979.
[3] Parikh RB, Kirch RA, Brawley OW. Advancing a Quality-of-Life Agenda in Cancer AdvocacyBeyond the War Metaphor. JAMA Oncol. 2015;1(4):423-424. doi:10.1001/jamaoncol.2015.0925  http://jamanetwork.com.ezproxy.med.nyu.edu/journals/jamaoncology/fullarticle/2293948
[4] Granger, Kate. "Having Cancer Is Not a Fight or a Battle." The Guardian, Guardian News and Media, 25 Apr. 2014, www.theguardian.com/society/2014/apr/25/having-cancer-not-fight-or-battle.
[5] Kukaswadia, Atif. "The Problem with 'Fighting' Cancer." HuffPost Canada, The Huffington Post, 30 Apr. 2013, www.huffingtonpost.ca/atif-kukaswadia/fighting-cancer_b_2776726.html./.latest_citation_text