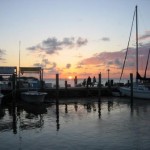 Jeff Mayne MD
Faculty Peer Reviewed
This weeks PrimeCuts focuses on vertebroplasty for vertebral compression fractures, Clostridium difficile infection (CDI) misconceptions, and the efficacy of screening for intimate partner violence. Vertebroplasty is performed by injecting an acrylic cement into the collapsed vertebral body. On August 6th, the New York Times reported that last year, about 73,000 Americans had the treatment, which costs $2,500 to $3,000…and that results from new studies indicate the procedure is "no better than placebo." The two articles published in the August 6th issue of the New England Journal of Medicine address the efficacy of the procedure in diminishing pain in patients. The first, by Kallmes et al. assigned 131 patients who had osteoporotic vertebral compression fractures to undergo either vertebroplasty or a simulated procedure without cement. The primary outcomes were scores on the modified Roland-Morris Disability Questionnaire (RDQ) and patients' ratings of average pain intensity during the preceding 24 hours at one month. Results concluded that at one month, there was no significant difference between the vertebroplasty group and the control group in either the RDQ score or the pain rating.
In the second study by Buchbinder et al. participants with osteoporotic vertebral fractures that were of less than 12 months' duration and unhealed, were randomly assigned to undergo vertebroplasty or a sham procedure. Outcomes were assessed at 1 week and at 1, 3, and 6 months. The primary outcome was overall pain at 3 months. A total of 78 participants were enrolled, and 71 completed the 6-month follow-up. There were significant reductions in overall pain in both study groups at each follow-up assessment. But the study concluded no beneficial effect of vertebroplasty as compared with the sham procedure in patients with painful osteoporotic vertebral fractures, at 1 week or at 1, 3, or 6 months after treatment.
In other news the Annals of Internal Medicine published a report by Peterson on CDI, discussing the common misconceptions that lead to misdiagnosis as well as the best time to test for infection. According to the article, three common misconceptions lead to misdiagnosis: CDI is a possibility when the patient has fewer than 3 loose stools per day; the glutamate dehydrogenase test for CDI is sensitive and thus is a good initial test; and repeating an insensitive laboratory test for CDI is useful. These misconceptions can lead to missed diagnoses and to false diagnoses. For the previous 10 years, enzyme immunoassays (EIAs) for CDI toxins in the stool have been the most frequently used diagnostic test for CDI, because they are easy to use and provide same-day results. Unfortunately, EIAs are not very sensitive (32% to 73%). Very recently, new quantitative real-time polymerase chain reaction (qPCR) tests have been developed that may provide both high sensitivity and rapid turnaround time. Of importance, all these qPCR tests target the toxin B gene, which has recently been shown to be the virulence factor for disease. The authors conclude that toxin B seems to be the main, and perhaps sole virulence factor responsible for CDI, and detecting it must be part of any laboratory diagnosis. The article concludes that qPCR to detect the gene for toxin B, when used in an appropriate clinical setting (those with 3 or more loose stools per day for 1 to 2 days), is the most sensitive and specific test available for demonstrating the presence of toxigenic C. difficile in the stool of patients with possible CDI.
Finally an article in JAMA from August 5th reports on whether intimate partner violence (IPV) screening reduces violence or improves health outcomes for women. Women disclosing past-year IPV were interviewed at baseline and every 6 months until 18 months regarding IPV reexposure and quality of life, as well as several health outcomes and potential harms of screening. Participant loss to follow-up was high: 43% (148/347) of screened women and 41% (148/360) of nonscreened women. The authors concluded that although sample attrition urged cautious interpretation, the results of the trial do not provide sufficient evidence to support IPV screening in health care settings.
Dr. Mayne is a first year internal medicine resident at NYU Medical Center.
Peer Reviewed by Cara Litvin MD, Executive Editor, Clinical Correlations
References:
1.) Grady D. Studies Question using cement for spine injuries. The New York Times. 2009 August 6.
2.) Kallmes DF. A Randomised trial of vertebroplasty for osteoporotic spinal fractures. The N Eng J of Med. August 2009; 361(6): 569-579.
3.) Buchbinder R et al. A Randomised trial of vertebroplasty for painful osteoporotic vertebral fractures. The N Eng J of Med. August 2009; 361(6): 557-568.
4.) Peterson LR, Robicsek A. Does my patient have Clostridium Difficile infection? Annals of Internal Medicine. August 2009;151(3):176-179.
5.) MacMillan HL, et al. Screening for intimate partner violence in health care settings. JAMA. 2009;302(5):493-501.