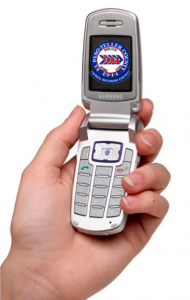 By Aviva Regev
Faculty Peer Reviewed
Hello?  Can you hear me now?  Making big headlines this week is a topic that is likely to hit very close to home for many of our readers, as well as people from all walks of life, across the globe.  The World Health Organization (WHO)/International Agency for Research on Cancer (IARC) [1] published a press release classifying radiofrequency electromagnetic fields – those emitted by cellular phones – as "possibly carcinogenic to humans."  The IARC found cell phone use to be associated with an increased risk of glioma, a malignant brain tumor.  For many people, who consider their cell phones almost an extension of their beings, this may be very distressing news.   While it may not be a bad idea to use that hands-free headset more, keep in mind that so far, cell phone waves only got a group 2B classification, which means there is limited evidence of carcinogenicity in humans and insufficient evidence in experimental animals.  This is in contrast to group 2A – the "probably carcinogenic" group – which shows limited evidence in humans but sufficient evidences in animals.  This may be due to the fact that though there are over 5 billion cell phone subscriptions among humans globally, animals seem to prefer other means of communication.  A more detailed report of the conclusions of the IARC will be published in The Lancet Oncology on July 1st, and earlier online. 
Also in the news this week is the German E. coli outbreak, which is causing unusually high morbidity and mortality in its victims.  As of June 5, more than 2,200 people were thought to be infected in 12 European countries, with 627 cases of hemolytic-uremic syndrome (HUS) in Germany alone and 22 deaths overall [10]. The Shiga toxin-producing E. coli (STEC), dubbed O104:H4, causes an illness very similar to that produced by the notorious EHEC 0157:H7 strain.  To date, four cases of HUS have been reported in travelers returning to the U.S. from Germany, all pending final laboratory confirmation [2].  ScienceInsider [3] reports that the culprit has been completely sequenced and identified as a new strain, which shares 93% of its DNA sequence with enteroaggregative (EAEC) 55989 E. coli, which was isolated in Africa and "known to cause serious diarrhea."  On top of that, it has genes from other highly pathogenic bacteria including Salmonella and other distinct strains of E. coli.  According to the Chinese group that sequenced the genome, this combination makes the new STEC strain "supertoxic."  Perhaps even more incredible is the fact that it took only 3 days to sequence all 5.2 million base pairs, considerably faster than the 15 years it took to sequence the first E. coli strain, which was completed in 1997. 
Speaking of diarrhea, some good news: this week, the FDA approved Dificid (fidaxomicin) for C. difficile diarrhea [4].  Dificid is a macrolide antibiotic, and was shown to be similar in efficacy to vancomycin in a trial published in NEJM [5].  Patients treated with Dificid had a significantly lower rate of recurrence of infection at 4 weeks compared to those treated with vancomycin. 
While it didn't make headlines, the FEAST trial [6] published in NEJM last week is big news in the medical literature.  The trial assessed the role of fluid boluses in treating children with shock in resource-poor treatment settings.  In four hospitals in East Africa, 3141 children with a severe febrile illness and impaired perfusion, complicated by impaired consciousness, respiratory distress, or both, were randomized to receive no bolus or either albumin or saline bolus at 20-40 cc/kg.  Children with those criteria and severe hypotension were randomized to receive either albumin or saline bolus.   Those with malnutrition or gastroenteritis were excluded from the study. All children received maintenance fluid therapy at 2.5-4 cc/kg/hr as well as antibiotics, antimalarials, antipyretics, anticonvulsants, treatment for hypoglycemia, and transfusion, as indicated.  No ICU-level care was available.  The results were somewhat surprising: children in the bolus groups had increased mortality compared to those receiving no bolus, with a relative risk of 1.45 (p=0.01).  There was no significant difference between albumin and saline boluses.  Furthermore, these results were consistent across the subgroups analyzed, including the severity of shock, malaria status, and the presence of coma, sepsis, acidosis, or severe anemia.  The boluses were not found to be beneficial in any of these groups.  In fact, enrollment in the study was stopped short of the goal of 3600 when it became evident that the intervention was resulting in increased mortality.  Interestingly, there was no significant difference between groups in the rate of pulmonary edema or increased intracranial pressure, which were postulated to be adverse effects of fluid boluses.  Though fluid bolusing is a mainstay of shock therapy for children and adults in the developed world, "the results do not support the use of bolus resuscitation in severely ill febrile children with impaired perfusion in African hospitals and also raise questions about its use in other settings." 
In the Lancet this week, a trial evaluated the use of dexamethasone as an adjunct to antibiotic treatment in patients with community-acquired pneumonia (CAP) [7].  The double-blind, placebo-controlled trial randomized 304 adults with confirmed CAP to receive IV dexamethasone (5mg/day) or placebo as well as standard of care according to national treatment guidelines.  Patients who were immunocompromised, on oral steroids, or required immediate admission to an ICU were excluded.  The demographics of the two groups were for the most part very similar, though there was a larger proportion of renal disease (13% vs. 7%) and of severe pneumonia, defined as Class 4 or 5 (52% vs. 42%) in the dexamethasone group.  The study found a decrease in the mean length of stay from 7.5 days in the placebo group to 6.5 days in the dexamethasone group (p=0.048).  The in-hospital and 30 day mortality rates as well as rate of readmission within 30 days were similar between the two groups.  There was a non-significant decrease in time to death (5.5 days vs. 8.8 days) as well as increase in length of ICU stay (21.5 days vs. 15.5 days) in the dexamethasone group.  Though the rate of hyperglycemia was higher in the dexamethasone group (p<0.0001), there was no significant difference in the number of patients requiring glucose-lowering therapy.  Though the study had a statistically significant result, clinicians must weight the benefit of a one-day earlier discharge against the potential adverse effects of systemic corticosteroid administration in each patient when decided whether to add dexamethasone to the treatment regimen of patients with CAP. 
If this issue of PrimeCuts had been written 30 years ago, it might have mentioned a strange group of cases from the CDC's Morbidity and Mortality Weekly Report (MMWR) on June 5, 1981 [8].  Five men in Los Angeles had been diagnosed with Pneumocystis carinii pneumonia (PCP).  "The occurrence of pneumocystosis in these 5 previously healthy individuals without a clinically apparent underlying immunodeficiency is unusual," the report stated.  These were the first reported cases of what would become recognized as AIDS.  In a nod to that historic report, this week's MMWR [9] provides an update on HIV/AIDS in the United States: though AIDS diagnoses and deaths have steadily declined since the introduction of HAART in the 1990s, the number of people living with HIV has steadily increased, up to almost 1.2 million in the United States alone. While there have been great strides in the last three decades and HIV infection is no longer the death sentence it once was, this week's MMWR reminds us that there is still a long way to go. 
Aviva Regev is a 3rd year medical student at NYU School of Medicine and contributing editor, Clinical Correlations
Peer reviewed by Cara Litvin, MD, Executive Editor, Clinical Correlations.
Image courtesy of Google Images
References
1. World Health Organization/International Agency for Research on Cancer.  Press Release No 208: IARC Classifies Radiofrequency Electromagnetic Fields as Possibly Carcinogenic to Humans.  31 May 2011. http://www.iarc.fr/en/media-centre/pr/2011/pdfs/pr208_E.pdf
2. Investigation Update: Outbreak of Shiga toxin-producing E. coli O104 (STEC O104:H4) Infections Associated With Travel to Germany.  Centers for Disease Control and Prevention (CDC).  June 3, 2011. http://www.cdc.gov/ecoli/2011/ecolio104/
3. Enserink M.  DNA Sequence Yields Clues to Germany's "Super Toxic" E. coli Outbreak. ScienceInsider [Internet] 2 June 2011.  http://news.sciencemag.org/scienceinsider/2011/06/sequence-yields-clues-to-germany.html?ref=hp
4. FDA News Release: FDA approves treatment for Clostridium difficile infection.  May 27, 2011.  http://www.fda.gov/NewsEvents/Newsroom/PressAnnouncements/ucm257024.htm
5. Louie TJ, Miller MA, Mullane KM, et. al.  Fidaxomicin versus Vancomycin for Clostridium difficile Infection.  NEJM 2011: 364:433-31. http://www.nejm.org/doi/full/10.1056/NEJMoa0910812
6. Maitland K, Kiguli S, Opoka RO, et. al. Mortality after Fluid Bolus in African Children with Severe Infection.  NEJM 2011. E-pub ahead of print, May 26, 2011. http://www.nejm.org/doi/full/10.1056/NEJMoa1101549
7. Meijvis SC, Hardeman H, Remmelts HH, et. al.  Dexamethasone and length of hospital stay in patients with community-acquired pneumonia: a randomized, double-blind, placebo-controlled trial.  The Lancet 2011.  E-pub ahead of print, June 1, 2011. http://www.thelancet.com/journals/lancet/article/PIIS0140-6736(11)60607-7/fulltext
8. Gottlieb MS, Schanker HM, Fan PT, Saxon A, Weisman JD.  Pneumocystis Pneumonia – Los Angeles. MMWR: Morbidity and Mortality Weekly Report. 5 June 1981; 30(21):1-3. Centers for Disease Control and Prevention.  http://www.cdc.gov/mmwr/preview/mmwrhtml/june_5.htm
9. MMWR: Morbidity and Mortality Weekly Report. 3 June 2011; 60(21):1-40. Centers for Disease Control and Prevention.  http://cdc.gov/mmwr/PDF/wk/mm6021.pdf
10. CNN Wire Staff.  More deaths reported in historic German outbreak.  CNN [Internet].  June 5, 2011.  http://www.cnn.com/2011/WORLD/europe/06/05/europe.e.coli/index.html?hpt=hp_p1&iref=NS1