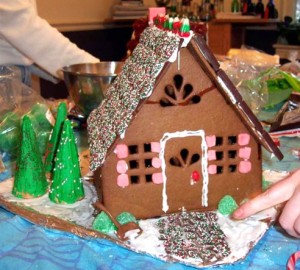 By Nicholas Amoroso, MD
Faculty Peer Reviewed
The Holidays Are Upon Us…Mostly in Our Waistline Region
At this time of year our daily doses of gingerbread cookies, pumpkin pies, and glasses of wine are inversely proportional to the number of workouts and bike rides we partake in.
In this week's New England Journal of Medicine, Wadden and colleagues [1] published a trial of obesity treatment in primary care, randomizing 390 obese adults to 3 different lifestyle interventions. Groups were assigned to either quarterly brief lifestyle counseling by lifestyle coaches, enhanced brief lifestyle counseling with meal replacement, weight-loss medication with orlistat or sibutramine, or usual care. Brief lifestyle counseling participants did not lose weight, whereas those who received the enhanced interventions lost more weight than both other groups (4.6 kg vs 2.9 kg vs 1.7 kg at 2 years) at all follow-up visits. This pattern persisted even after excluding patients taking sibutramine, which was withdrawn from the market in 2010. Critics will note that persons receiving the medication/meal-replacement enhanced-lifestyle intervention showed up more consistently for scheduled visits than the lifestyle-counseled group (76.7% vs 69.0%, respectively). While it's difficult to say why the enhanced intervention group lost more weight, this study suggests that regular lifestyle counseling sessions lead to more successful weight loss.
A recent study suggests that remote counseling may also be effective in promoting weight loss. The New England Journal published a 2-year comparison of weight loss in patients offered in-person support sessions versus telephone counseling.[2] Both interventions included counseling on behavior modification, use of a study-specific website, and telephone and email communications, with the in-person group being offered face-to-face sessions as well. Remotely-counseled patients lost a similar amount of weight (4.6 kg) to the in-person supported patients (5.1 kg) at 24 months (p-value 0.63). Both groups lost more weight than the self-directed weight-loss group (mean weight loss of 0.8 kg) at the study's end.
This illustrates why more practices are adopting modern methods of communicating with patients. Making provider-to-patient contacts more convenient leads to fewer patients being lost to follow-up and fewer having to take time off from work to attend doctor appointments. Virtual visits have the potential to help cut costs and improve treatment, though they are dependent on patients having access to high-speed Internet.
Dosing clopidogrel (Plavix) was previously a one-size-fits-all scenario, but the recent ELEVATE TIMI 56 trial [3] may change that. Three hundred thirty-three patients with cardiovascular disease were genotyped and randomized. Carriers of the CYP2C19*2 allele (80 heterozygotes and 6 homozygotes) were designated to receive doses of either 75, 150, 225, or 300 mg of clopidogrel daily, while non-carriers received 75 and 150 mg doses, with monitoring of platelet and P2Y12 reactivity. Homozygotes showed more clopidogrel resistance than heterozygotes. Clopidogrel doses of 3-4 times the typical 75 mg dose were required to bring CYP2C19*2 carriers' platelet reactivity down to the levels of noncarriers. High doses decreased the number of clopidogrel nonresponders. There were no TIMI major or minor bleeding events, cerebrovascular events, or deaths, although patients only underwent 2 weeks of testing at each dose. Five patients experienced bleeding requiring medical attention, with similar frequency across clopidogrel doses. Cardiac ischemia occurred in 5 noncarriers and 1 carrier during the treatment periods. ELEVATE TIMI 56 gives another look into the advancing field of clinically relevant genetic testing, but the short treatment period and lack of clinical endpoints limit the applicability of the results. Perhaps by next holiday, physicians may consider the gift of genetically personalized medicine for all.
While the holidays are typically considered heartwarming, they are also probably heart damaging. "Holiday heart" is a common syndrome of alcohol-triggered arrhythmias, most commonly atrial fibrillation (a-fib). Most patients with a-fib, even outside of the holiday season, go on to receive prophylactic anticoagulation. There is a paucity of prognostic risk assessment for bleeding and thrombosis with the newer anticoagulants. The CHADS2 score has been used to predict the risk of thromboembolic events in a-fib without anticoagulation. Now, a post-hoc subgroup analysis of the RE-LY trial [4] has investigated the ability of the CHADS2 score to predict bleeding, stroke, and death in patients already on dabigatran (Pradaxa) or warfarin (Coumadin) for atrial fibrillation. The conclusion: higher CHADS2 scores were associated with higher rates of thromboembolism, major and intracranial bleeds, and vascular and total mortality–whether treated with warfarin or dabigatran. Dabigatran once again proved promising, with lower rates of thromboembolic events and intracranial bleeds compared to warfarin. Mortality was similar with both drugs. Dabigatran was particularly beneficial in patients under 75 years of age with lower CHADS2 scores, similar to other analyses from the RE-LY trial. Even though these were not prespecified primary endpoints, the analysis shows the value of CHADS2 in guiding decisions about balancing embolic risk vs bleeding risk in the a-fib population.
Dr. Nicholas Amoroso is a 2nd year resident at NYU Langone Medical Center
Peer reviewed by Michael Tanner, MD, Clinical Correlations
Image courtesy of Wikimedia Commons
References:
1. Wadden TA, Volger S, Sarwer DB, et al. A two-year randomized trial of obesity treatment in primary care practice. N Engl J Med. 2011;365;1969-1979.  http://www.nejm.org/doi/full/10.1056/NEJMoa1109220. Accessed 30 Nov 2011.
2. Appel LJ, Clark JM, Yeh, HC, et al. Comparative effectiveness of weight-loss interventions in clinical practice. N Engl J Med. 2011;365:1959-1968.  http://www.nejm.org/doi/full/10.1056/NEJMoa1108660.  Accessed 2 Dec 2011.
3. Mega JL, Hockholzer W, Frelinger AL, et al. Dosing clopidogrel based on CYP2C19 genotype and the effect on platelet reactivity in patients with stable cardiovascular disease. (ELEVATE TIMI 56). JAMA. 2011;306(20):2221-2228.  http://jama.ama-assn.org/content/306/20/2221.full.pdf+html.  Accessed 4 Dec 2011.
4. Oldren J, Alings M, Darius H, et al. Risks for stroke, bleeding, and death in patients with atrial fibrillation receiving dabigatran or warfarin in relation to the CHADS2 Score: a subgroup analysis of the RE-LY Trial. Ann Intern Med. 2011;155:660-667. http://www.annals.org/content/155/10/660.short.   Accessed 4 Dec 2011.