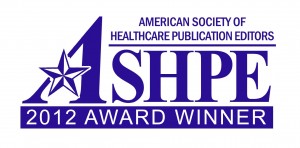 With Primecuts on a brief hiatus this week, I thought it would be a great opportunity to do a bit of bragging…
I am very pleased to announce that Clinical Correlations has received a 2012 Gold Award from the American Society of Healthcare Publication Editors (ASHPE).
From the Awards Announcement:
"The American Society of Healthcare Publication Editors recognizes editorial excellence and achievement in the field of healthcare publishing. The annual awards competition provides an opportunity for editors to measure their efforts and publications against the very best the healthcare sector has to offer. You can be proud that your efforts have earned you this highly regarded recognition."
Click here for the list of award winners.
We are all very proud that Clinical Correlations has continued to regularly receive national recognition. I want to thank all our writers, editors and peer reviewers and especially our readers. In particular I want to thank Michael Tanner, Robert Gianotti, Todd Cutler, Anita Smitherman and Devyani Kothari for their hard work and dedication to our mission. Thank you to everyone for your support and I look forward to our continuing success.
-Neil Shapiro, MD, FACP Editor-in-Chief, Clinical Correlations