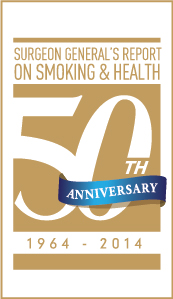 By Stephanie Gallitano, MD
Peer Reviewed
This week marks the 50-year anniversary since the Surgeon General released a report detailing health consequences of smoking. Since then, the evidence linking smoking with disease in nearly every organ system has been published. The number of premature deaths caused by smoking or exposure to secondhand smoke since 1965 now tops 20 million. This week's new surgeon general's report addresses some new diseases linked with smoking; we can now add colorectal and liver cancer, erectile dysfunction, diabetes, tuberculosis, age-related macular degeneration, ectopic pregnancy, rheumatoid arthritis and immune dysfunction to the never ending list of diseases. It also discusses effective methods of reducing smoking initiation and increasing smoking cessation- advertising by tobacco companies doesn't work but taxation and enforcement of smoke-free indoor air policies does [1]!
In other public health news the American College of Emergency Physicians warned the public that our nation is failing to provide adequate emergency care. They issued a report card for every state and the nation as a whole which evaluated the conditions and policies under which emergency care is delivered. There were 136 measurements covering five categories, the largest percentage being attributable to "access to emergency care". The nation received a rating of D- while New York ranks 13th in the nation, up from 21st place in 2009. Some of the strengths in NY leading to this advancement include requiring seatbelts and helmets to be worn and disaster preparedness with funds designated for disaster management. However the state's malpractice and medical liability continues to challenge medical care. The state also has the highest occupancy rate in the nation, and the fourth longest average ED wait time (366 minutes) [2].
Tired of the blistering cold this year? Well some researchers are getting tired of treating genital blisters. For over 30 years, physicians have been using one drug class to treat patients with genital herpex simplex virus infections. The acyclovir-class of agents are nucleoside analogues that inhibit HSV DNA polymerase. While effective in reducing disease duration, viral shedding is still present and transmission to partners is only partially reduced. Additionally, immunosuppressed patients can have resistant viral strains. Pritelivir, a novel agent that inhibits the viral helicase-primase complex, thereby inhibiting DNA formation, may prove to be the next best option for infected patients. One hundred and forty-seven adults aged 18 and older with history of genital herpes and who were seropositive for HSV-2 were randomized in a parallel, double-blind, placebo-controlled study in a 1:1:1:1:1 ratio of different doses of Pritelivir v placebo. Exclusion criteria included infection with HIV, hepatitis B or C, pregnancy, immunosuppression, and treatment with medications that interfered with drug-metabolism. Patients either received a loading dose of 20mg followed by 5mg daily, a loading dose of 100mg followed by 25mg daily, a loading dose of 300mg followed by 75mg daily, or a weekly dose of 400mg. Patients submitted daily swabs of genital skin and mucosa for HSV detection and wrote symptoms in a diary. Pritelivir reduced viral shedding and the risk of genital lesions when given at a daily dose of 75mg daily or 400mg weekly when compared to placebo. No major adverse effects were noted in the subjects studied. Although more studies are needed to address efficacy in immunosuppressed populations and comparison to gold-standard therapy, this may be the precursor to future studies focusing on the benefit of using pritelivir in treating severe HSV infections and reducing sexual transmission [3].
Next time you are thinking about prescribing bisphosphonates for your patient you may have to think twice. A new retrospective cohort study from the VA looked at patients 65+ who had a known fracture and compared the risk of acute myocardial infarction in patients who took bisphosphonates and patients who did not have bisphosphonate exposure. Using a VA database, over 14,000 patients who had a known femoral or vertebral fracture were then assessed for bisphosphonate exposure. The primary outcome was incident acute myocardial infarction. Bisphosphonate use was associated with an increased risk of acute myocardial infarction (HR 1.38, CI 1.08-1.77, P=0.01). This finding was especially shocking in light of the hypothesis that bisphosphonates were protective against cardiovascular disease. Bisphosphonates are thought to inhibit an enzyme downstream of the site of statins. They also inhibit hydroxyapatite crystal aggregation in vitro and have been shown to have antiatherogenic properties. However, this study is limited by it being retrospective and having limited data available. There also may be a selection bias in that patients requiring bisphosphonates may have higher baseline risk of cardiovascular disease [4].
Still confused about what advice you should provide your patients regarding weight loss when they are diabetic? Tobias et al just published a retrospective cohort study involving 11,427 diabetic participants from the Nurses' Health Study and the Health Professionals Follow-up Study, looking at the association between Body Mass Index (BMI) and death from any cause. The study also adjusted for smoking as smoking often leads to decreased body weight but increased risk of death. Mean follow up time was 15.8 years, over which time 3083 deaths were observed. A J-shaped association between BMI and all-cause mortality was observed, with those participants in the BMI 22.5-24.9 BMI category having lower mortality than those participants with BMI 18.5-22.4 (HR 1.29, 95%CI, 1.05-1.59) or 24.9 and above. Smoking status significantly modified the results. For those participants who never smoked, a linear trend was seen. However among those participants who did smoke, a J-shaped trend in all-cause mortality was observed. Significant effect modification was also seen with age at diagnosis of diabetes- a linear relationship was seen between adults diagnosed with diabetes at age younger than 65. However, a direct linear trend was only appreciated in those patients who were diagnosed at age 65 or older who never smoked. Those patients who had smoked had a significantly increased risk of death in the lowest BMI category. This study demonstrates that diabetic patients should aim to maintain a BMI of 22.5-24.9 [5].
Other research in the news:
1. Can eastern and western medicine meet? A randomized control trial demonstrated a reduction in progression of impaired glucose tolerance to type 2 diabetes mellitus in patients taking Tianqi, a combination of 10 Chinese herbal medications. Absolute risk reduction in progression to T2DM was 11% amongst patients taking Tianqi [6].
2. There may be hope for patients with Parkinson's disease in the form of a viral vector that allows for continuous dopamine production. All 15 patients enrolled in this phase ½ study experienced significant improvement in motor scores at 6 and 12 months compared to baseline scores [7].
3. For patients presenting with ruptured abdominal aortic aneurysm, endovascular repair is comparable to open repair in terms of 30-day mortality and cost. Women however, may have improved outcomes from endovascular strategy [8].
Dr. Stephanie Gallitano is a 1st year resident at NYU Langone Medical Center
Peer reviewed by Arnab Ghosh, MD, Contributing Editor, Clinical Correlations
Image courtesy of Wikimedia Commons
References:
1. http://www.surgeongeneral.gov/library/reports/50-years-of-progress/exec-summary.pdf Accessed 1/18/2014 @ 0830
2. http://www.emreportcard.org/Content.aspx?id=534 Accessed 1/17/2014@ 1630
3. Wald A, Corey L, Timmler B, et al. Helicase-primase inhibitor pritelivir for HSV-2 infections. N Engl J Med. 2014 Jan 16;370(3):201-10.  http://www.nejm.org/doi/full/10.1056/NEJMoa1301150
4. Pittman CM, Davis LA, Zeringue AL, et al. Myocardial Infarction Risk Among Patients with Fractures Receiving Bisphosphonates. Mayo Clinic Proceedings.2014 Jan;89(1):43-51.  http://www.mayoclinicproceedings.org/article/PIIS0025619613008732/abstract
5. Tobias DK, Pan A, Jackson CL, et al. Body-Mass Index and Mortality among Adults with Incident Type 2 Diabetes. N Engl J Med. 2014 Jan 16;370(3):233-244.  http://www.nejm.org/doi/full/10.1056/NEJMoa1304501
6. Lian F, Li G, Chen X et al. Chinese Herbal Medicine Tianqi Reduces Progression from Impaired Glucose Tolerance to Diabetes: A Double-Blind, Randomized, Placebo-Controlled, Multicenter Trial. J Clin Endocrinol Metab. 2014 Jan 16. Epub viewed Jan 17, 2014.
7. Palfi S, Gurruchaga JM, Ralph GS. Long-term safety and tolerability of ProSavin, a lentiviral vector-based gene therapy for Parkinson's disease: a dose escalation, open-label, phase ½ trial. Lancet. 2014 Jan 9. Epub viewed Jan 18, 2014.
8. Investigators IT. Endovascular or open repair strategy for ruptured abdominal aortic aneurysm: 30 day outcomes from IMPROVE randomized trial. BMJ. 2013 Jan 13;348. Epub viewed Jan 16, 2014.  http://www.bmj.com/content/348/bmj.f7661?utm_source=feedburner&utm_medium=feed&utm_campaign=Feed%3A+bmj%2Fresearch+(Latest+BMJ+Research)