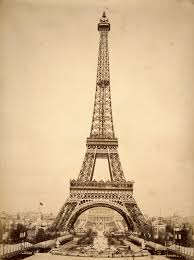 By Jennifer Mulliken, MD
Peer reviewed
The Eiffel Tower, an historic symbol of industry and science in France, celebrates its 125th anniversary this week. On March 31st, 1889, the first visitors ascended by foot to the top of the tower – 1,710 steps – as the lifts had not yet been completed. In May of the same year, the Eiffel Tower made its official debut at the World's Fair in Paris, marking the 100-year anniversary of the French Revolution. Originally standing at 984 feet, it remained the tallest man-made structure in the world until New York City's Chrysler Building overtook the title in 1930. Interestingly, spring actually heralds a taller season for the Tower: it is anywhere from four to eight inches shorter during the winter months.
Turning our attention to the medical journals this week, we'll begin with an article highlighting the growing body of evidence for early intervention in Barrett's esophagus with low-grade dysplasia.
Ablation vs. Surveillance for Barrett Esophagus with Low Grade Dysplasia
The SURF (Surveillance vs. Radiofrequency Ablation) study published this week in the Journal of the American Medical Association shows that in patients with Barrett's esophagus with low-grade dysplasia (LGD), early intervention with radiofrequency ablation is associated with a reduction in morbidity compared to endoscopic surveillance [1]. In this multi-center European trial, a total of 136 patients with biopsy-confirmed Barrett's esophagus with LGD were randomized to either ablation or endoscopic surveillance at 6, 12, 24, and 36 months. The risk of progression to high-grade dysplasia or adenocarcinoma was 1.5% in the ablation group compared to 26.5% in the control group (number-needed-to-treat [NNT] 4.0). The risk of progression to adenocarcinoma was reduced by 7.4% with ablation (NNT 13.6). Due to the superiority of ablation for the primary outcome (neoplastic progression), the trial was terminated early after two years of follow-up. The main drawback to ablation was treatment-related adverse events that occurred in 19.1% of patients, the most common of which was stricture formation (11.8% of patients). While ablation is considered standard care for patients with Barrett's esophagus and high-grade dysplasia, this study is the first to evaluate the effect of ablation in Barrett's patients with LGD. Given the high risk of progression in these patients to advanced dysplasia or adenocarcinoma, the SURF study may herald a change in clinical practice [2].
Effect of Intensive Blood Pressure and Lipid Control on Cognitive Function in Type 2 Diabetics
With an eye towards preserving cognitive function in aging diabetics, researchers from the ACCORD MIND sub-study have looked at the effect of intensive blood pressure (BP) and lipid control on cognitive outcomes in older type 2 diabetics [3]. In this prospective randomized multi-center trial, 2977 participants with type 2 diabetes (mean A1c 8.3%) and no evidence of baseline cognitive impairment were randomized to either intensive systolic BP control (goal systolic BP 120 mmHg vs. 140 mmHg) or intensive lipid control (fibrate vs. placebo therapy in patients with baseline mean low-density lipoprotein levels around 100 mg/dL). Cognitive function was assessed at 20 and 40 months with tests targeting verbal memory, processing speed, and executive function. A sub-study of 503 participants also underwent brain magnetic resonance imaging at baseline and at 40 months to assess for changes in total brain volume (TBV). At the conclusion of the trial, neither intensive BP control nor fibrate therapy was shown to have a measurable effect on cognitive outcomes. In addition, a decline in TBV (-4.4 cm) was seen with intensive BP control compared to standard therapy (95% confidence interval [CI], -7.8cm to -1.1cm; p=.01). As the authors point out, cognitive decline occurs gradually and 40 months of follow-up may be insufficient to assess the impact of these interventions on cognitive function. As the prevalence of diabetes in older adults increases, targeted interventions for reducing the risk of cognitive decline in these patients still need to be elucidated.
Pre-Operative Beta Blocker Therapy in Patients with Ischemic Heart Disease
On to managing cardiovascular risk, a Danish cohort study investigated the benefit of beta blocker therapy in patients with stable ischemic heart disease undergoing noncardiac surgery [4]. Of the 28,263 patients enrolled, two cohort groups were created based on the presence or absence of heart failure. The primary outcome was the 30-day risk of major adverse cardiovascular events (MACE) including acute myocardial infarction, ischemic stroke, and cardiovascular death. The use of beta blockers in patients with heart failure was associated with both a significantly lower risk of MACE (hazard ratio [HR] 0.75; 95% CI, 0.70-0.87) and all-cause mortality (HR 0.80; 95% CI, 0.70-0.92), however there was no significant association found in patients without heart failure. In the non-heart failure cohort, beta blockers only lowered the risk of MACE and all-cause mortality in those patients who had experienced a recent (< 2 years) myocardial infarction. While this study has certain limitations (for example, there were no data on medication adherence or dosage, and the validity of the ischemic heart disease diagnosis was reportedly "not known"), it does question the benefit of peri-operative beta blocker use. The risks associated with beta blocker use, namely bradycardia and hypotension, are well known. As previous studies have shown, use of beta blockers peri-operatively in patients with low cardiac risk (Revised Cardiac Risk Index score 0 or 1) does not show significant benefit and may even be harmful [5].
Effect of Co-Infection with Human Immunodeficiency Virus (HIV) and Hepatitis C Virus (HCV) on Hepatic Decompensation
In infectious disease news, a study published this week in the Annals of Internal Medicine found that the incidence of hepatic decompensation in patients co-infected with HCV and HIV on anti-retroviral therapy (ART) was higher than in HCV mono-infected patients (7.4% vs. 4.8% at 10 years, p < .0001) [6]. Hepatic decompensation was defined as one hospital diagnosis of ascites, spontaneous bacterial peritonitis, or esophageal variceal hemorrhage or two outpatient diagnoses of the same. Higher rates of decompensation were seen in co-infected patients with baseline advanced liver fibrosis, severe anemia, diabetes, and non-black race. Lower rates of hepatic decompensation were observed in patients who maintained HIV ribonucleic acid levels less than 1,000 copies/mL than co-infected patients with higher viral loads. While the rate of hepatocellular carcinoma was higher in the co-infected cohort, this difference was not statistically significant. Overall this study suggests that ART is important in slowing the progression of HCV-related liver disease, and that early treatment of HCV in co-infected patients may reduce the incidence of liver complications.
In Other News…
The cortical changes observed in the brains of autistic children may actually originate before birth [7]. A study from the New England Journal of Medicine looked at postmortem brain samples from 11 children with autism and 11 controls ranging from 2-15 years of age. Patches of abnormal cytoarchitecture and neuronal disorganization were seen in the majority of pre-frontal and temporal samples obtained from autistic children. While not conclusive, this data suggests that a common pathological mechanism in autism may exist.
A phase 1 study showed the effectiveness of ceritinib in anaplastic lymphoma kinase (ALK) gene rearranged non-small-cell lung cancer (NSCLC) [8]. Ceritinib was effective active against advanced cancers regardless of prior treatment with crizotinib, another ALK inhibitor. This study suggests an alternative for ALK-rearranged NSCLC patients who have developed resistance to crizotinib.
Three different testing algorithms for the serodiagnosis of syphilis are analyzed in an article from Clinical Infectious Disease [9]. Rather than screening with non-treponemal tests (such as the rapid plasma reagin and Venereal Disease Research Laboratory test), which have lower sensitivity and specificity, the authors recommend using a treponemal assay (treponema pallidum particle agglutination assay, enzyme immunoassay) followed by a confirmatory test with a second, different treponemal assay. Quantitative non-treponemal assays can then be used for assessing serologic activity and for monitoring response to treatment.
Finally, the Annals of Internal Medicine highlights the United States Preventive Service Task Force's recommendation that current evidence is insufficient to weigh the risks and benefits of screening for cognitive impairment in asymptomatic adults older than 65 [10]. Despite this, modifiable risk factors such as tobacco use, alcohol use, hypertension, and depression can be targeted to help prevent or slow progression of cognitive decline.
Dr. Jennifer Mulliken is a 1st year internal medicine resident at NYU Langone Medical Center
Peer reviewed by Jessica Taff, MD, Contributing Editor, Clinical Correlations
References:
1. Phoa KN, van Vilsteren FG, Weusten BL, et al. Radiofrequency ablation vs endoscopic surveillance for patients with Barrett esophagus and low-grade dysplasia: a randomized clinical trial. JAMA. 2014 Mar 26;311(12):1209-17. http://jama.jamanetwork.com/article.aspx?articleid=1849991
2. Curvers WL, ten Kate FJ, Krishnadath KK, et al. Low-grade dysplasia in Barrett's esophagus: overdiagnosed and underestimated. Am J Gastroenterol. 2010 Jul;105(7):1523-30. http://www.nature.com.ezproxy.med.nyu.edu/ajg/journal/v105/n7/full/ajg2010171a.html
3. Williamson JD, Launer LJ, Bryan RN, et al. Cognitive function and brain structure in persons with type 2 diabetes mellitus after intensive lowering of blood pressure and lipid levels: a randomized clinical trial. JAMA Intern Med. 2014 Mar 1;174(3):324-33. http://archinte.jamanetwork.com.ezproxy.med.nyu.edu/article.aspx?articleid=1819574
4. Andersson C, Mérie C, Jørgensen M, Gislason GH, et al. Association of β-Blocker Therapy With Risks of Adverse Cardiovascular Events and Deaths in Patients With Ischemic Heart Disease Undergoing Noncardiac Surgery: A Danish Nationwide Cohort Study. JAMA Intern Med. 2014 Mar 1;174(3):336-44. http://archinte.jamanetwork.com.ezproxy.med.nyu.edu/article.aspx?articleid=1779729
5. Lindenauer PK, Pekow P, Wang K, et al. Perioperative beta-blocker therapy and mortality after major noncardiac surgery. N Engl J Med. 2005 Jul 28;353(4):349-61. http://www.nejm.org/doi/full/10.1056/NEJMoa041895
6. Re VL, Kallan MJ, Tate JP, et al. Hepatic Decompensation in Antiretroviral-Treated Patients Co-Infected With HIV and Hepatitis C Virus Compared With Hepatitis C Virus-Monoinfected Patients: A Cohort Study. Annals of Internal Medicine. 2014 Mar;160(6):369-379. http://annals.org.ezproxy.med.nyu.edu/article.aspx?articleid=1846634
7. Stoner R, Chow ML, Boyle MP, et al. Patches of disorganization in the neocortex of children with autism. N Engl J Med. 2014 Mar 27;370(13):1209-19. http://www.nejm.org.ezproxy.med.nyu.edu/doi/full/10.1056/NEJMoa1307491
8. Shaw AT, Kim DW, Mehra R, et al. Ceritinib in ALK-rearranged non-small-cell lung cancer. N Engl J Med. 2014 Mar 27;370(13):1189-97. http://www.nejm.org/doi/full/10.1056/NEJMoa1311107
9. Tong ML, Lin LR, Liu LL, et al. Analysis of 3 algorithms for syphilis serodiagnosis and implications for clinical management. Clin Infect Dis. 2014 Apr;58(8):1116-24. http://cid.oxfordjournals.org.ezproxy.med.nyu.edu/content/58/8/1116.full.pdf+html
10. Moyer VA. Screening for Cognitive Impairment in Older Adults: U.S. Preventive Services Task Force Recommendation Statement. Annals of Internal Medicine. Published online 25 March 2014. http://annals.org/article.aspx?articleid=1850963