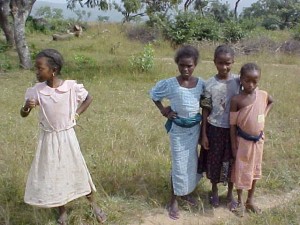 By Kaley Myer, MD
Peer Reviewed
The US government has offered to assist the Nigerian government this week in an effort to locate hundreds of girls kidnapped from a school in Chibok by the militant organization Boko Haram last month. Amnesty International has accused the Nigerian government of knowing of an impending threat to the school and failing to act. The group's leader claimed, on a video that surfaced this week, that the girls were to be sold into slavery[1].
WHO releases estimates of worldwide non-partner sexual violence
Unfortunately, unthinkable abuse of women and girls around the world is not a new story. Physical and emotional abuse spans the whole of human history and has many faces: rape, sexual assault, domestic violence, slavery (including sexual), among others. The World Health Organization sponsored a worldwide systematic review of self-reported sexual violence (not including intimate partner violence) against women over the age of 15[2]. The reported prevalence varied widely by region, with a high of 21% (95% CI 4.5-37.5%) in central sub-Saharan Africa and a low of 3.3% (95% CI 0-8.3%) in south Asia. The worldwide average was 7.2% (95% CI 5.2-9.1%). Here in North America, the reported prevalence was 13% (95% CI 9-16.9%). Some of the differences in prevalence may due to cultural differences in disclosure rates, but this study is a sobering reminder of a serious health risk that necessitates global policy change and consideration in terms of care for all women.
Implications for management of ischemic heart disease from progeria treatment advances
While violence continues to threaten the lives of countless people, ischemic heart disease remains the leading cause of death worldwide. Last week the American Heart Association published a retrospective cohort study of Hutchinson-Guilford progeria patients[3]. Progeria is a rare disease characterized by rapid aging and the most common cause of death is cardiovascular disease. In progeria patients, the disease-causing protein progerin remains attached to the cellular nuclear envelope and is unable to be degraded due to abnormal farnesylation. As the progerin protein exists in higher levels with increasing age in individuals without progeria, treatment for this disease may have implications for us all. This study retrospectively compared patients who had ever received an inhibitor of protein farnesylation, lonafarnib, for any length of time vs. matched controls who had not, with a mean follow-up of 5.3 years. With 5/43 deaths in the treated group and 21/43 deaths in the controls (HR 0.15, p <0.001), this therapy appears quite promising for progeria patients and may somehow play a role in the future treatment of the general population with coronary artery disease.
Evolocumab for the treatment of hyperlipidemia
Also in an effort to combat the ever-present cardiovascular disease, the New England Journal of Medicine published the results of a randomized, placebo-controlled trial of evolocumab, a monoclonal antibody against proprotein convertase subtilisin/kexin type 9 (PCSK9)[4]. Evolocumab was given in addition to diet alone or atorvastatin (10mg or 80mg) +/- ezetimibe in patients that had not reached an LDL cholesterol goal of below 75mg/dL with those agents. After 52 weeks, the mean reduction of LDL in the evolocumab group was 50.1% from baseline (SE 1.4), compared to an increase of 6.8% (SE 1.8) seen in the placebo group. There were also significant reductions in apolipoprotein B, non-HDL cholesterol, lipoprotein(a) and triglycerides, with statistically significant increase in HDL of 5.4% (SE 1.1, p<0.001). Adverse reactions were increased in the study group, most commonly nasopharyngitis, back pain and influenza. Seven patients in the treatment group (1.2%) had an elevation of creatinine kinase levels to more than five times the upper limit of normal (vs one patient in the control group). Once-monthly dosing is attractive to increase patient adherence, however more data is needed to evaluate its safety profile as well as its potential to reduce hard cardiovascular outcomes.
Accuracy of point-of-care multiorgan ultrasonography for the diagnosis of pulmonary embolism
Healthcare spending in the US continues to be a significant issue; investigators in Italy sought to reduce the cost associated with diagnosing pulmonary embolism (as well as the undesirable radiation and contrast exposure from CT pulmonary angiography). Published in Chest this month[5], a group at Careggi University in Florence showed that using multiorgan ultrasonography (of the lungs, heart, and leg veins) in emergency department patients with a Wells score >4 or a positive D-dimer, has a 90% sensitivity and an 86% specificity for the diagnosis of pulmonary embolism (all patients also underwent CT pulmonary angiography). Multiorgan ultrasonography was considered positive for PE if any of the following were found: pulmonary subpleural infarction, right ventricular dilatation, DVT of the leg veins. Clearly, multiorgan ultrasonography is not going to replace CT angiography, but it is something to consider in patients with contraindications to contrast or those who are too unstable for transport. The study also showed that in patients with a negative multiorgan ultrasound for PE, the ultrasound led to an alternative diagnosis 47% of the time, further demonstrating its usefulness in fast diagnosis and cost management.
For your further reading pleasure:
Annals of Internal Medicine. A survey asked physicians about their opinions on gun control. 76% of responders believe that stricter gun control would reduce the risks of gun related injury or death. [6]
JAMA Internal Medicine. A retrospective cohort study looked at mortality benefit in patients taking aspirin after receiving a diagnosis of colon cancer. In patients with tumors expressing HLA class 1 antigen, mortality was lower in patients taking aspirin after their diagnosis. [7]
Seminars in Arthritis and Rheumatism. A meta-analysis of randomized controlled trials showed that treatment with periodic injections of hyaluronic acid is not significantly different from NSAIDs in treating pain knee from osteoarthritis. [8]
Annals of Internal Medicine. A statistically significant decrease (8.2 fewer deaths per 100,000, p 0.003) in all-cause mortality was seen in Massachusetts after initiation of the 2006 healthcare reform law. The greatest difference was seen in counties with lower household incomes and higher uninsured rates pre-reform. [9]
Dr. Kaley Myer is 2nd year resident at NYU Langone Medical Center
Peer reviewed by Mark H. Adelman, MD, Medicine, NYU Langone Medical Center
Image courtesy of Wikimedia Commons
References
1. Duthiers V, Sesay I, Carter CJ. Amnesty: Nigeria warned of Boko Haram raid at girls school, failed to act. http://www.cnn.com/2014/05/09/world/africa/nigeria-abducted-girls/. Published 5/10/2014.
2. Abrahams N, Devries K, Watts C et al. Worldwide prevalence of non-partner sexual violence: a systematic review. Lancet 2014; 383(9929):1648-1654. http://www.thelancet.com/journals/lancet/article/PIIS0140-6736%2813%2962243-6/fulltext
3. Gordon LB, Massaro J, D'Agostino RB et al. Impact of farnesylation inhibitors on survival in Hutchinson-Gilford progeria syndrome. Circulation. May 2, 2014. Epub ahead of print. http://circ.ahajournals.org/content/early/2014/05/02/CIRCULATIONAHA.113.008285.long
4. Blom DJ, Hala T, Bolognese M et al. A 52-week placebo-Controlled Trial of evolocumab in hyperlipidemia. N Engl J Med 2014 370(19):1809-1819. http://www.nejm.org/doi/full/10.1056/NEJMoa1316222
5. Nazerian P, Vanni S, Volpicelli G et al. Accuracy of point-of-care multiorgan ultrasonography for the diagnosis of pulmonary embolism. Chest 2014; 145(5):950-957. http://journal.publications.chestnet.org/article.aspx?articleid=1745980
6. Butkus R, Weissman A. Internists' attitudes toward prevention of firearm injury. Ann Intern Med. April 10, 2014. Epub ahead of print. http://annals.org/article.aspx?articleid=1860324
7. Reimers MS, Bastiaannet E, Langley RE et al. Expression of HLA class I antigen, aspirin use, and survival after a diagnosis of colon cancer. JAMA Intern Med 2014; 174(5):732-739. http://archinte.jamanetwork.com/article.aspx?articleid=1847573
8. Bannuru RR, Vaysbrott EE, Sullivan MC, McAlindon TE. Relative efficacy of hyaluronic acid in comparison with NSAIDs for knee osteoarthritis: A systematic review and meta-analysis. Semin Arthritis Rheum 2014; 43(5):593-599. http://www.semarthritisrheumatism.com/article/S0049-0172(13)00206-0/fulltext
9. Sommers BD, Long SK, Baicker K. Changes in mortality after Massachusetts health care reform: a quasi-experimental study. Ann Intern Med 2014; 160(9):585-593. http://annals.org/article.aspx?articleid=1867050