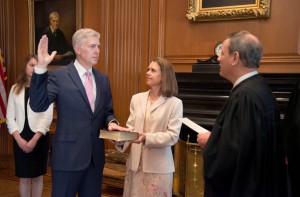 Susan Creighton, MD
Peer Reviewed
Judge Neil M. Gorsuch was confirmed to the Supreme Court after Senate Republicans voted to lower the threshold required for Supreme Court nominations. Last week Senate Democrats used a filibuster to block the nomination, which would have required 60 votes before the rule change. At 49 years old, Justice Gorsuch could have a long tenure on the Supreme Court and shape the legal landscape for decades. Reproductive rights groups oppose Justice Gorsuch's nomination because as part of the 10th Circuit he held that the government could not require corporations to cover contraception through the Affordable Care Act (ACA) in the well-known Hobby Lobby case.
None of the cases that are awaiting trial in the Supreme Court will affect the issue of reproductive rights, so for now read on for research published in the medical journals this week.
Thyroid Hormone Therapy for Older Adults with Subclinical Hypothyroidism 
Subclinical hypothyroidism, defined as an elevation in serum thyrotropin (TSH) with a normal serum free thyroxine level, can be clinically difficult to interpret, as patients are often asymptomatic. A recent double-blind, placebo-controlled, parallel-group trial in the NEJM investigated whether elderly patients with subclinical hypothyroidism benefitted from treatment with levothyroxine [1]. The study included 737 adults over 65 years of age who were identified from databases if they fit the laboratory definition of subclinical hypothyroidism with a TSH between 4.6 to 19.99 mIU per liter. Patients with current prescriptions for levothyroxine or other thyroid medications, a history of thyroid surgery or radioactive iodine in the previous 12 months, dementia, acute coronary syndrome, or hospitalization in the previous 4 weeks were excluded from randomization. Patients randomized to the treatment arm were started on levothyroxine at 50mcg, which was then titrated according to protocol. The control group received a placebo with mock adjustments.
The primary outcomes of the trial were the Hypothyroid Symptoms score and the Tiredness score from the Thyroid-Related Quality-of-Life Patient-Reported Outcome measure (ThyPRO) at both baseline and 12 months of treatment. The results showed that treatment with levothyroxine consistently lowered serum TSH levels compared to placebo but had no significant effect on the primary outcomes. There was no difference in adverse events between the intervention and control groups. Of note, very few of the patients in the study had TSH >10, so the results may be harder to extrapolate to patients with more elevated levels of TSH.
Treating asymptomatic older patients with subclinical hypothyroidism and TSH <20 does not increase quality of life or decrease fatigue and it may contribute to pill burden. Based on this study primary care providers should not treat asymptomatic older adults for subclinical hypothyroidism but may consider further monitoring or treatment for patients who develop symptoms or have a TSH > 10.
Cardiometabolic Abnormalities Among Normal-Weight Persons From Five Racial/Ethnic Groups in the United States: A Cross-sectional Analysis of Two Cohort Studies
Obesity is a well-known risk factor for cardiovascular disease. However, individuals with a normal weight can also have an abnormal metabolic profile, increasing their risk of cardiovascular events. The relationship between weight and the extent of cardiometabolic risk seems to differ among different ethnicities. This week, the Annals of Internal Medicine used cross-sectional data from the Multi-Ethnic Study of Atherosclerosis (MESA) and Mediators of Atherosclerosis in South Asians Living in America (MASALA) study to determine the prevalence of metabolic abnormality but normal weight (MAN) in different ethnic groups [2].
A total of 7617 Caucasian, ChineseAmerican, African American, Hispanic and South Asian participants were included in the study. The cardiometabolic abnormalities that factored into the analysis were decreased HDL, elevated triglycerides, elevated fasting glucose and hypertension. The definition of normal weight was a BMI 18.5-24.9 kg/m2 for white, African American and Hispanic participants and a BMI 18.5-22.9 kg/m2 for Asian participants.
The prevalence of MAN was about one third of overall participants, with the highest prevalence in South Asians (43.6%) and the lowest in whites (21%). The authors extrapolated these results to determine ethnic-specific BMI risk-based thresholds. To have the equivalent cardiometabolic abnormalities of white participants with a BMI of 25 the corresponding BMIs were 22.3 in African Americans, 21.5 in Hispanics, 20.5 in Chinese Americans and 18.9 in South Asians.  This study shows that BMI alone is a not a good predictor of cardiometabolic risk, especially in non-white minorities.
Prognosis of Undiagnosed Chest Pain: Linked Electronic Health Record Cohort Study
Chest pain is a common symptom among primary care patients; however, a substantial portion of patients does not receive a diagnosis for this symptom. This week BMJ published the results of a cohort study examining the long-term outcomes of patients with undiagnosed chest pain [3]. The study was set in the Cardiovascular disease research using Linked Bespoke studies and Electronic health Records (CALIBER) program, which links primary care data with the national registry of acute coronary syndromes in the UK.  The subjects of the study were any patients in the database with a first coded record of chest pain between 2002 and 2009. Patients with a history of angina from known cardiovascular disease were excluded.
Over 170,000 subjects were placed in one of three cohorts: unattributed chest pain, non-coronary chest pain and angina. The primary outcomes were incidence of myocardial infarction (MI) and any recorded cardiovascular disease. Baseline prevalence of cardiovascular risk factors was also examined. The results showed that rates of cardiovascular events were higher in the unattributed group than in the non-coronary group but less than in the angina group. In the first year the hazard ratio was 1.95 (confidence interval 95%) for those in the unattributed group compared to the non-coronary group.
The results of this study suggest that patients with unattributed chest pain still have a significant risk for cardiac disease. However, this study looked at a large number of patients based on electronic medical record codes, which could contribute to error from flaws or variability in assigning codes. Additionally the study did not try to ascertain if any of the patients in the unattributed group had any other risk factors for coronary disease to see if that could explain some of the findings. It is possible that patients whose chest pain is left unattributed rather than labeled non-coronary have some other risk factors that make their providers reluctant to label the pain non-coronary.
Prevalence and Clinical Manifestations of Primary Aldosteronism Encountered in Primary Care Practice
Primary Aldosteronism (PA) is characterized by hypertension and aldosterone overproduction that is independent from the renin-angiotensin axis. PA is a cause of secondary hypertension that is frequently diagnosed in patients with hypokalemia or resistant hypertension, but the true prevalence of PA among all hypertensives is not known. This week in JACC, a cohort study of hypertensive patients recruited from primary care practices was published estimating the prevalence and phenotypes of PA.
The study included a cohort of over 1500 patients who underwent screening for PA by measuring the serum aldosterone concentration to plasma renin activity ratio (ARR). The screening was considered positive in patients with an ARR greater than 30 and an aldosterone level greater than 10 ng/dl who then went on to confirmatory testing with either an intravenous saline loading test or a captopril challenge. Additional subtype classification with adrenal vein sampling to aldosterone-producing adenoma or bilateral adrenal hyperplasia was performed on those with confirmed PA. A total of 232 patients had positive results in the initial testing for ARR and 99 of them were diagnosed with PA (5.9% of the total sample). The prevalence was highest in patients with stage 3 hypertension.
In conclusion, this study suggests that PA occurs with a prevalence of about 6% in a general hypertensive population in Italy. The authors of the study suggest that most patients with hypertension should be screened for PA with the ARR test, however, the confirmatory testing for PA is more complicated, expensive and invasive than the screening test. Additional research is necessary to determine which hypertensive patients will benefit most from a workup for PA.
Minicuts:
Research published last week in Circulation found that there are genetic variants linked to QTc prolongation. Using 61 common genetic variants they created a genetic QT score that correlates with risk of drug-induced QT prolongation.
An editorial in JAMA explains the recent US Preventive Services Task Force (USPSTF) decision not to recommend screening for Celiac disease in asymptomatic patients. Although rates of Celiac disease seem to be increasing in the US and screening tests are now widely available the USPSTF decided there was not enough evidence on the harms and benefits of screening and that more research is needed.
Finally, this editorial in the Journal of General Internal Medicine examines the problems with how primary care is taught in medical schools and residency programs. It argues that to inspire students and residents to go into primary care they need training environments that model effective interdisciplinary primary care delivery, which academic medical centers usually cannot provide.
Dr.  Susan Creighton, is a 1st year resident at NYU Langone Medical Center
Peer reviewed by Kerrilynn Carney, MD, Chief Resident, Internal Medicine, NYU Langone Medical Center
Image courtesy of Wikimedia Commons
References