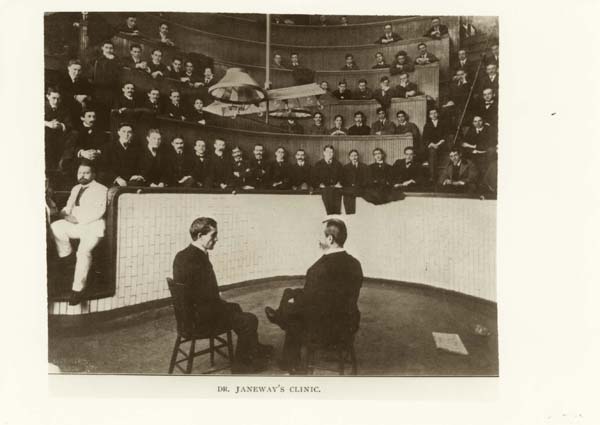 Commentary by Steven Giovannone MD, PGY-2
Please also see the clinical vignette presented before last week's grand rounds.
This week's Medical Grand Rounds was given by Dr. Steven McGee from the University of Washington School of Medicine, author of the well-known textbook "Evidence-Based Physical Diagnosis".  His lecture, entitled "Evidence-Based Physical Exam," targeted the utility of the physical exam in an era of increasingly used alternative diagnostic modalities, especially imaging procedures.
In his talk, Dr. McGee first noted that for several medical conditions, physical diagnosis is still the gold standard despite advances in imaging modalities, citing examples such as cellulitis, diabetic retinopathy, and amyotrophic lateral sclerosis.  Alternatively, many diagnoses are now made on grounds other than the exam, for example chest radiography in the diagnosis of pneumonia.  With new "gold standards" for making a diagnosis we are now able to study how effective traditional physical exam maneuvers are in predicting the presence or absence of a medical condition.  The quantification of the accuracy of such physical exam maneuvers is the basis of his textbook.
Dr. McGee argues the most useful measure of diagnostic accuracy is the likelihood ratio (LR), defined as the probability of a physical finding in a patient with a condition divided by the probability of that same finding in a patient without that condition.  For any physical finding, a high likelihood ratio indicates that finding increases the probability of disease and a low likelihood ratio decreases it.  Therefore, tests with likelihood ratios close to 1 can be interpreted as clinically useless because they do not clinically affect the pre-test probability of disease.
In his initial example of ascites using abdominal ultrasound as the gold standard, studies have shown that a positive fluid wave and presence of edema have high likelihood ratios for the presence of ascites (LR of 5 and LR of 3.8 respectively).  On the other hand, other traditional measures such as presence of bulging flanks and shifting dullness were less helpful.
Four more scenarios were presented.  The first asked what elements of the physical exam are helpful in determining the presence of elevated left atrial (LA) pressures in patients presenting with dyspnea.  Using cardiac catheterization as the gold standard, findings such as an S3 (LR 5.7), displaced apical impulse (LR 5.8), and a positive abdominojugular test (LR 8.0) were highly predictive of elevated LA pressures.  Other findings such as edema and crackles had likelihood ratios closer to 1.  The proposed explanation for why crackles are less helpful is simply because one would expect to hear crackles in other conditions that do not elevate LA pressure, including interstitial fibrosis, pneumonia, and COPD.
The other scenarios presented were peritonitis, rotator cuff tear, and pneumonia.  Again, the evidence behind several physical exam findings was presented.  In the example of pneumonia (using a chest x-ray as the gold standard), many findings were suggestive of the presence of pneumonia, including cachexia (LR 4.0), bronchial breath sounds (LR 3.0), and egophony (LR 4.1).  However, in this example no single finding was helpful in excluding pneumonia (LRs all near 1).  In order to more effectively exclude pneumonia, it is possible to combine multiple findings.  The Heckerling score is a constellation of 5 findings (temperature greater than 37.8, tachycardia, crackles, decreased breath sounds, absence of asthma).  If there are 0 or 1 findings present, the likelihood ratio of pneumonia is 0.3.
In summary, Dr. McGee reiterated there are several ways to approach the bedside exam when the gold standard for a condition is an alternative modality.  He proposes that instead of abandoning the physical exam, we can use likelihood ratios to quantify the accuracy of our approach.  By using exam maneuvers that have evidence for their ability to make a diagnosis, we can significantly affect our pre-test suspicion of disease.  To be knowledgeable of such an approach will allow us as physicians to be more confident in our findings, and will ultimately boil down to better patient care.