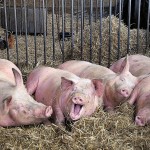 Eunice Kang, MD
The Centers for Disease Control (CDC) has confirmed eight cases of swine influenza A (A/H1N1) virus infection in New York City, in addition to a dozen cases caused by the same strain scattered throughout California, Texas, Ohio, and Kansas. The eight confirmed cases in New York are in students who just returned from a trip to Mexico, where officials began reporting three separate outbreaks of influenza-like illness beginning March 18th. According to the New York Times there have been 81 deaths and approximately 1,300 illnesses caused by the swine flu in Mexico, the apparent epicenter of the outbreak, prompting President Felipe Calderón to announce that the government would "take all the necessary measures to deal with this epidemic." While the swine influenza virus has been confirmed in only 20 of the 81 deaths in Mexico, many of the affected were adults who were previously healthy, an epidemiologic trait that distinguishes the swine flu virus from other flu viruses of prior pandemics.
Swine influenza virus, like other animal flu viruses, usually causes a respiratory illness confined to the animal population that serves as its source. The swine flu virus can be spread to humans who are in close contact with pig populations. Modes of human-to-human transmission are similar to those of seasonal flu viruses. Collecting a respiratory specimen and sending it to the CDC can confirm a suspected diagnosis of swine flu.
The virus that has been isolated in Mexico and the US is being described as a new subtype of A/H1N1 not previously detected in pigs or humans. While the cases in the United States have been mild with only one requiring hospitalization, the CDC earlier today declared a public health emergency over concern of a potential swine flu pandemic. Symptoms of swine flu are similar to those of seasonal flu and include fever, malaise, lethargy, cough, anorexia, and in many cases nausea, vomiting, and diarrhea. Prevention of transmission is also similar to seasonal flu. The CDC is recommending oseltamivir (Tamiflu) and zanamavir (Relenza) as treatments for the current swine flu strain given findings of resistance to amantadine and rimantadine.
The New York City Department of Health and Mental Hygiene is currently recommending routine treatment of severe flu-like illness in people associated with the Queens high school (St. Francis Preparatory School) that is at the center of the New York outbreak. Otherwise, treatment of mild cases of flu-like symptoms, in both persons affiliated with the school and the general population, should be given to individuals who are susceptible to severe illness due to an underlying condition. For updated information on the swine flu outbreak as it evolves go to http://www.cdc.gov/swineflu/whatsnew.htm.
Eunice Kang is a Third Year Internal Medicine Resident at NYU Medical Center 
Picture Courtesy Wikimedia Commons