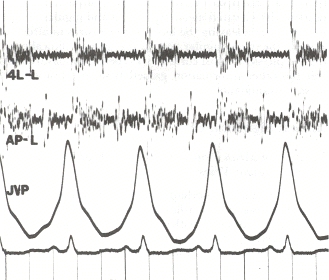 By Rachel Bond, MD
Faculty Peer Reviewed
In the field of medicine including the art of physical diagnosis, there is nothing more nerve provoking then having to master the art of cardiac auscultation. Imagine the concern of medical students, residents, internists and freshly starting cardiologists all alike who are asked by patients time and time again, "does my heart sound okay?!" With the advancement in technology and the rapid surge of echocardiogram usage, the use of a stethoscope has not been very provocative. However, being able to elicit a murmur remains key in any medical profession. Certain ways to go about learning how to identify murmurs remain arbitrary and based on experience. However, with the World Wide Web at our fingertips, there are a number of free websites that provide audio samples of murmurs and maneuvers to elicit them. Below is a list of a few of these websites with my very own synopsis.
To simplify the review, websites will be grouped into:
Highly recommended, recommended or not recommended based on my review; however, please feel free to explore all including websites at your own timely discretion.
Highly Recommended:
http://www.easyauscultation.com/?gclid=CKrG_s3Yg6oCFQPc4AodIDrm0g
This website has convincing heart sounds that are easily heard and can be listened to over and over to place in your memory bank. Under each sound file, there is a description of the murmur heard with specific maneuvers that can be performed. The website is driven by a complete course that includes common murmurs heard in the primary care setting as well as more advanced cardiac murmurs including congenital defects. Also included are sample lung sounds. This website also includes quizzes integrated within each course section which is a great way to test your knowledge and understanding. I would recommend this site as a good learning tool. The sound quality is heard best with the use of headphones. Also great is the fact it can be played on iphones or ipads as per the site (I did not try this).
This is a relatively advanced cardiac auscultation site. It includes illustrations of the cardiac exam, including the relationship between the murmur and the carotid pulse. It also shows illustrations of the normal chambers of the heart and cardiac cycle for the different murmurs appreciated on the website. You can listen to the murmurs as many times as you may need to place it in your memory. It also gives great descriptions of the murmurs. I would recommend reading a physiology textbook or reviewing a simpler website prior to venturing here. There also is a quiz at the end to test your fund of knowledge that can be rather challenging. As such, this site is definitely for those already advanced in cardiac auscultation that need some brushing up.
Recommended:
http://depts.washington.edu/physdx/heart/history.html
This is a great website which includes a brief introduction of historical data, and a basic overview of the cardiac exam, including techniques to accentuate certain murmurs. With each sound file presented on the website, which are easily accessed and heard relatively well, there is a written description of what exactly is being heard. The sound quality can definitely be improved; however, it does seem to get the point of the sound of the murmur across.
http://www.cardiologysite.com/auscultation/html/index.html
This website has a great overview of not only cardiac auscultation, but also angiography for those interested in the cardiac field. With the multitude of things presented on this site, the auscultation part falls short of things the other sites include, such as descriptions of the murmurs heard. It does give good representations of the sounds of the murmurs. As such, if you are looking for a site that provides accurate sounding murmurs with little information on description and maneuvers that can be performed, this is a good site. As such, it would most likely be for the more advanced cardiac examiner or someone using a dual textbook or additional website.
This website has a number of videos and documentaries on cardiac auscultation and different murmurs with the ability to hear them and see the location the physician places the stethoscope. There are a number of videos to look up; however, it lacks a full description of the murmur heard and any written words.
Not Recommended:
http://www.wilkes.med.ucla.edu/inex.htm
This is one of the first websites we come across under the Google search engine. In fact, it's one of the first websites I used during my medicine clerkship in medical school. There is a rather brief over view of the physiology of the heart that we typically learn way back in our basic science curriculum of medical school. This underlining physiology is meant to help us understand the cause of the murmurs themselves. The website includes information on the pulmonary system allowing us to get a feel of the entire cardiopulmonary system. There are also sample audio clips of the typical sounds each murmur comprises and pathologic lung sounds; however, the sound quality is poor and the clips are very short giving us little ability to place these sounds in our memory bank. There is a troubleshooting page to help improve the sound quality; however, this seems too complicated and with the time spent attempting to correct the sound quality, it seems it should/could be used to search for a better auscultation site.
http://filer.case.edu/dck3/heart/listen.html#Introduction
When you first arrive at this website, it appears promising. Initially giving you an overview as to why auscultation is an important craft to have in any medical field. It also explains where to place ones stethoscope (for the beginners) and different maneuvers' that can be performed to bring out murmurs. As you venture further in to the website and evaluate the actual murmur sounds, it initially is great in that it gives you the sound of the murmur and a description of the murmur, as well as differentials as to why this murmur might be heard. However, you soon realize the website is incomplete; these descriptions are soon gone and only the murmur is heard which is a brief clip that sometimes works on the website or sometimes doesn't. This website initially seemed like the perfect pick for the budding 2nd year medical student who would want to get a start on things prior to beginning their medical clerkships; however, it needs a few adjustments.
Dr. Rachel Bond is a 3rd year resident at NYU Langone Medical Center
Peer reviewed by Robert Donnino, MD , Cardiology Editor, Clinical Correlations
Image courtesy of Wikimedia Commons