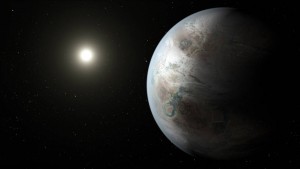 By Kevin Ha, MD, PhD
Peer Reviewed 
This week, NASA announced the discovery of Kepler 425b, an exoplanet that is "Earth's bigger, older cousin" [1]. It takes 385 days to orbit around the habitable zone of its sun, and it "almost certainly" has an atmosphere. Although its sun is brighter than our own, the exoplanet receives about the same amount of sunlight as ours because its orbit is wider. Overall, Kepler 425b is the most Earth-like exoplanet ever found in a habitable zone. With this exciting news, let us get to discoveries in science this week that will likely have more immediate application than an exoplanet 1400 light years away.
Pioglitazone Use Not Associated with Increased Bladder Cancer Risk
Pioglitazone has been linked to bladder cancer in past studies. During its premarketing study, it was found to be associated with increased incidence of bladder cancer in male rats, which prompted a ten-year observational study. Interim analyses at five years showed increased incidence of bladder cancer in persons exposed to pioglitazone for two years or longer.
The result of the observational study at full ten years was published in JAMA this week [2]. This was a cohort study of 193,099 individuals with diabetes, 34,181 of whom received pioglitazone for a median duration of 2.8 years. Overall, there was no statistically significant increased incidence of bladder cancer with pioglitazone use (90 vs. 76 per 100,000 person-years with and without pioglitazone use; adjusted hazard ratio 1.06; 95% CI 0.89-1.26). Similarly, a nested case-control analysis did not show any statistically significant difference in pioglitazone use when diabetics with new-onset bladder cancer were compared to a subset of diabetics without bladder cancer (19.6% vs. 17.5% respectively; adjusted odds ratio 1.18; 95% CI 0.78-1.80). However, the authors state that this study does not exclude the possibility of increased risk. As for the difference from the interim analysis, the authors believe an unknown time-varying confounder could be responsible. This study also looked at ten other types of cancers and found increased incidence of prostate and pancreatic cancers with pioglitazone use, which may merit further investigation. Incidentally, Takeda Pharmaceuticals, the manufacturer of pioglitazone, settled the bladder cancer lawsuits three months ago for $2.37 billion.
Long-Term Outcomes of Endovascular Repair of AAA Compared to Open Repair
Several studies in the past five years have shown that endovascular repair of abdominal aortic aneurysm (AAA) has significantly lower perioperative morbidity and mortality rates compared to open repair. These results were seen in several randomized control trials, each with hundreds of subjects per group. However, these studies have also shown that endovascular repairs required more frequent reinterventions, and the long-term survival rates were essentially equal in both groups [3-5].
This week, NEJM published a retrospective cohort study that looked at 39,966 Medicare beneficiaries who underwent either endovascular or open repair of AAA [6]. The results of this study were consistent with what has been seen in previous studies. The rate of perioperative mortality was lower with endovascular repair (1.6% vs. 5.2%; p<0.001), but the rate of aneurysm rupture was higher through 8 years of follow up (5.4% vs. 1.4%; p<0.001), and there were no significant differences in long-term survival rates at eight years (54.9% vs. 54.7%; p=0.76). While these results are similar to previous studies, the authors noted that the outcomes of endovascular approach have improved between 2001 and 2008, with lower rate of mortality, reintervention, or conversions to open repair.
Paraneoplastic Neurologic Disorders in Small Cell Lung Cancer May Be More Common than Previously Thought
Paraneoplastic neurologic disorders (PNDs) are generally thought to be rare disorders, but they may be more common than initially thought. A prospective study published in Neurology looked into the incidence of PNDs in small cell lung cancer [7]. In this study, 264 patients with biopsy-proven small cell lung cancers were evaluated for PNDs based on recommended diagnostic criteria [8]. The results showed that 3.8% had Lambert-Eaton myasthenic syndrome, 1.9% had sensory neuropathy, and 1.7% had limbic encephalitis. Other PNDs were also seen at lower frequencies (paraneoplastic encephalomyelitis, dermatomyositis, and paraneoplastic cerebellar degeneration). Overall, PNDs were observed in 9.1% of all patients with small cell lung cancer, which is higher than previous studies have shown. The authors believe this may be due to underdiagnosis. Incidentally, a third of those with PNDs reported neurological symptoms in the months preceding their lung cancer diagnoses. For patients like these, timely diagnoses of PNDs may result in earlier diagnoses of small cell lung cancer.
Researchers Grow Cardiomyocytes from Human Stem Cells with Modified MYC Gene
For some time, researchers have been able to make human pluripotent stems cells differentiate into cardiomyocytes but only in small numbers. A Dutch research group, as described in last week's Nature Biotechnology, used modified MYC genes to control the cell division of cardiovascular progenitor cells (CPCs: precursors to cardiomyocytes) [9]. The researchers were able to make CPCs undergo more than 40 divisions (which is a trillion-fold growth in number). They were also able to further differentiate the cells into ventricular-like cardiomyocytes and pacemaker-like cells. According to the authors, this work may help in the understanding of heart development (to better understand congenital heart diseases for example) and may one day allow us to repair a damaged heart with cardiomyocytes grown from stem cells.
Other interesting reads this week
An IV-administered polypeptide targeted against c-Met can help visualize difficult-to-see polyps during colonoscopy [10].
Vibrotactile stimulation of residual limb helps amputees feel a sense of embodiment over prosthetic limbs [11].
Dr. Kevin Ha is a 1st year resident at NYU Langone Medical Center 
Peer reviewed by David Kudlowitz, MD, a 3rd year resident at NYU Langone Medical Center 
Image courtesy of NASA Ames/JPL-Caltech/T. Pyle 
References