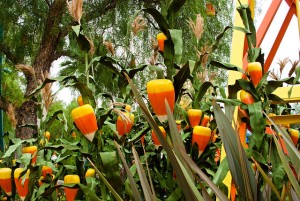 By:  Aditya Sreenivasan, MD
For the Halloween edition of Primecuts, we resisted the temptation to follow the standard media trend and go exclusively with "spooky" or alarming articles. Though the subject of the dreaded Zika virus does come up below, we thought we'd start with some good news regarding improving outcomes for out-of-hospital arrest.
Increasing Access to AEDs and Improved Outcome for Out-of-Hospital Arrest 
The bad news is that survival rates for out of hospital arrest remain low – approximately 10% in industrialized countries. The good news is that studies show that with the increasing frequency of bystander CPR, the rate has increased over the last several years. But what about the contribution from publically available automated external defibrillators (AEDs)? The New England Journal attempted to answer this question with a study looking at survival rates for out of hospital arrest as the prevalence of AEDs increased in Japan.
Over the 9 years of the study (ending 2013), the number of AEDs publically available in Japan was estimated to have increased almost 40-fold (based on AED sales). Out of over 1 million out-of-hospital cardiac arrests, almost 200,000 were witnessed by bystanders. Because AEDs will only shock ventricular fibrillation, only the 43,000 events during which ventricular fibrillation was the initial recorded rhythm were included in the analysis. Interestingly, only 10% of these actually received defibrillation at all.
The primary outcome of favorable neurological outcome at 1 month was significantly increased in those who received defibrillation compared to the control group (adjusted odds-ratio 2.03). This result by itself is unsurprising, but it is encouraging that the rate of defibrillation for patients in v-fib arrest increased more than 16-fold over the course of the study. It appears that as we continue to promote CPR training and bystander use of AEDs, outcomes for out of hospital arrest will improve.
An Association Between Guillain-Barré Syndrome and Zika Virus
Zika virus has entered a rare pantheon of pop-culture viruses and has taken its place alongside "swine flu" and Ebola. These infections are household names, but still widely misunderstood by the general public. But while the flu has been around for literal centuries and Ebola for 40 years, we are still discovering new things about Zika virus all the time.
On October 20th, the New England Journal published an article describing a strong association between the Zika Virus and Guillain-Barré Syndrome in Colombia. Two prior studies in 2013 and 2014 described an outbreak of GBS that was temporally and spatially correlated to a Zika virus outbreak in French Polynesia. This NEJM study aimed to confirm this association by clinical and virologic data.
68 sequential cases of patients who met Brighton Criteria for GBS were included in the study. 66 of 68 had symptoms consistent with Zika virus infection 3-10 days before their diagnosis of GBS, and the remaining two were residents of a region with a known Zika virus outbreak. 40% of patients who were tested serologically had evidence of Zika virus infection in either their CSF, serum, or (most commonly) urine. As Zika spreads northward, this study is a reminder for U.S. physicians to remain aware of new literature on Zika and its related diseases, as we may have to incorporate it into our practice sooner than we hope.
A Brief Intervention for Obesity in the Primary Care Setting
The CDC reports that 30% of US adults are obese, based on data from 2014. It causes or is associated with many of the most common non-communicable diseases. This study, published last week in The Lancet, attempts to investigate an office-based intervention for physicians to encourage weight loss in their patients, similar to what already exists for smoking and alcohol consumption.
This randomized controlled trial looked at the effectiveness of two brief physician interventions and their effect on patient weight. Almost 8,500 adult patients were screened, and almost 3,000 met criteria for inclusion in the study (BMI > 30 kg/m2 and increased body fat percentage). 1882 of these patients were enrolled in the study and randomized to one of two 30-second interventions with their primary care physician. They were either referred to a weight management group (consisting of 12 1-hour sessions over 12 weeks) or briefly advised by their physician to lose weight.
The endpoint was weight loss after 12 months. Both groups lost weight: 2.43 kg in the weight management group and 1.04 kg in the advice group, but there was no statistical significance in the amount of weight loss between the two interventions. There was no difference in the way patients perceived the interventions either, with 81% saying their intervention was both appropriate and helpful. We can conclude that a brief intervention in obese patients encouraging weight loss is effective, it just probably does not matter exactly how it is done.
Reasonable Calcium Intake Does Not Increase Risk for Cardiovascular Disease
The role of calcium as an essential nutrient for bone health, vascular modulation, cell to cell signaling, and muscle contraction is well known. But calcium supplementation is poorly understood. Many studies, including meta-analyses on the study and subject level, have shown that calcium is linked to increased risk of cardiovascular disease. The Annals of Internal Medicine published a large meta-analysis looking at 4 randomized-controlled-trials and 27 observational studies to answer the question: does increase calcium intake increase the risk for cardiovascular disease?
The short answer is no. None of the RTCs that were investigated found any statistically significant difference in cardiovascular disease outcomes between calcium and placebo groups. It is important to note that two of the trials included vitamin D supplementation in their study, while the others did not. Perhaps more significant is the fact that cardiovascular disease events and mortality were a secondary outcome in all of these studies. These studies did not account for dietary intake of calcium either further decreasing our ability to make strong conclusions from this data.
Analysis of the observational studies showed similar results. There was no consistent dose-response curve shown between calcium intake and either cardiovascular mortality, stroke mortality, or stroke risk. None of the studies analyzed looked at calcium intake above 2-2.5 g/day (2 to 2.5 x times the daily value recommended by the NIH). For now it appears we can safely recommend calcium supplementation up to 2 g/day for patients who need it for bone health without worrying about causing cardiovascular disease.
Mini-Cuts:
JACC published a study this week investigating the safety and efficacy of endovascular repair of AAA dissections. The study followed 15 such repairs for a median of 6 years, noting 8 complications (ranging from atrophic kidney to temporary pericardial effusion), and requiring 4 re-interventions (from open surgery to PCI for cardiac ischemia). The study concludes that so far, endovascular intervention appears to be an acceptable alternative for those ineligible for direct surgical repair.
Is colonoscopy the best way to screen for colorectal cancer? Annals of Internal Medicine published a consensus statement promoting fecal immunochemical testing (FIT) as an equal, if not preferred method, for CRC screening. They cite the lack of controlled studies that show that colonoscopy reduces incidence or mortality from CRC, as well as the higher cost, rate of complication, and patient adherence compared to FIT as reasons for physicians to promote it as enthusiastically as screening colonoscopy.
We are taught in medical school that "every patient with PSC has IBD" but the frequency of the reverse association is not as well known. A study in Gastroenterology screened 322 IBD patients with magnetic resonance cholangiography and found that the incidence of PSC was three-times higher than the rate diagnosed by symptoms alone (7.5% compared to 2.2%). The importance of sub-clinical PSC is still unclear, but further research into this area may significantly impact the standard of care for IBD patients.
The BMJ published a meta-analysis investigating the relationship between fructose intake and gout. The only two studies that met their criteria were quite large, but they only looked at white health professionals and did not analyze the relationship between fructose and hyperuricemia. The investigators concluded there is a significant relationship between fructose intake and gout in this population, but the mechanisms are far from well understood.
Adity Sreenivasan  is a 1st year internal medicine resident at NYU Langone Medical Center
Peer reviewed by Kevin Hauck, MD, Associate Editor, Clinical Correlations
Picture of Candy Corn Acres at Disney's California Adventure courtesy of Anna Fox/Wikimedia Commons
References