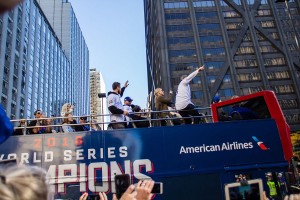 By Nishan Bingham, MD
Peer Reviewed
This week, Ken Burns announced that he will have to remake his documentary series, Baseball, after the Chicago Cubs won the World Series for the first time in 108 years. While Wrigleyville reveled, health officials urged the remainder of Americans to avoid media through the final days of the presidential election in order to prevent unintentional Xanax overdoses. But to start off Primecuts, we revisit two familiar IM topics: PE and Syncope, after a new study showed the two may be more closely linked than previously thought… Enjoy!
Prevalence of Pulmonary Embolism among Patients Hospitalized for Syncope
Every year, thousands of patients are admitted to hospitals after experiencing a brief loss of consciousness due to cerebral hypoperfusion known as syncope. Determining the etiology of syncope relies heavily on patient history—were there prodromal symptoms, was the event associated with a change in position, etc. Similarly, pulmonary embolism (P.E.), remains a diagnostic challenge, with risk stratification tools marred by subjective components. However, although PE is a known cause of syncope, this life-threatening condition is not always considered high in the differential. A new cross-sectional study in the New England Journal of Medicine evaluated the prevalence of P.E. in patients admitted for syncope.
Out of nearly 2,400 patients at 11 different hospitals who presented with a first episode of syncope, 560 were deemed to warrant hospitalization, were not on anticoagulation, and agreed to participate in the study. A rule-out of P.E. was performed using both the modified Wells Criteria (score < 4 indicating low pre-test probability) and a D-dimer assay, followed by either computed tomography or ventilation-perfusion lung scanning for any patients with a high pre-test probability or positive D-dimer.
P.E. was diagnosed in 97 of the 560 patients hospitalized for syncope for a total prevalence of 17.3%. When the cause of syncope was unknown, the prevalence of P.E. was 25.4%; but when an alternative explanation was present, the prevalence was 12.7%. Interestingly, 24% of patients presenting with syncope found to have P.E. had no other signs or symptoms of PE(hypoxemia, tachypnea, tachycardia, unilateral edema, etc.) The authors note that P.E. likely causes syncope through abrupt obstruction of cardiac output; however, emboli may also induce arrhythmias as they pass through the heart en route to the pulmonary circulation, which can cause syncope. These results will hopefully encourage providers to consider P.E. in patients with syncope and prevent future missed diagnoses.
JAMA Clinical Guidelines Synopsis: Transfusion of Red Blood Cells
Millions of units of packed red blood cells are transfused annually (13 million in the U.S. alone in 2013). However, definitive guidelines regarding transfusion thresholds remain somewhat obscure. This may be attributable to relative risk/benefit differences among varying patient populations, in addition to the general scarcity and high cost of blood products. A new guideline developed by the UK National Clinical Guideline Centre and published in JAMA made recommendations based on meta-analysis of 34 randomized controlled transfusion trials involving 17,533 patients.
A multi-disciplinary guideline development group of healthcare workers, researchers, and lay persons was formed and vetted for conflicts of interest. The group analyzed the relative risks and benefits of a liberal transfusion strategy (defined as 8-10 g/dL) versus a conservative transfusion strategy (7-9 g/dL) in terms of 30-day mortality, new cardiac events, new infection, and hospital length of stay.
The group found no significant difference in terms of 30 day mortality, new cardiac events, new infection or length of stay between the two strategies. Unsurprisingly, the conservative transfusion strategy resulted in fewer units being transfused. The group's recommendations echoed those of the American Association of Blood Banks, namely a conservative threshold of 7 g/dL for all patients without major hemorrhage or acute coronary syndrome. For the latter, they recommended a threshold of 8 g/dL. Setting individual thresholds for patients with transfusion-dependent chronic anemia was suggested. The authors hope to eliminate transfusions that provide no benefit to patients
Five-Year Outcomes after Off-Pump or On-Pump Coronary-Artery Bypass Grafting 
The first CABG was performed in 1960 in the Bronx. This surgery, which reduces mortality in patients with severe coronary disease, is traditionally performed with the use of a cardiopulmonary bypass circuit. However a growing number of surgeons are becoming proficient at CABG on beating hearts, or "off-pump CABG," which eliminates the need to cross-clamp the aorta and may help conserve costs. A new study examined 5 year outcomes comparing on and off-pump CABG.
Data was collected from 4,752 patients in 19 countries who were randomized to either on-pump or off-pump CABG. The main outcome, analyzed previously at the 1 year mark, was a composite of death, myocardial infarction, new dialysis requirement, or repeat coronary revascularization. At one year, there was no significant difference in death, stroke, or myocardial infarction between the two groups. However there was a mild increase in repeat vascularization (PCI or CABG) in the off-pump group (hazard ratio 1.66; CI 0.95 to 2.89; p = 0.07).
The 5 year data showed no significant difference in death, stroke, MI, dialysis, or revascularization rates. A mild decrease in the 5 year incidence of diabetes was observed in the off-pump group (22.7% vs 26.1%; P=0.06). Neurocognitive outcome investigation was limited and requires further study. There was no significant difference in the financial cost of on-pump vs off-pump CABG; however, the authors note that hospitals keep the costs of CABG supplies confidential, limiting analysis. Reusable off-pump retractors could significantly boost savings compared to disposable bypass circuits and the need for a perfusionist. These results reflect a global trend toward less-invasive techniques, improved outcomes and contained costs that could allow millions of patients greater access to some of the most complicated treatments in the history of medicine.
Effect of Conscious Sedation vs General Anesthesia on Early Neurological Improvement Among Patients with Ischemic Stroke Undergoing Endovascular Thrombectomy
Thrombectomy for acute stroke can be performed under either conscious sedation or general anesthesia. Some studies have shown that general anesthesia may worsen neurological improvement, possibly due to treatment delay, ventilator complications, or hemodynamic instability. A randomized trial from Germany compared neurological improvement at 24 hours for patients with anterior strokes.
Patients at Heidelberg University Hospital presenting with occlusion of the internal carotid or MCA, and who had NIH Stroke Scale scores >10 and GCS scores > 8, were randomized to receive intubation with general anesthesia or conscious sedation. Primary outcome was NIH Stroke Score at 24 hours after endarterectomy. Long term independence (by modified Rankin Score) was a secondary outcome.
The mean difference in NIH Stroke Score at 24 hours after endarterectomy for the two groups was not significant; both groups showing similar degrees of improvement. The general anesthesia group had greater functional independence at 90 days (37% vs 18.2%; p=0.01); but these results were not consistent when Rankin score categories were adjusted. This study may assuage concerns over utilizing general anesthesia in anterior stroke patients.
Minicuts 
Thousands who ran in the NYC marathon on Sunday may be wondering about the amount of cardiovascular stress to which they are electively subjecting themselves. A new study in the Journal of Science and Medicine in Sport indicates that a run / walk strategy does not decrease cardiac stress in non-elite runners. However, runners that used a run / walk strategy finished with comparable times as those who ran the entire marathon and reported less muscle pain and fatigue.
A new injectable form of male birth control appears to be effective and reversible, according to a multicenter study published in the Journal of Clinical Endocrinology and Metabolism. The combination of long-acting progesterone and androgen, Norethisterone Enanthate (NET-EN) and Testosterone Undecanthoate (TU), given intramuscularly every eight weeks, had similar efficacy to female contraceptive methods by reversibly inhibiting spermatogenesis. Adverse events included increased mood swings, depression, and increased libido.
Although anesthetic agents have been in use since 1846, our understanding of their mechanisms remains vague at best. A new review article in Anesthesia & Analgesia provides an update on what functional MRI, multi-channel EEG, magnetoencephalography have been able to tell us about consciousness (or the lack thereof). The reviewers suggest that disruptions in connectivity networks of the lateral frontoparietal cortices, (areas of the brain which engage in "recurrent processing" to integrate information), result in a state of unresponsiveness. Notably, various agents may affect these networks through widely varying mechanisms.
Dantrolene is used to treat rare but life-threatening toxidromes such as neuroleptic malignant syndrome, malignant hyperthermia, and in some cases, refractory status epilepticus. Limited data exist on this drug's safety profile, however a recent report from Clinical Psychopharmacology and Neuroscience indicates it may cause venous thromboembolism, when delivered intravenously. Ryanodine receptor blockade decreases intracellular calcium and reverses muscular rigidity, which could favor thrombogenesis.
Dr. Nishan Bingham is a 1st year resident at NYU Langone Medical Center
Peer reviewed by Benjamin Milgrom, Associate Editor, Clinical Correlations
Image courtesy of Wikimedia Commons
References
Prandoni P, Anthonie W.A., et al. Prevalence of Pulmonary Embolism among Patients Hospitalized for Syncope. N Engl J Med. 2016; 375:1524-1531 October 20, 2016. DOI: 10.1056/NEJMoa1602172  http://www.nejm.org/doi/full/10.1056/NEJMoa1602172
Lamy A, Devereaux P.J., et al. Five-Year Outcomes after Off-Pump or On-Pump Coronary-Artery Bypass Grafting. N Engl J Med 2016; October 23, 2016. DOI: 10.1056/NEJMoa1601564 http://www.nejm.org/doi/full/10.1056/NEJMoa1601564#t=article
Yusuf S, Zucker D, Peduzzi P, et al. Effect of coronary artery bypass graft surgery on survival: overview of 10-year results from randomised trials by the Coronary Artery Bypass Graft Surgery Trialists Collaboration. Lancet 1994; 344:563-570  https://www.ncbi.nlm.nih.gov/pubmed/7914958
Alexandar J, Cifu A. Transfusion of Red Blood Cells. JAMA Oct. Published online October 12, 2016. DOI: 10.1001/jama.2016.12870. http://jamanetwork.com/journals/jama/fullarticle/2569054
Schonenberger S, et al. Effect of Conscious Sedation vs General Anesthesia on Early Neurological Improvement Among Patients with Ischemic Stroke Undergoing Endovascular ThrombectomyAMA. doi:10.1001/jama.2016.16623
Hottenrott K, Ludyga S, et al. Does a run/walk strategy decrease cardiac stress during a marathon in non-elite runners? Science and Medicine in Sport. 2016 Jan. 19 (1): 64-68.DOI: http://dx.doi.org/10.1016/j.jsams.2014.11.010. http://www.jsams.org/article/S1440-2440(14)00218-7/fulltext
Behre H, Zitzmann M, et al. Efficacy and Safety of an Injectable e Combination Hormonal Contraceptive for Men. J Clin Endocrinol Metab. 2016 Nov; 101: 2016-2141. doi: 10.1210/jc.2016-2141. http://press.endocrine.org/doi/pdf/10.1210/jc.2016-2141
Hudetz AG, Mashour GA. Disconnecting Consciousness: Is There a Common Anesthetic End Point? Anesth Analg. 2016 Nov; 123 (5): 1228-1240. PMID: 27331780
Chen PH, Lane HY, et al. Venous Thromboembolism Following Dantrolene Treatment for Neuroleptic Malignant Syndrome. Clin Psychopharmacol Neurosci. 2016 Nov 30;14(4):399-401. doi: 10.9758/cpn.2016.14.4.399.  https://www.ncbi.nlm.nih.gov/pubmed/27776396