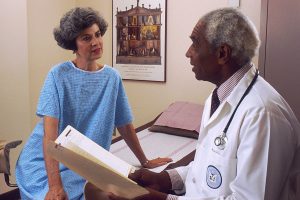 By Derek Moriyama, MD
He stared blankly at the ceiling. "Mr. K can you close your eyes?" my attending asked, speaking slowly and clearly, making sure that the patient could hear every word.
There was no response; his gaze remained unrelentingly fixed on the square panels above him, as if they were shooting stars through the night sky.
Trying once more, the senior doctor continued, "Can you squeeze my hand?"
Again, no response.
It was about one month into his hospital stay, half of that time being spent in the ICU, and there was still no progress. The massive right sided middle cerebral artery infarct left him completely unable to communicate and we were left guessing as to what thoughts, if any, might be occurring inside of his brain. His limbs were weeping from edema, ruminants of being resuscitated with fluids from multiple infections. There were countless wires and tubes coming from every part of his body. I struggled with the idea that he might be aware of all of the interventions our team was doing to keep him alive; the PEG tube, the tracheostomy, the central lines, the rectal tubes, the foley catheters, the blood draws, the dressing changes.
Day in and day out, as other patient's in the ICU came and went, Mr. K laid motionless in the same room. Everyday our medical team dealt with something new regarding his care. If he wasn't being treated for a UTI then he was bleeding from his PEG tube site; if his blood pressure wasn't too low then his heart rate was too fast. The team would celebrate over little victories like increasing kidney function (he was on dialysis for a short time) or down-trending liver function tests, as if it had done something to make Mr. K better.  All the while, we knew that Mr. K was likely going to die before gaining back any significant quality of life.  We were prolonging his life, but the question is, at what cost?
Mr. K was only 55 years old. He had no advanced directive, no living will, and no designated healthcare proxy. We didn't know what he would have wanted in the case that he was incapacitated and unable to make his own decisions. Our medical treatments were all guided by Mr. K's brother and sister who had little to no medical knowledge and an unremitting optimism for their brother's recovery. "We want all aggressive measures taken to keep my brother alive" his sister would tell our team over the phone. "After all, he is a young guy, and was working a fulltime job before his stroke; he has a lot of life to live" she would say, clearly not wanting to discuss the issue any further. Each conversation, despite our team's advice, lead to a "FULL CODE" being put into Mr. K' charts.
"They just need to see him" one of the residents would blurt out during morning rounds "then they could see how much he is suffering and would change him to 'Do not resuscitate."
"What if we talked to his brother instead of his sister" another resident would say, "maybe he is a little bit more level headed."
His case always somehow became the topic of discussion in the workroom. "Is keeping him alive ethical" one person would ask "isn't his care futile at this point?"
"If it's what he would have wanted, then we have an obligation to keep him alive" someone would answer.
"Would anyone really ever choose to live that way though? I think his family just can't comprehend that he is dying" someone else would say.
Just as my time in the ICU was coming to an end, Mr. K's condition started to stabilize, and the day finally came when Mr. K was transferred to the general medicine floors. While his vitals and labs were stable, he didn't look much different from the first day that I met him.  I hoped for the best as they wheeled him downstairs, thinking that maybe we had done something good.
As I walked in on my last night in the ICU, I ran into one of the MICU nurses on her way out.  "You should have a fun night" she said, sarcastically "we just got two new admissions and a patient that coded in the elevator."
"Oh great" I replied, "thanks for the heads up," trying not to sound too defeated before the night even started.
I took a deep breath as I entered the elevator, and watched slowly as the numbers counted to floor ten. As I entered the unit, it was clear who the code was. Fellows, residents, and nurses surrounded his bed. My heart immediately sank…it was Mr. K.
I dropped of my bags and walked over to the bedside. "What happened?" I asked, fumbling to put on my contact gown and mask.
"He had a bleed and then he coded downstairs, we did CPR for 15 minutes before we got a pulse" the senior resident explained.  "Now this line keeps bleeding" he frustratingly remarked as he continued to hold pressure on the arterial line in Mr. K's groin. He had been through a lot during his hospitalization, but this was by far the worst.  He was no longer breathing on his own and was requiring IV drips to keep his blood pressure up.
The senior resident got on the phone with Mr. K's brother. His words were carefully and thoughtfully chosen, he was direct but empathetic and respectful. It was clear that Mr. K was going to die that night, and his family had finally decided to let it happen comfortably.
His heart slowed and his breathing became shallow and in the middle of the night he passed away with just me at his bedside. Mr. K had finally found peace, and in a way, so did I.
Dr. Derek Moriyama is an 2nd year internal medicine resident at NYU Langone Health