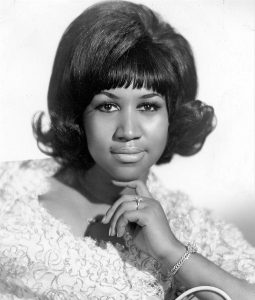 By Michael Bohl, MD
Peer Reviewed 
Last week the world mourned the loss of the Queen of Soul, Arethra Franklin.  Singer of "Respect", "(You Make Me Feel Like) A Natural Woman", and countless other hits, Franklin had been in failing health for the past several years.  Beginning in 2010, struggling with weight gain and abdominal pain, doctors periodically asked Franklin to cancel appearances.  Then, earlier in the week it was reported that Franklin was in hospice care.  Ultimately, the singer succumbed to advanced neuroendocrine pancreatic cancer at the age of 76.  Tributes have continued to flood the Internet this past week. [1]
For more uplifting news, let's take a look at what's going on in the medical research world:
MRI-Guided Thrombolysis for Stroke with Unknown Time of Onset [2]
Currently, IV thrombolysis is only indicated for treatment of acute stroke if symptoms have been occurring for 4.5 hours or less.  However, it is often difficult to ascertain exactly when symptoms began, especially if a patient wakes up from sleep displaying signs of stroke.  For these patients, this study looked into the efficacy of using MRI images to guide management.  503 patients were randomized to receive either alteplase or placebo.  These patients all had signs of ischemia on diffusion-weighted imaging (DWI), but not on fluid-attenuated inversion recovery (FLAIR), suggesting the ischemia occurred approximately within the 4.5-hour window.  Those who were scheduled for thrombectomy were excluded from the study.  The study found that those receiving alteplase had significantly better functional outcomes than those receiving placebo (adjusted OR 1.61, 95% CI 1.09 to 2.36, p=0.02).  Those receiving alteplase also had numerically more deaths and more intracranial hemorrhages, but these outcomes did not achieve significance (p=0.07 and p=0.15, respectively).
The Bottom Line:  In patients who have an unknown time of stroke onset, ischemic changes seen on DWI but not on FLAIR indicate that IV treatment with alteplase can lead to improved functional outcome.
Association Between Sodium-Glucose Cotransporter 2 Inhibitors and Lower Extremity Amputation Among Patients With Type 2 Diabetes [3]
There has been concern that Sodium-Glucose Cotransporter 2 (SGLT-2) inhibitors such as canagliflozin are associated with increased risk of lower extremity amputation.  In this retrospective cohort study looking at 953,906 people, new use of SGLT-2 inhibitors was compared to use of dipeptidyl peptidase 4 (DPP-4) inhibitors, glucagon-like peptide-1 (GLP-1) agonists, sulfonylureas, metformin, and thiazolidinediones.  Results were adjusted for study participant demographics such as severity of diabetes, comorbidities, and medications.  No statistically significant increase in amputations was seen between SGLT-2 inhibitors and DPP-4 inhibitors or GLP-1 agonists.  However, there was a statistically significant increase in amputations when compared to sulfonylureas, metformin, and thiazolidinediones (adjusted hazard ratio 2.12, 95% CI 1.19 to 3.77).
The Bottom Line: New use of SGLT-2 inhibitors is associated with an increased risk of lower extremity amputation when compared to sulfonylureas, metformin, and thiazolidinediones, but is not associated with an increased risk of amputation when compared to DPP-4 inhibitors and GLP-1 agonists.
Real-Time Use of Artificial Intelligence in Identification of Diminutive Polyps During Colonoscopy: A Prospective Study [4]
Endocytoscopes are colonoscopes capable of x520 magnification, allowing them to perform computer-aided diagnosis (CAD) by visualizing the microvascularization and cellularization of colorectal polyps.  In this study, researchers aimed to determine if CAD could achieve a 90% negative predictive value at identifying diminutive polyps, ultimately hoping to reduce the number of polyps requiring resection and saving costs.  The CAD-predicted pathology was compared to pathologic diagnosis of the resected specimens. 466 polyps were assessed in 325 patients, with a pathologic prediction rate of 98.1%. The negative predictive rate for both the stained mode and the narrow-band imaging mode of the endocytoscopes was also above 90%.  This has implications for the future, including possibly reducing the number of unnecessary resections and saving the healthcare system money.  One limitation of this study is selection bias, since 67 diminutive polyps were not resected and 186 that were not assessed by CAD were excluded.  However, there was a greater proportion of polyps excluded that had been assessed by nonexperts, which may be because nonexperts are more likely to avoid using CAD to shorten procedure times.
The Bottom Line: Computer-aided diagnosis of rectosigmoid polyps done with endocytoscopes reaches the threshold required for a "diagnose-and-leave" approach to resection vs. non-resection during colonoscopy for diminutive, nonneoplastic rectosigmoid polyps.
Fixed Low-Dose Triple Combination Antihypertensive Medication vs Usual Care for Blood Pressure Control in Patients With Mild to Moderate Hypertension in Sri Lanka [5]
As a risk factor for coronary artery disease, cerebrovascular accident, and many other diseases, control of blood pressure is very important in patients, particularly in those with diabetes and/or chronic kidney disease.  Focusing on patients in urban settings in Sri Lanka, this randomized open-label clinical trial looked at the efficacy of using a triple-therapy (telmisartan, amlodipine, chlorthalidone) combination pill to treat hypertension (defined as systolic BP >140 and/or diastolic BP >90, or systolic BP >130 and/or diastolic BP >80 in those with DM or CKD).  Study participants had either previously been untreated or treated with monotherapy and requiring escalation.  After 6 months, participants in the treatment arm of the study achieved blood pressure targets more than those who did not receive triple therapy (risk difference 12.7%, 95% CI 3.2% to 22.0%, p<0.001).  A greater percentage did report more adverse events, but this did not lead to significant drop-out from the study or loss of medication compliance.  The patient population in this study is limited.  However, if a more generalizable study is able to achieve similar results, it may impact prescribing behavior, prompting healthcare providers to begin treating hypertension not with monotherapy but instead with low-dose triple therapy.
The Bottom Line: Compared to monotherapy, a single pill containing three antihypertensive drugs is more effective at achieving blood pressure targets in 6 months.  However, these results have only been studied in urban Sri Lankan populations.
Mini-cuts:
Changes in midlife death rates across racial and ethnic groups in the United States: systematic analysis of vital statistics [6]
This study was a trend analysis, looking at vital statistics in the United States and comparing both absolute mortality and relative mortality from 1999-2016. Researchers found all-cause mortality for those aged 25-64 increased across all racial and ethnic groups, with drug overdoses being the leading cause of increased mortality.
Efficacy and safety of semaglutide compared with liraglutide and placebo for weight loss in patients with obesity: a randomised, double-blind, placebo and active controlled, dose-ranging, phase 2 trial [7]
Use of semaglutide was found to result in statistically significant weight loss amongst obese individuals compared to placebo, with a side effect profile similar to that of other GLP-1 receptor agonists.  This study was conducted in nondiabetic adults with a BMI ≥30 in 8 countries and followed participants for 52 weeks.  Semaglutide was used in combination with diet and exercise counseling.
Phase 3 Study of Ibalizumab for Multidrug-Resistant HIV-1 [8]
In patients with multidrug-resistant HIV-1, addition of Ibalizumab to each patient's typical medication regimen resulted in improved antiviral activity, defined by a decrease in viral load of 0.5 log10 copies per milliliter one week after administration of Ibalizumab.
Dr. Michael Bohl is a first year resident at NYU Langone Health
Peer reviewed by Neha Jindal, MD, an Associate Editor, Clinical Correlations
Image courtesy of Wikimedia Commons
References
[1] France, Lisa Respers, et al.  Arethra Franklin, the Queen of Soul, has died. CNN 2018 August 16. https://www.cnn.com/2018/08/16/entertainment/aretha-franklin-dead/index.html
[2] Thomalla, Götz, et al. MRI-Guided Thrombolysis for Stroke with Unknown Time of Onset. The New England Journal of Medicine 2018 August 16; 379:611-622. https://www.nejm.org/doi/full/10.1056/NEJMoa1804355?query=featured_home
[3] Chang, Hsien-Yen, et al. Association Between Sodium-Glucose Cotransporter 2 Inhibitors and Lower Extremity Amputation Among Patients With Type 2 Diabetes. JAMA Internal Medicine 2018 August 13.  https://jamanetwork.com/journals/jamainternalmedicine/article-abstract/2696730
[4] Mori, Yuichi, et al. Real-Time Use of Artificial Intelligence in Identification of Diminutive Polyps During Colonoscopy: A Prospective Study. Annals of Internal Medicine 2018 August 14. http://annals.org/aim/article-abstract/2697089/real-time-use-artificial-intelligence-identification-diminutive-polyps-during-colonoscopy
[5] Webster, Ruth, et al. Fixed Low-Dose Triple Combination Antihypertensive Medication vs Usual Care for Blood Pressure Control in Patients With Mild to Moderate Hypertension in Sri Lanka. JAMA 2018 August 14; 320(6):566-579. https://jamanetwork.com/journals/jama/article-abstract/2697010
[6] Woolf, Steven H., et al. Changes in midlife death rates across racial and ethnic groups in the United States: systematic analysis of vital statistics. BMJ 2018 August 15; 362:k3096. https://www.bmj.com/content/362/bmj.k3096
[7] O'Neil, Patrick M., et al. Efficacy and safety of semaglutide compared with liraglutide and placebo for weight loss in patients with obesity: a randomised, double-blind, placebo and active controlled, dose-ranging, phase 2 trial. The Lancet 2018 August 16. https://www.thelancet.com/journals/lancet/article/PIIS0140-6736(18)31773-2/fulltext
[8] Emu, Brinda, et al. Phase 3 Study of Ibalizumab for Multidrug-Resistant HIV-1. The New England Journal of Medicine 2018 August 16; 379:645-654. https://www.nejm.org/doi/full/10.1056/NEJMoa1711460?query=featured_home