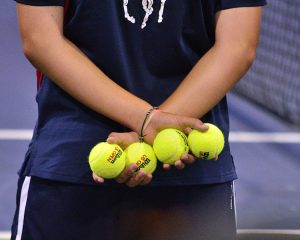 By: Yiping Xing, MD
This year's US Open Tennis Championships, which took place here in New York City over the past two weeks, have been arguably the most compelling in years, enhanced by extreme heat and humidity that some have described as the "sweatiest [US Open] ever" [1]. One player was forced to quit mid-match due to tachycardia, and even five-time US Open champion Roger Federer was no match for the heat wave conditions, blaming the suffocating weather after his stunning loss to unranked player John Millman [2,3]. Despite this there were no shortage of epic, competitive matches such the men's singles final between Juan Martin del Potro and Novak Djokovic, who toiled for over three hours before Djokovic's ultimate victory in straight sets.
Now we turn to a number of exciting new findings recently published in the medical literature.
Coronary CT Angiography and 5-Year Risk of Myocardial Infarction [4]
The 2015 Scottish Computed Tomography of the Heart (SCOT-HEART) trial randomized over 4000 patients referred to outpatient cardiology clinics with stable chest pain to standard care versus standard care plus coronary computed tomographic angiography (CTA) [5]. Over a median follow-up of 1.7 years, CTA significantly clarified the diagnosis of CAD and altered subsequent management [5]. The recently published 5-year follow-up data demonstrate that CTA leads to decreased death from coronary heart disease or nonfatal myocardial infarction (MI) compared to standard care alone (2.3% vs. 3.9%, HR 0.59, 95% CI 0.41-0.84, p=0.0004). This means that after 5 years, one fatal or nonfatal MI would be prevented for every 63 patients with stable chest pain who undergo diagnostic CTA.
In the first few months patients in the CTA group underwent more invasive procedures. However at 5 years procedure rates were similar for the CTA and standard care groups; respectively 23.7% versus 24.2% underwent invasive coronary angiography (HR1.00; 95% CI 0.88-1.13) and 13.5% versus 12.9% underwent coronary revascularization (HR1.07; 95% CI 0.91-1.27). Patients in the CTA group received more preventative (OR 1.4, 95% CI 1.19-1.65) and anti-anginal therapies (OR 1.27, 95% CI 1.05-1.54). This suggests that anatomic imaging with CTA resulted in more accurate CAD diagnosis and risk stratification, leading to earlier and more appropriate medical management.
Bottom Line: CTA improves diagnostic certainty of CAD in patients presenting with stable chest pain. This also translates to reduction in mortality from coronary heart disease and nonfatal MI at the 5-year mark compared to standard care alone.
Variability in EF Measured by Echocardiography, Gated Single-Photon Emission Computed Tomography, and Cardiac MRI in Patients with CAD and LV Dysfunction [6]
In an adhoc analysis of the 2007 Surgical Treatment for Ischemic Heart Failure (STICH) trial, this study looked at the reliability of left ventricular ejection fraction (LVEF) measurements across three commonly used imaging modalities: echocardiography, gated single-photon emission computed tomography (SPECT), and cardiac magnetic resonance imaging (CMR) [6,7]. A week correlation was found between echocardiography and CMR (r=0.493), with variability in LVEF measurements averaging 7.3%. Between CMR and SPECT, correlation was only slightly better (r=0.660), with variability averaging 5.9%. Both exceed the 5% threshold defined as clinically significant.
A major limitation is that this study was done as an ad-hoc analysis of the STICH trial, where all participants had reduced LVEFs. It is unclear if correlation may have been better when patients without LV dysfunction were included. Similarly the original STICH trial was not designed to compare different cardiac imaging modalities. Thus, the decisions as to which patients were evaluated with a second or third modality may have introduced bias into the results. Nonetheless, this article brings to light an important but not well-studied clinical question that warrants further dedicated research.
Bottom line: There is significant variability in LVEF measurements among the three most commonly used cardiac imaging modalities: echocardiography, SPECT, and CMR.
Baloxavir Marboxil for Uncomplicated Influenza in Adults and Adolescents [8]
There is a significant unmet need for novel influenza drugs as circulating viruses are developing resistance to existing therapies. This article reveals the exciting data for baloxavir marboxil, a promising small molecule drug that works by inhibiting the PA subunit of the influenza polymerase complex. The phase 2 trial was a dose-ranging, double-blind, placebo-controlled trial of single, weight-based doses of baloxavir in otherwise healthy adults with acute uncomplicated influenza. The median time to alleviation of influenza symptoms was 23.4-28.2 hours shorter in the baloxavir group than in the placebo group (p<0.05). This efficacy was also seen in the phase 3 trial, where the median time to symptom alleviation was 53.7 hours for the baloxavir group, and 80.2 hours for the placebo group (p<0.001, 95% CI 72.6-87.1). A side-by-side comparison of baloxavir and oseltamivir found no significant difference in time to alleviation of symptoms. Interestingly, baloxavir was associated with lower adverse event rates and lower viral loads one day after therapy initiation compared with oseltamivir.
Bottom Line: Baloxavir is a new small molecule drug that is effective against oseltamivir-resistant influenza strains. Studies show that it results in a reduction in length of influenza symptoms compared to placebo, and is superior to both placebo and oseltamivir in viral load reduction in patients with acute uncomplicated influenza.
Twelve-Month Outcomes After Transplant of Hepatitis C–Infected Kidneys Into Uninfected Recipients [9]
It is undisputed that kidney transplants extend life and reduce healthcare costs. With the advent of highly effective antiviral agents for hepatitis C virus infection (HCV), the transplant community is examining the safe utilization of previously HCV-positive kidneys in HCV-negative recipients. This study reports on a continuation of the Transplanting Hepatitis C kidneys Into Negative Kidney Recipients (THINKER-1) study, in which investigators performed a total of 20 HCV-positive kidney transplants in HCV-negative recipients [9,10]. All patients were treated with a single round of antiviral elbasvir/grazoprevir. At the one-year mark, there was a sustained 100% cure rate of acute HCV infection, defined as an undetectable viral loadm despite concomitant use of standard immunosuppression. Compared with HCV-negative kidney recipients, recipients of HCV-positive kidneys had similar estimated glomerular filtration rates at both the 6 and 12-month mark, and a stable or improved quality of life.
Limitations include the fact that all donor organs in this study were infected with genotype 1 HCV; other genotypes may require different antiviral regimens that may be less effective in this context. Additionally, longer-term studies are needed to assess for possible consequences of even brief HCV infection.
Bottom Line: After 12 months, all 20 HCV-negative patients who received genotype 1 HCV-positive kidney transplantation followed by a single course of elbasvir/grazoprevir remained cured of their HCV infection despite immunosuppression. Renal function in these patients was comparable to HCV-negative kidney transplantation recipients.
Mini-cuts:
Axillary dissection versus no axillary dissection in patients with breast cancer and sentinel-node micrometastases: 10-year follow-up of a randomized, controlled phase 3 trial [11]
After 10 years, there were no significant differences in regional recurrence, disease-free survival, or overall survival in patients with known nodal micro-metastases who underwent axillary node dissection versus those who did not.
Risk of HCC in Patients with NAFLD [12]
The risk of hepatocellular carcinoma is significantly higher in patients with nonalcoholic fatty liver disease (NAFLD) than that observed in the general population, even after controlling for age, gender, and the presence of other major liver disease risk factors and metabolic syndromes. Eighty percent of NAFLD-related HCC developed in the setting of underlying cirrhosis.
Effect of Dextroamphetamine on Poststroke Motor Recovery: A Randomized Control Trial [13]
Despite early animal studies that suggested otherwise, there was no difference in motor function improvement between those who received dextroamphetamine along with physiotherapy and those who received physiotherapy alone after ischemic stroke.
Chronic hydroxychloroquine/chloroquine exposure for connective tissue diseases and risk of Alzheimer's disease: a population-based cohort study [14]
Chloroquine and hydroxychloroquine, common treatments for various rheumatologic diseases, are autophagy inhibitors theorized to block amyloid plaque degradation. Chronic exposure to these drugs was not found to be associated with increased risk of Alzheimer's dementia or any other forms of dementia.
Dr. Yiping Xing is a first year resident at NYU Langone Health
Peer reviewed by Scott Statman, MD, Associate Editor, Clinical Correlations
Image courtesy of Wikimedia Commons
References
Agence France-Presse. "No sweat Novak Djokovic admits 2018 US Open toughest mission." Times of India. 2018 Sep 7. https://timesofindia.indiatimes.com/sports/tennis/us-open-2018/no-sweat-novak-djokovic-admits-2018-us-open-toughest-mission/articleshow/65713765.cms?from=mdr
Tandon, Kamakshi. "Heart issue forced Auger-Aliassime to retire in first round of US Open." Tennis News. 2018 Aug 28. http://www.tennis.com/pro-game/2018/08/heart-issue-forced-felix-auger-aliassime-retire-first-round-us-open-denis-shapovalov/76372/
Pierre-Louis, Kendra. "Roger Federer is tough to beat. Global warming might have pulled an upset." The New York Times. 2018 Sep 4. https://www.nytimes.com/2018/09/04/climate/roger-federer-loss-heat.html
The SCOT-HEART Investigators. Coronary CT Angiography and 5-Year Risk of Myocardial Infarction. N Engl J Med. 2018;379(10):924-933. https://www.nejm.org/doi/full/10.1056/NEJMoa1805971?query=recirc_curatedRelated_article
The SCOT-HEART Investigators. CT coronary angiography in patients with suspected angina due to coronary heart disease (SCOT-HEART): an open-label, parallel-group, multicentre trial. Lancet 2015;385:2383-91. http://www.sciencedirect.com.ezproxy.med.nyu.edu/science/article/pii/S0140673615602914
Pellikka PA, She L, Holly TA, et al. Variability in Ejection Fraction Measured By Echocardiography, Gated Single-Photon Emission Computed Tomography, and Cardiac Magnetic Resonance in Patients With Coronary Artery Disease and Left Ventricular Dysfunction. JAMA Network Open.2018;1(4):e181456. https://jamanetwork.com/journals/jamanetworkopen/fullarticle/2698631
Velazquez EJ, et al. Coronary-Artery Bypass Surgery in Patients with Left Ventricular Dysfunction. N Engl J Med. 2011;364(17):1607-16. https://www.nejm.org/doi/full/10.1056/NEJMoa1100356
Hayden FG, Sugaya N, Hirotsu N, et al. Baloxavir Marboxil for Uncomplicated Influenza in Adults and Adolescents. N Engl J Med. 2018;379(10):913-923. https://www.nejm.org/doi/full/10.1056/NEJMoa1716197
Reese PP, Abt PL, Blumberg EA, et al. Twelve-Month Outcomes After Transplant of Hepatitis C-Infected Kidneys Into Uninfected Recipients: A Single-Group Trial. Ann Intern Med. 2018;169(5):273-281. http://annals.org/aim/article-abstract/2696495/twelve-month-outcomes-after-transplant-hepatitis-c-infected-kidneys-uninfected#
Goldberg DS, Abt PL, Blumberg EA, et al. Trial of transplantation of HCV-infected kidneys into uninfected recipients. N Engl J Med. 2017;376:2394–2395. https://www.nejm.org/doi/10.1056/NEJMc1705221?url_ver=Z39.88-2003&rfr_id=ori:rid:crossref.org&rfr_dat=cr_pub%3dwww.ncbi.nlm.nih.gov
Galimberti V, Cole BF, Viale G, et al. Axillary dissection versus no axillary dissection in patients with breast cancer and sentinel-node micrometastases (IBCSG 23-01): 10-year follow-up of a randomised, controlled phase 3 trial. Lancet Oncol. 2018. https://www.thelancet.com/journals/lanonc/article/PIIS1470-2045(18)30380-2/fulltext#articleInformation
Kanwal F, Kramer J, Mapakshi S et al. Risk of Hepatocellular Cancer in Patients with Non-alcoholic Fatty Liver Disease. Gastroenterology. 2018. https://www.gastrojournal.org/article/S0016-5085(18)34889-3/fulltext
Goldstein LB, Lennihan L, Rabadi MJ, et al. Effect of Dextroamphetamine on Poststroke Motor Recovery: A Randomized Clinical Trial. JAMA Neurol. 2018. https://jamanetwork.com/journals/jamaneurology/article-abstract/2696968
Fardet L, Nazareth I, Petersen I. Chronic hydroxychloroquine/chloroquine exposure for connective tissue diseases and risk of Alzheimer's disease: a population-based cohort study. Ann Rheum Dis. 2018. https://ard.bmj.com/content/early/2018/09/05/annrheumdis-2018-214016