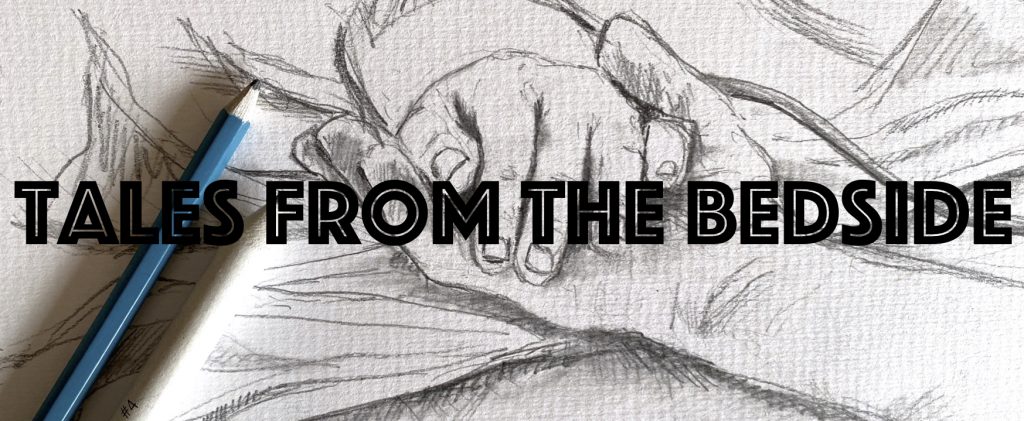 Clinical Correlations is proud to present our section for humanism in medicine, Tales From The Bedside, where we showcase our community's unique and diverse experiences as physicians and trainees in internal medicine.
By Lynette Lester
We invite you to listen to student doctor Lynette Lester's words while listening to this clip of Chopin's Nocturne Op. 15 No. 1 in F major. 
Mr. C was an 83-year-old man with a past medical history of colon cancer and dementia, originally admitted to the psychiatric unit after presenting to a police precinct with knife in hand, endorsing active suicidal ideation. He was then transferred to medicine for new onset atrial fibrillation, where his hospital course was complicated by ongoing suicidal ideation and multiple behavioral events that obstructed his diagnostic and therapeutic care.
My first interaction with Mr. C would involve assessing whether he had a plan in place to end his life. It was hard to imagine any appropriate conversation starter to precede such a heavy topic. I entered the room alongside my resident and immediately noticed the frailty of the man before me. He had pale, creased skin hanging loosely from his bones. His face conveyed that he was both disinterested in and displeased by our presence. This would not be the first time I discussed suicidal ideation with a patient, but the natural progression to the end had never seemed so near.
Moments after our introductions, my resident was called away by a page. "Talk with him," she commented, "but maybe not about suicide." I have often assumed that medicine is best carried out amidst a flurry of fast-paced activity, as if the most care would come about by doing. My resident personified this vision, as she was beckoned away by what I imagined was an emergent situation. Juxtaposed was my current role: holding space while Mr. C's real medical care was put on pause.
Our conversation began simply. In a short time, we were discussing his past love of piano, a passion he no longer had the drive or energy to pursue. He could not recall his favorite composer or piece and expressed doubt that he would remember how to play. He was confident, however, that it was a practice that had once brought him joy. When my resident re-entered the room, I expected us to delve deeper into the more sinister topic at hand–thus bringing the pause from medical evaluation and therapy to an end. Instead, I was surprised by the trajectory of our discussion.
We continued on the topic of music as she pulled out her phone and asked Mr. C, "Do you like Chopin?" No reply. She pressed play, and Nocturne Op. 15 No. 1 in F major drifted through the room. Mr. C's hands floated above his lap in synchrony with the melody, his nearly ivory skin assuming the role of a keyboard. His eyes closed, and the palpable weight that clung to him despite his emaciated figure seemed to lift. This was healing. This was the care that manifested from the pause.
Compared to the influence I ascribed to the most active periods on the medicine floor, this moment of quiet, interrupted only by song, carried an unexpected power. Moreover, it was not the exception but quite possibly the rule. I recognized that silence actually had a habit of resonating through the chaotic walls of Bellevue.
Take the rapid response for example. There, a pause branded as the "time out" can quiet a room of 20 voices, allowing the even tone of a team leader to rise in conjunction with the chest being subject to compressions. Just as much as the quick pace of intervention can save lives, so too can a moment purposely created to bring a halt to activity.
It is necessary in medicine to create an environment for the healing that takes place quietly–in conversation, in feeling, in thought. For Mr. C., this included a treatment plan that prescribed a standing dose of music's greatest composers. Despite his dementia, he reported hearing and seeing every note when these familiar ballads played at his bedside. At our next meeting, he recalled a beloved composer – Debussy, a man who said, "Music is the space between the notes." Debussy's words ring true for music as well as medicine, suggesting that there is strength in silence and power in pause.
Lynette Lester is a fourth-year medical student at NYU Grossman School of Medicine. She plans to pursue a career in Cardiothoracic Surgery. Her inspiration for this piece was a patient encounter on her Internal Medicine rotation during her clerkship year. She also drew inspiration from Dr. Colleen Farrell's "Systole and Diastole, Strength and Openness," published in JAMA in 2019. 
Note: While this is a piece of nonfiction, certain details have been changed to protect patient confidentiality.