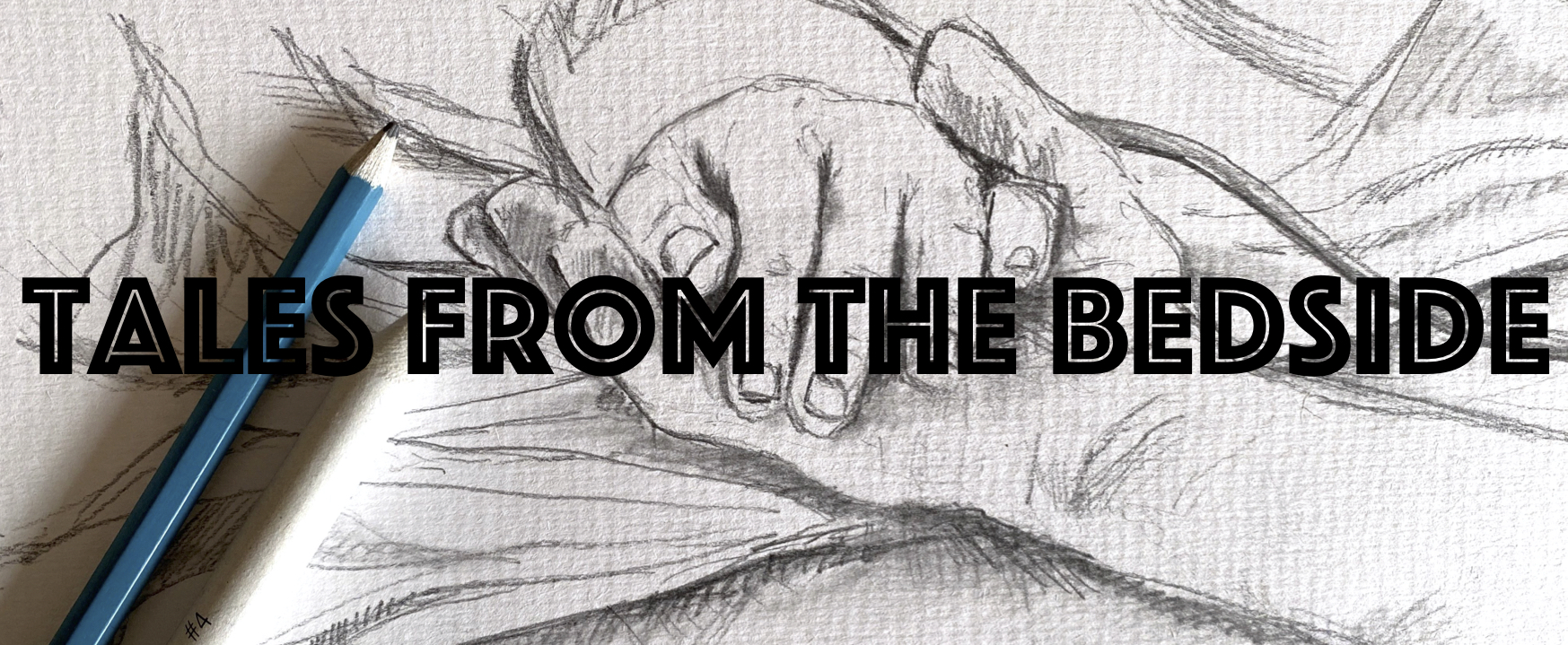 Clinical Correlations is proud to present our section for humanism in medicine, Tales from the Bedside, where we showcase our community's unique and diverse experiences as physicians and trainees in internal medicine.
By Sarah Turecamo
They say when your team dismisses you for the day, you should leave the hospital as quickly as you can. 
Free time during clerkship is rare and precious. However, on this Thursday evening, I asked to stick around so I could check in with Renee, my first patient while on the General Medicine wards at Bellevue Hospital. 
A few days earlier, our team transferred her to the MICU during a rapid response, and I had been anxiously reviewing her chart daily for an update. Today, she was back from the MICU on comfort care measures, so I knew that she did not have much time left with us. As I prepared to head downstairs to see her, I was ready to start the process of saying goodbye, but I wasn't ready to walk into Renee's room and watch my resident calmly pronounce her dead. 
On the way back to the nurses' station, my resident passed along an important lesson: "So, when you are conducting a death exam, you need to let go of your stethoscope and rest it on the patient's chest. You are listening for an eerie silence. If you are holding your stethoscope, you may accidentally hear your own heartbeat. You don't want to accidentally hear your own heartbeat." 
In that moment, all I could hear was my own heartbeat pounding in my ears. I stared at the wall, chewed the inside of my lip, and tried to nod receptively to show my resident I was listening. 
Watching my intern and resident methodically fill out paperwork, I wondered how they could keep working with such composure and grace. How is it possible to not hear your own heartbeat when a patient has died? How is it possible for doctors to separate their duty from their emotions? 
Before heading back upstairs to write the death note, my intern hugged me and reassured me that my reaction was normal, as my face became wet and hot. As I walked out of the hospital, I bowed my head to the floor, avoiding eye contact with everyone and praying I didn't run into any attendings. I felt like an imposter, an embarrassment. Tears don't belong on a white coat. 
During orientation, they told us we would encounter our first patient death during clerkship. The general advice was: when the time inevitably comes, let the team know that is your "first." 
But what happens next? What curricular element prepares us to deal with death? Where in the illusive "hidden curriculum" of medical training do we learn essential coping skills to process the tragedies that we bear witness to as physicians? 
Part of clerkship year is learning how to perfectly embody a sponge, how to soak up all of the knowledge and experiences to which you are exposed. So much of the art of medicine, the culture of doctoring, and the intricacies of humanistic practice are transmitted through passing comments and short remarks. I have repeatedly heard that learning how to compartmentalize is an essential "doctoring" skill one must acquire. "Leaving work at work" and achieving an emotional separation between the lives of patients and one's own life are essential. 
Days earlier, when she was still awake, Renee squeezed my hand and told me through quiet tears that she felt blessed to have developed resilience within herself in the face of all of the tragedies she encountered in her life. Reeling from the experience of knowing this patient, I struggled to achieve any emotional distance. Leaving "work at work" is challenging when every Taco Bell I pass by cues a memory of Renee jokingly reminding me that she was determined to order the new Party Pack once she was discharged.
I don't yet know how to separate my heartbeat from my patient's. From a logical standpoint, I understand that this distance allows doctors to persist through the repeated exposure to loss and trauma that defines our profession. But I also don't want to lose my humanity — the parts of myself that feel so honored to care for patients, and so raw and heartbroken in the face of their pain and death. Those qualities make for a powerful doctor. And yet I also know that being fully present with each patient's pain and grief may not be sustainable. 
I hear that experiencing patient death and tragedy gets easier with time. I have already noticed some changes in my thinking. Maybe I don't need to don a protective suit of armor before treating dying patients or wall off my own humanity to survive the profession. Maybe instead, turning toward these moments of pain, accepting their inevitability, and allowing myself and my colleagues to explore our response to them will help me to create a framework for processing tragedy in the future. 
When my resident placed his stethoscope on the patient's chest and withdrew his hand, he withdrew the sound of his own heartbeat. He performed an essential duty, a pronouncement that marked the end of Renee's suffering and brought some closure to her family. Although my resident created a space between his heartbeat and the eerie silence of her lifeless body, I realize now that he did not detach himself from her. In these last moments, we are intrinsically connected with the patients we have lost, and that is no tragedy. That is an honor. 
Sarah Turecamo is a fourth year medical student at NYU Grossman School of Medicine. This summer, she is embarking on a research year at the NIH through their Medical Research Scholars Program. She will be studying health care disparities surrounding heart failure management. 
Note: While this is a piece of nonfiction, certain details have been changed to protect patient confidentiality.