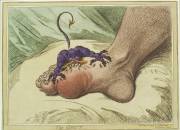 A 70 year old male, former alcoholic, with a past history of gout diagnosed by joint aspiration, presents with his second episode of right 1st metatarsal erythema, swelling and severe pain in the last 6 months.
Commentary By Pamela Rosenthal, MD Assistant Professor of Medicine, Division of Rheumatology
Question 1. Is there any specific rule you follow when deciding to start someone on colchicine prophylaxis? e.g. >x # episodes in 1 year.
Gout prophalaxis...