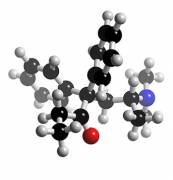 Last week, the FDA issued a public health advisory regarding the use of methadone (trade name Dolophine) for chronic pain. Death and life threatening side effects have been reported in patients newly starting methadone treatment and patients who have switched to methadone after taking other narcotics for pain control.  According to the advisory, prescribing methadone is complex and should only be used when moderate to severe pain is not relieved by other non-narcotic pain relievers.
Although pain relief from a dose of methadone typically lasts from 4 to 6 hours, its half life ranges from 8 to 59 hours, leading to the build up of toxic levels of the drug.  The main hazard associated with methadone use is respiratory depression. Its peak respiratory depressant effects usually occur later and last longer than its peak analgesic effects. This becomes particularly dangerous during methadone initiation and dose titration.
Cases of QT prolongation and torsades de pointes can also occur with methadone use. Although these cases have largely been observed in patients taking large multiple daily doses, there have also been some cases reported in patients taking common doses.
The FDA advisory states that methadone treatment of chronic pain should only be initiated if the potential analgesic benefit exceeds the risks of treatment. Because a high degree of "opioid tolerance" does not eliminate the possibility of methadone overdose, methadone treatment should be initiated using small doses and gradual dose adjustments.
Link: FDA Advisory
Litvin, C. Clinical Correlations (NYU Internal Medicine Residency Blog) Dec. 12, 2006. Available from https://www.clinicalcorrelations.org/?p=54