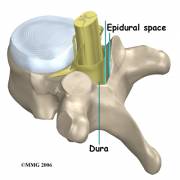 A 57 year old female with a past medical history of hypertension, obesity, remote intravenous drug use and several years of chronic low back pain, with both intermittent radiation to her lower extremities and decreased sensation in her lower extremities presented with an acute worsening of the pain in her lower back. The patient reported that she was awakened from sleep and "had to crawl to the bathroom," because of the pain. She was febrile on admission with moderate lower spine tenderness. She was also noted to have a RLE cellulitis. Hip flexion was limited by pain. The motor exam was difficult to perform because of pain and there were no sensory deficits. The patient was treated for cellulitis with amoxicillin/clavulanate for one day. On hospital day two the patient continued to complain of low back pain, remained febrile despite her cellulitis appearing to improve. On hospital day 3 the patient's blood cultures from admission grew staph aureus. She had an echocardiogram and was sent for an MRI of the spine. MRI revealed a lumbar spinal epidural collection, likely inflammatory without well defined borders (phlegmon). Antibiotics were changed to Vancomycin, ceftriaxone and metronidazole. The following day sensitivities on blood cultures drawn on admission revealed methicillin sensitive staph aureus. The antibiotic regimen was changed to nafcillin and the patient continued to improve.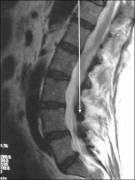 Teaching points:
1. Spinal epidural abscesses are frequently missed and the delay in diagnosis has serious morbidity.
2. The classic triad of fever, back pain, and neurologic symptoms is present only 13% of the time. Motor symptoms come late in the course of the infection and earlier treatment leads to significantly fewer neurologic sequelae.
3. Therapy for spinal epidural abscesses requires a multidisciplinary approach between surgery, interventional radiology, neurology and medicine. The literature regarding surgical/IR intervention is scarce. Most patients with evidence of mass effect should undergo some type of decompression. Some cases may be treated with antibiotic therapy alone. Antibiotic therapy should be directed at the organism (staph in 60% of cases)