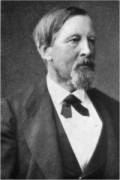 Welcome to our inaugural Bedside Rounds a new regular feature of Clinical Correlations.  Here you will learn not only practical physical diagnosis pearls, but also the historical context in which these findings were discovered.
Commentary By: Judith Brenner MD, Associate Program Director, NYU Internal Medicine Residency Program
When you take a deep breath in, what happens? Because of an increase in the negative intrathoracic pressure, blood is sucked into the right side of the heart. Temporarily, a filled right ventricle can bulge into the left ventricle and thus, result in a momentary decrease in left ventricular filling. Blood also pours into the pulmonary vasculature and can result in a momentary decrease in left ventricular filling and thus, our systolic blood pressure drops. You can even test this on yourself by feeling your radial pulse and continuing to feel it during a deep inspiration. There is a subtle, but definite decrease in the amplitude of the pulsation.
What is "pulsus paradoxus"?
In fact, pulsus paradoxus is an exaggeration of normal physiology. It is an inspiratory fall in the systolic blood pressure greater than 10 mm Hg that occurs in the setting of:
Acute Pericardial tamponade (nearly 100% of the time)
Asthma with FEV1 <0.7L.

Shock (approximately 50% of the time)
PE (approximately 30% of the time)
With pericardial tamponade, the total pericardial space is constrained due to the effusion. Thus, the normal bulging of the RV into the LV is exaggerated and limits left sided filling even more. In addition, there is probably more filling and pooling of blood in the pulmonary vasculature since it is more distensible. Again, this is an exaggeration of normal physiology and systolic blood pressure declines.
How do you determine the pulsus?
Inflate your BP cuff above the systolic. Lower the pressure very slowly until you hear your first Korotkoff sound; this first sound will only be heard during expiration. Continue to lower the cuff pressure to the highest value at which you hear Korotkoff sounds with each beat; this means that you are hearing sounds with inspiration and expiration. Find the difference between the two numbers and this is the pulsus. Remember, a pulsus greater than 10 mm Hg is abnormal.
Why the paradox?
In fact, to be true to Kussmaul's original description in 1873, he recognized that "pulsus paradoxus" was not a "paradox" but an exaggeration of normal physiology. The "paradox" that he refers to was that the peripheral pulse went away when the central heartbeat continued. "The pulse was simultaneously slight and irregular, disappearing during inspiration and returning upon expiration."
Kussmaul's other signs include:
Kussmaul's sign: neck vein engorgement during inspiration seen in constrictive pericarditis and in fact, a true paradox!
Kussmaul breathing: seen in diabetic ketoacidosis
Image: Dr. Adolf Kussmaul 1822-1902, courtesy  of The Anesthesia Education Website
http://www.anaesthesiamcq.com/AcidBaseBook/AB5_4Kussmaul.php