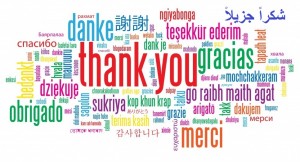 By Nicole Van Groningen, MD
Peer Reviewed
Although the "stress of the holidays" is a phrase used to refer to the multitude of to-do lists and travel obligations associated with the 6-week stretch between Thanksgiving and New Year's Day, the pleasant emotional state associated with the season remains one of the most important positive influences on the American psyche. Chief among these warm emotions is an emphasis on gratitude for the people, relationships, opportunities, and circumstances we cherish. As the holiday season comes to a close, this appreciation often fades away as the winter months wear on. But an emerging body of evidence sheds new light on the importance of giving thanks throughout the New Year.
An "attitude of gratitude" has long been associated with positive psychological outcomes: higher overall levels of happiness, greater emotional well-being, and increased satisfaction with life.   Conversely, routinely giving thanks has been shown to reduce stress, anxiety, and depression [1].
More recent evidence has pointed toward gratitude's beneficial effects on physical health. Researchers in Switzerland found that grateful individuals experience higher levels of physical well-being, are significantly more likely to engage in health care, and have a greater propensity to perform health-promoting behaviors like choosing healthy foods and abstaining from drugs [2]. Another study showed that college students who were instructed to practice regular expressions of gratitude self-reported lower rates of physical ailments, like headaches and stomach upset, and spent significantly more time exercising – nearly 1.5 more hours each week – than similar students who were told to focus on the "hassles" of their lives [3].
Grateful people even appear objectively healthier than those who don't regularly express appreciation. Increased heart rate variability – a measure that has repeatedly predicted decreased mortality in patients with coronary artery disease and congestive heart failure – has been observed in research subjects who were asked to focus on a feeling of sincere appreciation [4,5]. Gratitude has been related to improved sleep, measured not only by subjective sleep quality, but also by sleep duration, sleep latency, and daytime dysfunction attributed to fatigue [6]. Researchers from the University of California, San Diego, recently reported lower levels of inflammatory markers, including CRP, TNF-α, IL-6, IFN-gamma and ST2, in patients with heart failure who scored highly on the GQ-6, a widely validated tool to measure gratitude [7]. A wealth of data shows that gratitude and other positive psychological constructs are even associated with decreased all-cause mortality in both healthy and medically diseased populations [8].
None of this research addresses the issue of whether gratitude is a cause of well-being, per se, or merely a positive emotion that people with high well-being frequently experience. However, experimental studies have begun to answer this question.
A study from the Journal of Health Psychology asked 119 women to keep a daily record of their lives for two weeks. Half the women were told to record specifically those things they were grateful for. The other half were told to objectively record events without any emotional associations. At the end of the two weeks, those in the gratitude group had significantly higher levels of well-being, increased sleep quality, and even decreased blood pressure [9].
NPR recently reported the early findings of a yet unpublished study, conducted by UCSD researchers, that asked patients with heart failure to keep a gratitude journal most days of the week, noting 2 or 3 things they were thankful for [10]. After 2 months of this practice, patients had higher levels of heart rate variability and decreased levels of inflammatory markers as compared to pre-intervention testing, suggesting a decreased risk of adverse cardiac events attributable to the gratefulness intervention.
This is good news for anyone who wasn't born with a grateful disposition: the benefits of gratitude seem to be attainable through a directed practice of thankfulness. Intentionally establishing an attitude of appreciation likely leads to the same health benefits that naturally grateful people already enjoy.
Even more welcome news is that cultivating gratitude is surprisingly simple. In fact, one study demonstrated that the positive psychological effects of writing just one thank you letter lasted for up to one month [11]. Gratitude journals – used as "gratefulness interventions" in multiple studies – can take less than a minute of one's day. Religious individuals often incorporate gratitude into prayer. In mindfulness meditation, practitioners can choose to focus attention on what they are grateful for, even things as simple as warm sunlight or a pleasant sound.
While we await more research on whether increased gratefulness can translate to improved health outcomes, bear in mind that a practice of gratitude – unlike the other interventions we commonly recommend – has zero adverse effects. For our patients, our families, and ourselves, consider a prescription of gratitude this year.
Dr. Nicole Van Groningen is a resident at NYU Langone Medical Center
Peer reviewed by Barbara Porter, MD, internal medicine, NYU Langone Medical Center
Image courtesy of Wikimedia Commons 
References:
Wood AM, Froh JJ, Geraghty AWA. Gratitude and well-being: A review and theoretical integration. Clinical Psychology Review. 2010; 30: 890-905. https://www.ncbi.nlm.nih.gov/pubmed/20451313
Hill PL, Allemand M, Roberts BW. Examining the pathways between gratitude and self-rated physical health across adulthood. Personality and Individual Differences. 2013; 54: 92-96 https://www.ncbi.nlm.nih.gov/pmc/articles/PMC3489271/
Emmons RA, McCullough ME. Counting blessings versus burdens: An experimental investigation of gratitude and subjective well-being in daily life. Journal of Personality and Social Psychology. 2003; 84: 377-389.
Tsuji H, Larson MG, Venditti FJ, Manders ES, et al. Impact of Reduced Heart Rate Variability on Risk for Cardiac Events. Circulation. 1996; 94: 2850-2855
McCarthy R, Atkinson M, Tiller W, Watkins AD. The effects of emotions on short-term power spectrum analysis of heart rate variability. The American Journal of Cardiology. 1995; 76: 1089-1093. https://www.ncbi.nlm.nih.gov/pubmed/7484873
6.Wood AM, Joseph S, Lloyd J, Atkins S. Gratitude influences sleep through the mechanism of pre-sleep cognitions. Journal of Psychosomatic Research. 2009; 66: 43–48
7.Mills PJ, Redwine L, Wilson K, et al. The Role of Gratitude in Spiritual Well-being in Asymptomatic Heart Failure Patients. Spirituality in clinical practice. 2015;2(1):5-17.
Chida, A. Steptoe A. Positive psychological well-being and mortality: a quantitative review of prospective observational studies. Psychosomatic Medicine. 2008; 70: 741–756  https://www.ncbi.nlm.nih.gov/pubmed/18725425
Jackowska M, Brown J, Ronaldson A, Steptoe A. The impact of a brief gratitude intervention on subjective well-being, psychology, and sleep. Journal of Health Psychology. 2015 March. pii: 1359105315572455. [Epub ahead of print]. https://www.ncbi.nlm.nih.gov/pubmed/25736389
Gratitude is Good For the Soul and Helps the Heart, Too. http://www.npr.org/sections/health-shots/2015/11/23/456656055/gratitude-is-good-for-the-soul-and-it-helps-the-heart-too. Published November 23, 2015. Accessed December 29, 2015.
Seligman ME et al. Empirical Validation of Interventions. American Psychologist. 2005; 60: 410-421.