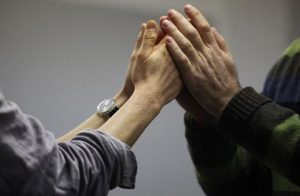 By Scarlett Olivia Murphy, MD
Peer Reviewed
During my recent ICU rotation, I witnessed complicated acts of love between patients and their caretakers as they navigated end-of-life decisions.  I observed many individuals struggle to find the right balance between preserving and palliating their loved one, and I watched patients in turn sacrifice their own comfort to keep their families happy.   When one's primary obligation is to treat the patient first, this can pose a conundrum, especially when the voice of the patient caretaker becomes louder than that of the patient[1].  Recognizing the full spectrum of emotion that a patient's loved one must be feeling can be vital in facilitating productive, empathetic conversations leading towards optimized end-of-life care for the patient.
Amidst the typical high patient turnover that one finds in the ICU, one notable patient remained a regular fixture on our service; his course fraught with frequent readmissions and mounting complications.   Facing a terminal cancer diagnosis, he was constantly presenting to the unit with one scare after another: GI bleeds, recurrent abscesses, septicemia with multiple multi-drug resistant organisms.  Grossly edematous from the fluids we gave to treat his sepsis and the dialysis we withheld due to low pressures, his veins became nearly impossible to find with a needle.  He developed a thrombocytopenia—Was it the sepsis?  The antibiotics? His arms remained two solid sheets of deep maroon bruise from a recent admission where quite possibly every person on the floor attempted to establish IV access.  His breathing was labored and he had no appetite.
His wife's devotion was remarkable to behold. They lived far outside the city and she had a full-time job, but put everything in her life on hold to be at his side.  Whenever I checked on him—early mornings, middle of the night, late afternoons—she was there, in a mask and yellow contact gown, ready to report on the happenings of the previous few hours.  When her job mandated that she return, she remained seemingly omnipresent, staying at his side via speakerphone throughout the day. Fastidious in her knowledge of his condition, she reported with exacting detail exactly what he had said, what he ate, when he slept.
Goals-of-care discussions with this family occurred frequently. His course evolved, necessitating increasingly invasive interventions.  Many on our team held the steadfast belief that the remainder of his life would proceed more peacefully if a decision could be made to say no to more drains, more tubes, more sticks.  The patient acceded to this, but told the team privately "I'm ready, but she's not, so we're going to keep going."
As doctors, however fresh to the field, it can feel frighteningly natural to prognosticate informally within ourselves about a patient's life expectancy.  We possess our own expectations about how the remainder of his or her time will proceed from a quality standpoint.  We become ever so slightly inured to death as we see the same narratives iterated time and time again  It becomes appallingly easy to become frustrated when we disagree with the choices patients and their families make during goals-of-care discussions, and easy to misattribute a mixture of hope and possible naiveté to something more sinister or uninformed.
There were numerous moments during my ICU month where team members expressed frustration on rounds about feeling as if we were treating the patient's [spouse, sister, child] rather than the patient. Rabbi Abraham Twerski touches on the complicated intersection between serving the self and the needs of a loved one, and how many fail at attaining true selflessness in relationships.  He describes a concept he refers to as "fish love," originating from a narrative in which a young man, enthusiastically devouring a plate of fresh fish, informs that rabbi that he "loves the fish.'' Rabbi Twerski responds with severity, "Oh you love fish?, That's why you took it out of the water and killed it? Don't tell me you love the fish; you love yourself."[2]  When we recognize how difficult it is to attain this level of selflessness in our own relationships, we open ourselves up to compassion towards the family members who challenge the plans we think and hope will allow our patients to die with dignity.
Good care necessitates recognition of the height of the challenges we impose upon family members when we ask them to forgo proactive medical treatment.  The choice to withdraw care may feel to family members like a choice to actively shorten their time with their loved one, even if we as providers believe in the data showing that palliation may in fact be the best medicine for extending life.[3] We must also recognize that witnessing death is likely a novel experience for patients and caretakers. Expectations are oftentimes unrealistic due to pervasive misrepresentations of death in the media and related hyperbolic public perceptions of the power of medicine.  Inability of physicians to have direct conversations about prognosis and mixed messages expressed by multiple care teams compounds this problem.
Only in relatively recent history have we possessed such an advanced ability to prolong and sustain life in the face of grave illness.  Over the past century, international news has been peppered with cases that force the public and the medical community to reflect on when care should be withdrawn, who is best qualified to make decisions on behalf of the patient and at what point hospitals or even the state have a right to assume total authority over care decisions.[4]  I
The recent case of Charlie Gard in the UK garnered international attention, raising questions of whether patients or health care proxies with the means to pay should have the right to pursue advanced care widely regarded as futile.[5]  The world watched on as the British high court ultimately sided with the physicians and hospital responsible for the care of an infant with an irreversible brain injury superimposed upon an incurable mitochondrial depletion syndrome.  The obviousness of Gard's neurologic devastation to his doctors and the confines of a single payer system prompted Gard's medical team to advocate that care be withdrawn.  British High Court proceedings barred Gard's parents from taking him to the US for a highly experimental therapy, and the hospital ultimately attained legal authority to withdraw life-sustaining measures.[6]
In reflecting on the Gard case, Oxford bioethicist Dominic Wilkinson describes a "communication breakdown with all of the attributes of a messy divorce" as a major exacerbating factor in its hostile escalation.6 Gard's case excited highly polarized public attention.   Right-to-life organizations and even the Vatican championed the Gards' right to pursue care.    Others vilified the parents for prolonging their child's suffering by refusing to apprehend the reality of his situation as detailed by numerous experts.[7]  Having authored a robust analysis of the nuances of the case, Harvard bioethicist and pediatric intensivist Robert Truog offered a final reminder to the public to retain compassion for Gard's parents: "Charlie's parents were like parents all over the world — they were willing to do absolutely anything to save the life of their child," adding, "They were the victims, not the cause, of this tragic situation."6
I'll never forget the deference and respect with which my patient's wife regarded our team, and her unwavering devotion to her husband.  Although our team frequently felt frustrated when she resisted palliative care measures, one couldn't help but admire her stoicism in the face of impending loss.   She carried on with dwindling optimism, normalizing everyday interactions between her and her partner.  She expressed a striking gratitude towards simple acts that we performed:  a heart-breaking hope that perhaps a simple pre-round examination or drawn blood culture might bring us back to a place where we could save him. Although those renderings of hope persisted, through numerous thoughtful conversations with the input of a skilled palliative care team, she slowly began to accept that her husband was nearing the end of his life, and as a couple they began to elect for more measures to preserve his comfort.  My time in the ICU came to a close before their story did, but it is my hope that peace permeated their last moments together.
Dr. Scarlett Olivia Murphy is a resident at NYU Langone Health
Peer reviewed by Tamar Schiff, MD is an internal medicine resident at NYU Langone Health
Image courtesy of Wikimedia Commons
References
[1] Keeping the Patient at the Center of Patient- and Family-Centered Care. Fine, Robert L.  Journal of Pain and Symptom Management , Volume 40 , Issue 4 , 621 – 625
[2] Twerski A. True Love is a Love of Giving [Internet]. Goalcast. 2017 [cited 2017Aug16]. Available from: https://www.goalcast.com/2017/03/16/abraham-twerski-a-story-about-true-love/
[3] Temel JS, Greer JA, Muzikansky A, Gallagher ER, Admane S, Jackson VA, et al. Early palliative care for patients with metastatic non-small-cell lung cancer. N Engl J Med. 2010;363:733–42.
[4] Fine RL. From Quinlan to Schiavo: medical, ethical, and legal issues in severe brain injury. Proceedings (Baylor University Medical Center). 2005;18(4):303-310.
[5] Wilkinson D, Savulesco J. Hard lessons: learning from the Charlie Gard case [Internet]. Practical Ethics. 2017 [cited 2017Aug17]. Available from: http://blog.practicalethics.ox.ac.uk/2017/07/hard-lessons-learning-from-the-charlie-gard-case/
[6] Bilefsky D. Charlie Gard Dies, Leaving a Legacy of Thorny Ethics Questions. The New York Times [Internet]. 2017Jul28 [cited 2017Aug17]; Available from: https://www.nytimes.com/2017/07/28/world/europe/charlie-gard-dead.html?mcubz=1&_r=0
[7] Truog RD. The United Kingdom Sets Limits on Experimental TreatmentsThe Case of Charlie Gard. JAMA. Published online July 20, 2017. doi:10.1001/jama.2017.10410