Podcast: Play in new window | Download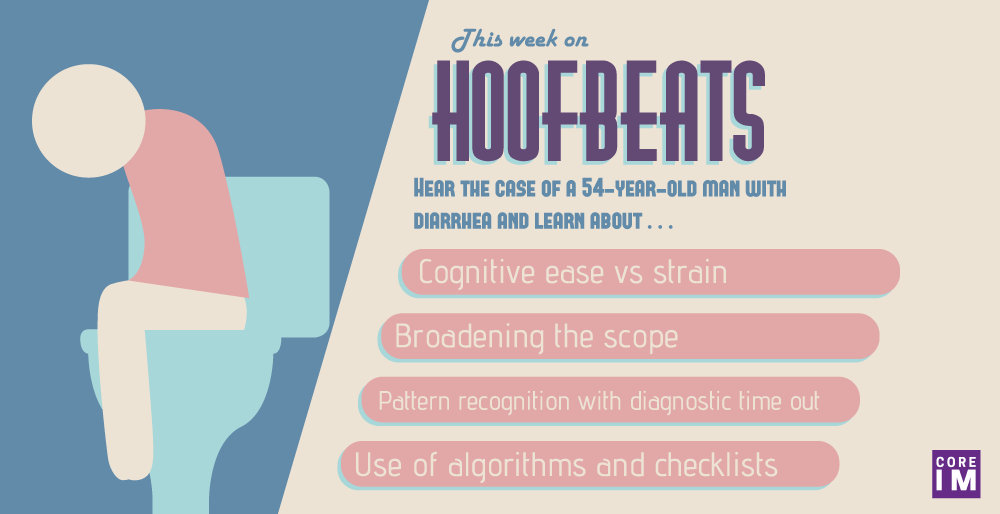 By Cindy Fang MD, John Hwang MD, Verity Shaye MD, Shreya P. Trivedi MD || Audio Editing by Richard Chen || Graphic by Amy Ou MD
Time Stamps
Part one of case (0:56)

Cognitive ease and strain (03:51)

Metacognition and routine diagnostic timeout (08:15)

Think outside the box of organ systems (11:19)

Illness behavior (12:30)

Part two of case (14:06)

Algorithms (17:57)  

Fast thinking & pattern recognition (19:30)

Slow thinking & analytical reasoning (21:31)

Diagnosis (25:15)

Takeaways (26:52)
Subscribe to CORE IM on any podcast app! Follow us on Facebook @Core IM || Twitter @COREIMpodcast || Instagram @core.im.podcast. Please give any feedback at COREIMpodcast@gmail.com.
Show Notes
"Cognitive ease" refers to the phenomenon when we face a common diagnosis or symptom, the impression of familiarity can create a false sense of ease, which make us more susceptible to diagnostic errors.

It is important to think across systems: clinical reasoning should not be limited to organ-based approach as local symptoms can be signs of systemic illnesses.

"Illness behavior" involves the psychosocial influences that affect how people monitor, define, interpret their symptoms as well as how they utilize health care resources.

Pattern recognition is a powerful fast thinking tool that can be improved by practicing illness script and problem representation.

Slow analytic thinking and metacognition are ways to balance the cognitive biases that frequently accompany fast thinking.

Algorithms and tables can be great tools, but don't let them dominate your clinical reasoning.
References