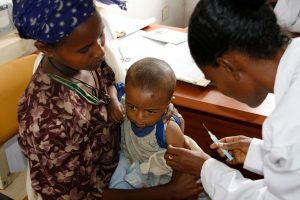 By Nishanth Srivaths Iyengar, MD and David M. Oshinsky, MD
Peer Reviewed
Federal agencies such as the Centers for Disease Control and Prevention (CDC) publish exhaustive public health guidelines and goals, but state governments wield the real power in health care. Over two decades have passed since the Department of Health and Human Services officially acknowledged the vital role pharmacists may play in increasing low nationwide vaccination rates via education and direct immunization of patients [1]. While all fifty states and the District of Columbia authorize pharmacists to vaccinate, regulatory state laws—controlling everything from the vaccines that pharmacists can provide to the patient age groups to whom pharmacists may administer those vaccines—vary widely.
With annual deaths from devastating vaccine-preventable diseases numbering in the tens of thousands, it is time now for Congress to pass legislation granting every qualified pharmacist from Alabama to Wyoming the authority to administer all CDC-recommended vaccines without restriction.
Congressional action of this sort would not be impediment-free, however. On the contrary, such a move would likely provoke outcry from doctors fearing encroachment on their profession, in spite of formal recognition by professional medical societies that pharmacists as independent immunizers can be immensely helpful in improving vaccination rates.
Turf wars aside, physicians have expressed valid concerns about outsourcing vaccination from the clinic to the pharmacy. Will patients end up being under-vaccinated because of irregular communication between pharmacists and physicians? Will insurance companies' characterization of pharmacists as out-of-network providers burden patients financially? Will pharmacist authority to vaccinate be the first step in a slippery slope of increased fragmentation of patient care?
These and other questions must be answered, but the alarming reality of low vaccination rates—amongst adults and adolescents especially—demands implementation of viable and effective alternatives to traditional physician-provided immunization.
For example, reactivation of the varicella zoster virus in individuals who previously had chickenpox is known to provoke the exceedingly painful rash characteristic of shingles, but in 2015 a paltry 30.6% of adults aged 60 years or older received the herpes zoster vaccine [2]. Human papillomavirus (HPV) infection is the most common sexually transmitted infection and can cause lethal cancers of the cervix, vagina, and penis, to name a few; although HPV infection–induced cancers are easily and effectively prevented by the HPV vaccine, in 2015 only 56.1% of adolescents aged 13–17 years received at least one dose, while a meager 45.4% received at least two doses [3].
Current and historical data are clear: we cannot rely on doctors alone to ensure complete vaccination of the American population.
Bearing the knowledge and skills to serve as patient educators and direct immunizers, pharmacists—who belong to one of the country's most highly trusted professions—are ideally poised to relieve physician strain and markedly improve the public health by assuming the bulk of responsibility for vaccination.
The American Pharmacists Association runs a rigorous, CDC-recognized training program that certifies practicing pharmacists nationwide in administering vaccines. Furthermore, accreditation standards governing the Doctor of Pharmacy curriculum stipulate that it must "provide an avenue through which students become certified in immunization delivery [4]."
Nowadays, the training of pharmacists also includes instruction traditionally associated with medical training, such as the provision of clinical services and effective communication with patients. By serving as educators and advisors to patients, pharmacists have become integral members of health care teams, working in tandem with primary care physicians to dispense useful pharmaceutical information and engage patients in conversations about critical topics, including the importance of strict adherence to prescribed medical regimens.
Indeed, pharmacist education of patients has been directly linked to improved immunization rates [5].
Compared to doctors, pharmacists are far better positioned to apply their immunization training and patient education skills because they are more easily accessible to wide swaths of the population—in particular to medically underserved groups, such as those living in rural areas and the indigent. Over nine out of ten Americans live within five miles of a community pharmacy [4]. Working adults and parents of school-going children take advantage of the extended hours typical of most pharmacies. Appointments are ordinarily unnecessary and the wait to see a pharmacist is minimal—a far cry from the time-intensive process required to see a doctor.
Paradoxically, numerous studies have argued that pharmacies are underutilized as vaccination sites [6]. Pharmacists themselves have attested to this, and expressed willingness to expand their immunization services.
Why is there so much variability amongst state laws governing pharmacist vaccination? When a pharmacist in Oregon is authorized to independently administer all CDC-recommended vaccines to anyone older than seven years (and to individuals of any age with a valid medical prescription), why is a pharmacist in New York explicitly forbidden from immunizing children against any disease apart from seasonal influenza (while permitted only to provide a select few vaccines to adults aged 18 years or older)?
Since immunization training of pharmacists does not vary from state to state, neither should laws regulating their ability to vaccinate.
It is Congress's duty to act on a national scale to reduce the incidence of vaccine-preventable disease. Numerous concerns must undoubtedly be addressed if responsibility for a health care intervention as vital as vaccination is to be entrusted to non-physicians, but the crucial first step in this lengthy process is to standardize the law. Vaccines are undoubtedly one of the greatest public health achievements of the twentieth century; national lawmakers must make it a priority to enact legislation that empowers qualified pharmacists across the land to achieve their full professional potential and work alongside doctors to raise vaccination rates.
Dr. Nishanth Srivaths Iyengar is a 1st year resident at NYU Langone Health and Dr. David M. Oshinsky is Director of the Division of Medical Humanities at NYU Langone Health
Peer reviewed by Neil Shapiro, Editor-In-Chief, Clinical Correlations
Image courtesy of Wikimedia Commons
References: