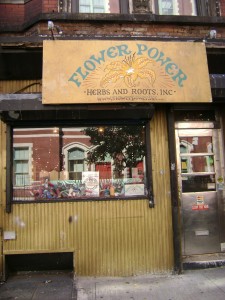 By Michael J Hession
Peer Reviewed
Twenty blocks south of NYU Langone and steps east of First Avenue on 9th Street sits New York's go-to supplier of fresh herbs, tinctures, and oils. Owned and operated since 1993 by Lata Chettri-Kennedy—The Green Witch of the East Village—Flower Power Herbs and Roots Inc. is lined floor-to-ceiling with shelves of cut and dried product in mason jars. A purple bumper sticker behind the counter proclaims "Health Care for People, Not for Profit," and another infographic ranking peppers from mildest to wildest asks, "How Hot Is Your Chili?"
On this side of 23rd Street a patient might purchase horsetail to treat her dysuria without the anxious waiting, copays, and specimen cups involved in a clinic visit. This is a world of health maintenance and medicine far different from that practiced only one New York mile to the north, a place where the focus is on food, environmentalism, and even a little bit of magic.
"Herbal medicine is the most consistent form of medicine that's always been there; it's the little black dress," Lata says over a table in the stark white, subway-tiled restaurant with which her shop shares a wall. Coincidentally, she's dressed in all black herself, seemingly understated for someone who is also known as Flower Shaman, Wise Woman, and lead vocalist of The Weeds. "Herbalism is universal to every culture," she explains over red wine, and is especially important in the Ukrainian tradition that long dominated the neighborhood.
When Flower Power first opened in 1993's East Village, the city's herbalists made up most of her business. The shop and, by extension, herbal or alternative medicine did not yet have its current draw. "Thirty dollars was a good day," she says. In the intervening years Lata has seen the tides of the neighborhood change many times over, and where her shop once participated in needle exchanges or helped punk rock stars stay sober—though some came looking to get high—it now has a clientele that defies categorization.
Her customers include pregnant or breastfeeding women wanting to use natural products, men looking to pack on muscle, doctors, and businesspeople. "Everyone is at Flower Power," she says. After all, alternative medicine's increasing popularity has spurred demand for treatments like acupuncture, reiki, and massage therapies at our own Tisch Hospital, a bastion of allopathic Western medicine. Today, patients at Tisch can just as easily enroll in yoga or group ear acupuncture as they can request a blood draw.
And the trend continues. As one of 27 NIH institutions, the National Center for Complementary and Integrative Health (NCCIH) is tasked to delineate which alternative therapies alone or in combination with conventional medicine can help, hurt, or even kill, with a 2015 budget totaling some 124 million dollars. Several times rebranded, most recently by stripping "alternative medicine" from its name for the more favorable "integrative health," the NCCIH attempts to scrutinize remedies long considered to be snake oil with the critical eye of evidence-based medicine.
Drug companies are listening, too. After study data suggested—though did not prove—that saw palmetto mitigated the urologic symptoms of benign prostatic hypertrophy, products containing it flew off the shelves. "I couldn't get saw palmetto for five years," Lata says, recounting the shortage of berries for which the plant is prized. Unfortunately a more recent analysis of the palmetto literature indicates that it does not improve urinary flow measures.
She is quick to add that not all alternative medicine is equal. Don't let yourself be fooled, she says, "the biggest seller of alternative medicine is pills." At Flower Power, however, there are no pills, no cleanses, and no therapeutic-grade concoctions, just whole herbs. There isn't even any packaging on most products in the store, and a jar chock-full of palmetto berries sits between winter savory and senna pods—yes, of Senokot laxative fame—which are scooped from clear glass containers into brown paper bags before weighing at checkout.
Pulling her iPhone from her pocket, Lata flips through photos of a recent family trip to prove to me that the glass displays and décor of Flower Power inadvertently match those of the Colonial Williamsburg apothecary, down to the shade of forest-green covering the cabinetry. It's easy to think that the two shops must smell alike, fragrant and floral, evoking a dry, summer meadow in the woods.
Though one might not think it, Lata has had intimate contact with the traditional medical establishment, coming from a family of physicians. She was drawn to the power of herbs, roots, and especially weeds, however, when after failing several "traditional" treatments, she cured herself of an unnamed condition by making a tincture (a mixture made of a macerated herbs dissolved in alcohol) out of dandelions and clovers.
Though she eschews the trappings of conventional medicine and makes clear that as an herbalist she cannot legally diagnose or prescribe, the reverence with which she studies plants approaches the mystic and spiritual. While she has put her faith in this method of healing, she also acknowledges the boundaries within which an herbalist operates. Lata describes taking her sickest customers to Bellevue, counseling others to talk with their doctors first, and consulting open-minded physicians about their patients who plan to or maybe should not start herbal remedies when concerns arise.
Physicians would do well to come to the table and to recognize their biases and limitations, too. Though all too often patients appeal to nature and misconstrue natural products as inevitably good, physicians commit another logical fallacy—unthinking incredulity.
Latta is an herbalist par excellence—one of the first in the city, a voice within the community, mentor to many, and an instructor at ArborVitae, New York's school of traditional herbalism, where she teaches courses on the digestive system and healing flowers. A trip through the "Granola Vortex" as she calls it, is worth the time not only for her explanation of the pathophysiology of disease, but because it is a destination that patients pass through on their way to or from traditional treatment. And after all, who among us couldn't use a little crunch?
Finally, just in case that flu shot doesn't work this year:
Boil 1 or more cups water
Steep thyme or ginger, 20 minutes
Add lemon juice
Add honey
By Michael Hession, 4th year medical student at NYU Langone Medical Center
Reviewed by Dr. Michael Tanner, executive editor, Clinical Correlations