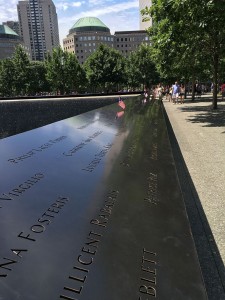 By Katherine Lawrence, MD
Peer Reviewed
Yesterday marked the 15th anniversary of September 11, 2001. Fifteen years later, emotions are still strong; it was a day of memorials and memories, a celebration of those who gave their lives and reminder of the challenges that remain.
One of the many powerful legacies of 9/11 has been the chronicling of its health impacts. Both the city of New York and the federal government (including the Center for Disease Control and Prevention and the National Institute for Occupational Safety and Health) have established and maintained programs that collect data on 9/11 first responders and civilians, as well as providing medical care to those populations. The NYU School of Medicine is one of seven centers established by the James Zadroga 9/11 Health and Compensation Act of 2010. To date, 74,968 people have enrolled in one of these programs.
Fifteen years later, we are still discovering the health consequences of 9/11. On Saturday, New York Magazine wrote an article summarizing some of the things we have learned so far. Among the illnesses that the 9/11 fallout-exposed are at increased for are asthma, GERD, PTSD, and sarcoidosis. Cancer risks also appear to be increased, including prostate, thyroid, and breast, although the link is not definitive.
Just as important as a memorial for those who gave their lives, 9/11 is a tribute to those who served, survived, and are continually impacted by the events of that day. It is also a reminder to us in the medical community of the importance of occupational, environmental, and social determinants of health for our patients.
Here are reviews of other articles in medicine and health that made headlines this week:
Association Between MRI Exposure During Pregnancy and Fetal and Childhood Outcomes
Optimal imaging of pregnant women is a topic of continued discussion in the medical community. Magnetic resonance imaging during pregnancy is generally thought to be safe for the fetus, especially in the second or third trimester. Concerns about exposures in the first trimester, or exposures to gadolinium at any time during pregnancy, however, have resulted in recommendations to avoid these particular modalities, despite limited high-quality data regarding safety to the fetus.
A study in JAMA looked at the association between MRI exposure during pregnancy and fetal and childhood outcomes. A retrospective cohort study using universal health care databases in the province of Ontario, Canada was conducted at the Institute for Clinical Evaluative Sciences (ICES). Researchers identified all births of more than 20 weeks, from 2003-2015, to evaluate Magnetic resonance imaging exposure in the first trimester of pregnancy, or gadolinium MRI exposure at any time in pregnancy. Study outcomes for the first-trimester MRI cohort included stillbirth after 20 weeks' gestation or neonatal death before 28 days after birth, congenital anomalies, neoplasm, vision loss, and hearing loss. Study outcomes for the gadolinium-enhanced MRI during pregnancy cohort included any diagnosed rheumatological, inflammatory, or infiltrative skin condition.
Among the first-trimester cohort, maternal MRI in the first trimester was not associated with a higher risk of stillbirth or neonatal death (adjusted RR of 1.68 (95%CI, 0.97 to 2.90)), congenital anomalies (HR of 1.16 (95% CI, 0.96 to 1.40), neoplasm, or hearing loss. The risk of vision loss was only seen in a subgroup analysis of MRI exposure at 5 to 10weeks' gestation HR of 2.28(95%CI, 1.09-4.77). Among the gadolinium-exposed group, the study found gadolinium-enhanced MRI was associated increased risk of any rheumatological, inflammatory or infiltrative skin condition up to age 4 years (adjusted HR of 1.36 (95% CI, 1.09 to 1.69), and an almost four-fold risk of stillbirth or neonatal death (Adjusted RR 3.70 (95% CI, 1.55-8.85)), when compared to offspring of unexposed women.
The strengths of the study came from the large sample size (N = 1 420 188 in the first trimester cohort and N =1 418 848 in the gadolinium cohort) and the robustness of the data, having been derived from a centralized national database. Due to the relatively small numbers of exposed participants, however, many of the analyses conducted were underpowered to assess less common outcomes, resulting in less thorough evaluation of rare malformations. Additionally, follow-up was limited to four years, and therefore may not have captured later-onset disease in participants. Ultimately, this study provides an important contribution to peri-natal care, reinforcing that avoidance of gadolinium-enhanced MRIs in pregnancy should be recommended, and informing risk-benefit discussions with pregnant patients regarding possible congenital effects of imaging. 
CPAP for Prevention of Cardiovascular Events in Obstructive Sleep Apnea 
Obstructive sleep apnea (OSA) affects 40-60% of Americans with cardiovascular disease, and is associated with adverse cardiovascular events, including hypertension and stroke. Continuous positive airway pressure (CPAP) is a commonly prescribed intervention for individuals who suffer from sleep apnea. In addition to improving breathing, CPAP has also been shown to lower systolic blood pressure, improve endothelial function, and increase insulin sensitivity, thereby having potential additional benefits for patients with cardiovascular disease.
A recent study in the NEJM evaluated the impact of continuous positive airway pressure (CPAP) on major cardiovascular events in patients with known cardiovascular disease and sleep apnea. The SAVE study was an international, multicenter, randomized, parallel-group, open-label trial, conducted under the supervision of The Adelaide Institute for Sleep Health of Flinders University of South Australia. The National Health and Medical Research Council of Australia and Philips Respironics funded the project, with Philips donating the CPAP equipment.
The study looked specifically at participants between 45 and 75 years, who held a diagnosis of coronary artery disease or cerebrovascular disease, as well as a diagnosis of moderate-to-severe obstructive sleep apnea (defined as an oxygen desaturation index >=12). After a 1-week sham CPAP trial, participants were randomly assigned to receive CPAP treatment plus usual care (CPAP group) or usual care alone (usual-care group). Anthropometric measurements were obtained at specific intervals, including blood pressure and heart rate, EKGs, as well as questionnaire data on OSA symptoms, health behaviors, and quality of life. The primary composite end point was death from cardiovascular causes, myocardial infarction, stroke, or hospitalization for unstable angina, heart failure, or transient ischemic attack. Secondary end points included other cardiovascular outcomes, health-related quality of life, snoring symptoms, daytime sleepiness, and mood.
In a blow to CPAP manufacturers, the study determined therapy with CPAP as compared with usual care did not prevent cardiovascular events in patients with moderate-to-severe obstructive sleep apnea and established cardiovascular disease. Results failed to show a significant difference in the primary outcome of death or hospitalization due to cardiovascular events between the experimental and control groups (hazard ratio with CPAP, 1.10; 95% confidence interval, 0.91 to 1.32; P = 0.34). The study did show, whoever, that CPAP decreased the mean apnea-hypopnea index (from 29.0 events per hour at baseline to 3.7 events per hour during follow-up), significantly reduced snoring and daytime sleepiness, and improved health-related quality of life and mood.
The results of this study are consistent with similar research in the area of CPAP and cardiovascular disease, which has shown no difference in outcomes. Limitations to the study included challenges in recruitment (5844 meeting eligibility criteria, 2687 were included in primary analysis and an additional 147 were lost to follow up). As is common in CPAP interventions, researchers also recognized substantial variation in adherence to the CPAP equipment. Finally, although the outcomes were not supportive of CPAP as a mechanism for improving cardiovascular events, potential bias remains in the funding of the project.
Safety and Effectiveness of Consumer Antiseptics; Topical Antimicrobial Drug Products for Over-the-Counter Human Use
The FDA has issued a final rule on safety and effectiveness of consumer antiseptic products, banning 19 chemicals found in these products, including triclosan and triclocarban, from the US market. The FDA is issuing this final rule after considering the recommendations of the Nonprescription Drugs Advisory Committee (NDAC), and evaluating the data available on over-the-counter (OTC) consumer antiseptic wash products. This rule is an update of the consumer antiseptic wash proposed rule published in 2013 (known as 'the 2013 Consumer Wash Proposed Rule') and amends a 1994 rule for OTC antiseptic drug products.
'Consumer antiseptic washes' include a variety of personal care products, such as antibacterial soaps, hand washes, and antibacterial body washes, which are meant to be used as part of a washing-with-water routine. In the 2013 legislation, the FDA determined that the benefits of consumer anti-septic wash products (including hand washes and body washes) outweighed potential risks; these products were subsequently approved and brought to market as a variety of 'anti-bacterial' soaps, washes, and other goods. New information, however, has revealed that the costs of these products may actually outweigh the benefits. In its evaluation of the effectiveness of anti-bacterial products, the FDA found "insufficient evidence to demonstrate that there is any additional benefit from the use of these [ingredients] compared to non-antibacterial soap and water." The organization also determined that there is insufficient data "to establish the safety of long-term, daily repeated exposure to these active ingredients used in consumer wash products". A cost-benefit analysis of the new ruling estimated a total annualized cost of $23.6-27.6 million to reduce population exposure to antiseptic ingredients by roughly 2.2 million pound each year.
Importantly, the FDA ruling applies only to consumer antiseptics. It does not cover health care antiseptics or antiseptics identified as "first aid antiseptics". It also does not include consumer antiseptic 'rubs' (products meant to be used without washing off, like hand sanitizer gel or spray) or antiseptics used by the food industry. Also, the FDA has deferred further rulemaking on three specific active ingredients used in these products, "to allow for the development and submission of new safety and effectiveness data". The ingredients are benzalkonium chloride, benzethonium chloride, and chloroxylenol. More information is needed to determine the impact of these chemicals.
The rule becomes effective in September 2017, so it may be a while before we see the full impact of the decision reach the shelves.
Mini-cuts
In the wake of scandal involving surgeon Paolo Macchiarini, the Swedish government has fired the entire board of the prestigious Karolinska Institute, for their involvement in falsifying medical research on stem cell transplantation and endangering the lives of patients: http://www.bmj.com/content/354/bmj.i4894 
The CDC released a report at the beginning of this month documenting national estimates of marijuana use in the United States, from data collected by the National Survey on Drug Use and Health (NSDUH). The report suggests that there are roughly 7,000 new users every day: http://www.cdc.gov/mmwr/volumes/65/ss/ss6511a1.htm?s_cid=ss6511a1_w 
Last week, Mylan, the maker of the EpiPen auto-injector, announced a price-hike on their product right before the back to school rush: $600 for two pens, representing a 600% increase since the company bought the rights to the product in 2007. This has a resulted in public outrage, a media frenzy, and some important conversations on the state of our pharmaceutical markets: http://www.economist.com/news/business/21706347-row-over-mylans-epipen-allergy-medicine-raises-fresh-questions-about-how-drugs-are 
Dr. Katherine Lawrence is a 1st year resident at NYU Langone Medical Center
Peer reviewed by Neha Jindal, MD, associate editor, Clinical Correlations
Image courtesy of Wikimedia Commons
References:
Brackbill R et al. Ten-year cancer incidence in rescue/recovery workers and civilians exposed to the September 11, 2001 terrorist attacks on the World Trade Center. Am J Ind Med. 2016 Sep;59(9):709-21. doi: 10.1002/ajim.22638.
Icitovic N et al. The association between body mass index and gastroesophageal reflux disease in the World Trade Center Health Program General Responder Cohort. Am J Ind Med. 2016 Sep;59(9):761-6. doi: 10.1002/ajim.22637.
Brackbill R et al. Asthma and Posttraumatic Stress Symptoms 5 to 6 Years Following Exposure to the World Trade Center Terrorist Attack. JAMA. 2009;302(5):502-516. doi:10.1001/jama.2009.1121.
NYU World Trade Center Program. http://www.wtc.med.nyu.edu/ Accessed 9/11/16.
FDA. Safety and Effectiveness of Consumer Antiseptics; Topical Antimicrobial Drug Products for Over-the-Counter Human Use. https://www.federalregister.gov/documents/2016/09/06/2016-21337/safety-and-effectiveness-of-consumer-antiseptics-topical-antimicrobial-drug-products-for. Accessed 9/11/16.
Ray J et al. Association Between MRI Exposure During Pregnancy and Fetal and Childhood Outcomes. JAMA. 2016;316(9):952-961. doi:10.1001/jama.2016.12126
McEvoy D et al. CPAP for Prevention of Cardiovascular Events in Obstructive Sleep Apnea. N Engl J Med 2016;375:919-31.